Latinos in California have one big reason to go to the polls: Donald Trump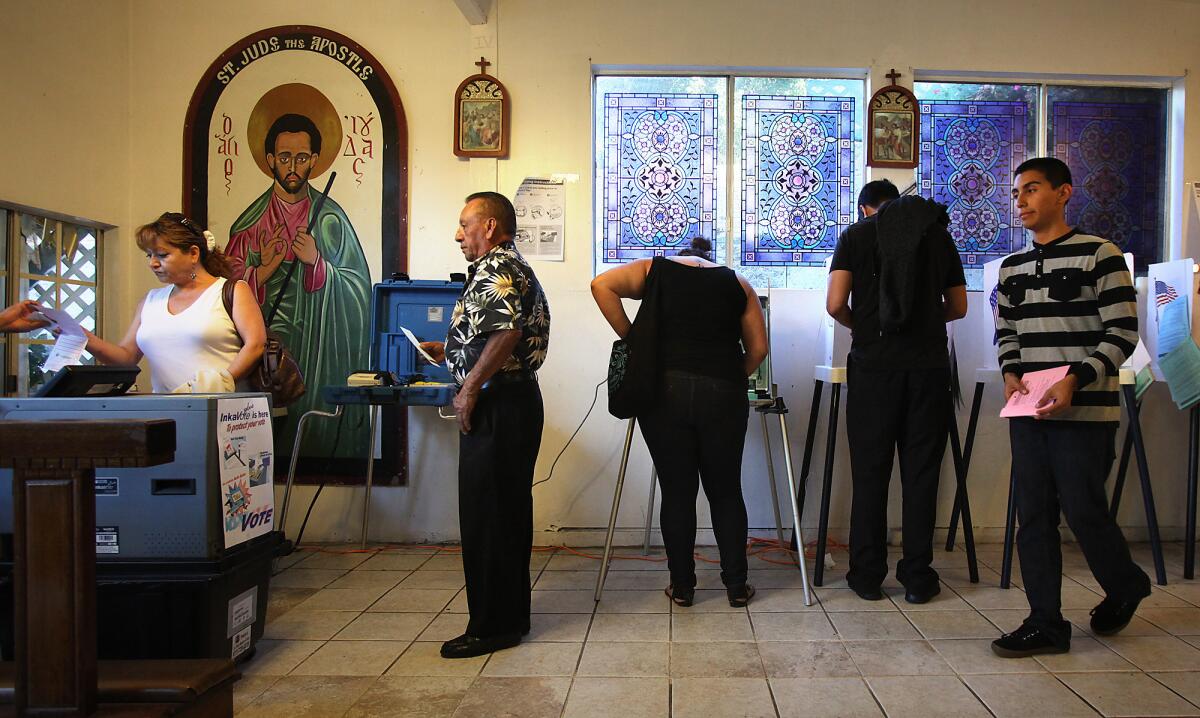 Reporting from Sacramento —
Galvanized to vote in the presidential race by Donald Trump's anti-immigration rhetoric, Latinos in California are expected to turn out in large numbers in November and have considerable influence on down-ballot races and statewide propositions.
At nearly 39% of the population, Latinos are the largest ethnic group in the state. At the polls, however, they are typically underrepresented compared with other minority groups.
But Latino voters turned out in record numbers during the 2016 primary, a good sign for general election turnout, said Mindy Romero, who runs the California Civic Engagement Project at UC Davis.
"I think we are going to see good turnout or high turnout even," Romero said. "I think the question is just how much higher."
California's June primary saw a larger share of Latino voters — 20% of the ballots cast — than any primary since 2004, according to a study by the Civic Engagement Project.
"We're hoping to see that again in the general [election]," said Samuel Molina, California director for Mi Familia Vota, a nonpartisan organization that educates and registers Latino voters. "We know that the presidential race and a lot of the rhetoric is drawing the community out."
The UC Davis study found turnout among registered Latinos increased 22 percentage points from the 2012 primary, while overall voter turnout increased by just 16 points.
Turnout among Latinos was driven in part by the Democratic primary race between Hillary Clinton and Vermont Sen. Bernie Sanders, said Mike Madrid, a Republican strategist who studies Latino voting trends.
In that race, Latino millennials overwhelmingly favored Sanders while older Latinos favored Clinton. Madrid said 2016 is the first time he's seen such a big divide among Latino voters in California.
"If you look at virtually any other policy issue that we've tackled as a state over the course of the past 20 years, Latinos have voted as a monolithic bloc," Madrid said. "We are seeing the first stages of the diversification of Latino voting behavior in 2016."
Sign up for our Essential Politics newsletter »
He said he's seeing a similar break among Latinos on Proposition 64, the statewide ballot measure to legalize recreational marijuana use. Latino millennials favor the measure. Older Latinos oppose it.
"As somebody who looks at the Latino vote and has closely for 20 years, that is the campaign that I'm the most interested in," Madrid said. "We're seeing tremendous stratification among Latino voters on an issue, and that is unique in California politics."
High Latino turnout could have a big effect on some Democrat-on-Democrat down-ballot races, Madrid said. He pointed to the congressional races between state Sen. Isadore Hall III (D-Compton) and challenger Nanette Barragán, and between former state Sen. Lou Correa and Garden Grove Mayor Bao Nguyen, who are battling to replace Orange County Rep. Loretta Sanchez, who is running for U.S. Senate.
Barragán and Correa, who are Latino, could benefit from high Latino turnout, Madrid said. He said state Assembly candidate Eloise Gomez Reyes could benefit from the same phenomenon in her challenge to unseat Assemblywoman Cheryl Brown (D-San Bernardino).
Latino turnout could also determine the outcome in two districts with large Latino populations and incumbent Republican congressmen. Opponents of Reps. David Valadao (R-Hanford) and Jeff Denham (R-Turlock) have tried to tie them to GOP presidential nominee Donald Trump, who has unusually low support numbers among Latinos.
Both congressmen have criticized Trump, but only Valadao has said he refuses to vote for Trump.
Dislike for Trump appears to be one of the biggest motivators for Latino voters in this election. Data released this month by the Pew Research Center shows two-thirds of Latino millennials who plan to vote for Clinton are doing so primarily as a vote against Trump.
Romero said anger and fear are driving many Latinos to vote against the Republican presidential nominee. Turnout among Latinos might be negatively affected if Trump continues to tank in national polls.
"If they think he's not a threat, they could still be very angry, but maybe the fear factor might go away a little bit," she said.
Nationally, focus has shifted from Trump's rhetoric on Mexican immigrants to his controversial comments about women and allegations of sexual assault. But Romero said his comments about Mexican immigrants will still prompt Latinos to vote in November.
"I don't think people will forget this," Romero said. "The question is, will it be burning in their hearts?"
Follow @SophiaBollag on Twitter
To read the article in Spanish, click here
ALSO
Research shows 1 in 5 primary voters in California was Latino
Race, oil and the environment all play into this L.A. congressional race
San Bernardino Assembly race could define what it means to be an Inland Empire Democrat
Get our Essential Politics newsletter
The latest news, analysis and insights from our politics team.
You may occasionally receive promotional content from the Los Angeles Times.