November intraparty showdown could unseat longtime Silicon Valley congressman Mike Honda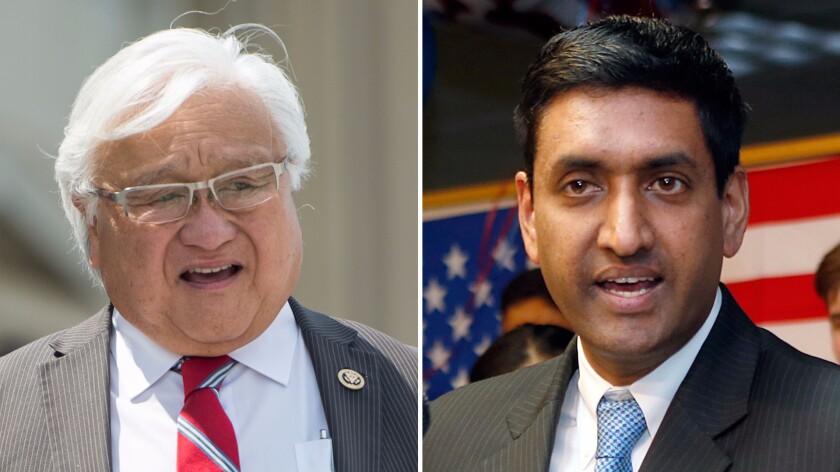 For months, Ro Khanna had one goal in his primary race against eight-term incumbent Rep. Mike Honda: lose by 10 points. If he could come within that margin, the Fremont Democrat reasoned, he stood a good chance of overtaking Honda to win the Silicon Valley seat in November.
But when election night returns showed the two neck and neck, and later put Khanna ahead, he didn't believe it.
"Call the guy back," he told his wife when she relayed the early results. "I don't think that could be possible."
In the end, Khanna, 39, received 2,200 votes more than Honda.
The results could mark a turning point in the 75-year-old congressman's career: After more than 35 years as an elected official and 16 years as a congressman, Honda has earned a reputation as one of the liberal stalwarts of Congress, with high rankings from labor, civil rights and environmental groups. But shifting demographics in the district and an ongoing ethics probe could threaten Honda's success in the race.
"I wouldn't call it losing," Honda said in a recent interview. "Let's call it moving on to the general election."
Factors that may contribute to Honda's potential vulnerability have been developing for years. Redistricting in 2012 changed the demographics of Honda's constituency — more Indian Americans live in his district than any other in the nation — and wrapped in cities that are home to leaders of the Bay Area tech boom. The growing political muscle of tech executives such as Facebook's Sheryl Sandberg and Google's Sundar Pichai — both of whom have thrown their weight behind Khanna — and the expanded influence of Indian Americans in the district may have paved the way for a candidate like Khanna, a former appointee of President Obama, to succeed.
Honda says his strategy all along has been to store up resources for what's sure to be a hard-fought general election against an opponent who has been known to out-raise him.
Still, the June election marked a big reversal from the 2014 primary, when Honda, 75, handily defeated his upstart challenger by more than 20 points. Khanna came within striking distance of Honda that November, losing by just three points.
A lot has changed since then. Heading into the primary, Khanna had a more than 2-1 fundraising advantage. Honda had lost a couple of key endorsements, most notably from President Obama, and has been dogged by an ongoing investigation into whether he inappropriately used official resources and staff to benefit his campaign.
All this has made Khanna quite confident about his chances when the two Democrats face off in November, thanks to California's top-two primary.
"We will win by at least 10 points," Khanna predicted recently. "Honestly, there's just no path for Mike Honda at this point."
But longtime political observers in Silicon Valley say it would be a mistake to count Honda down and out just yet.