California's climate change agency just approved a $500 million plan — but there's no money for it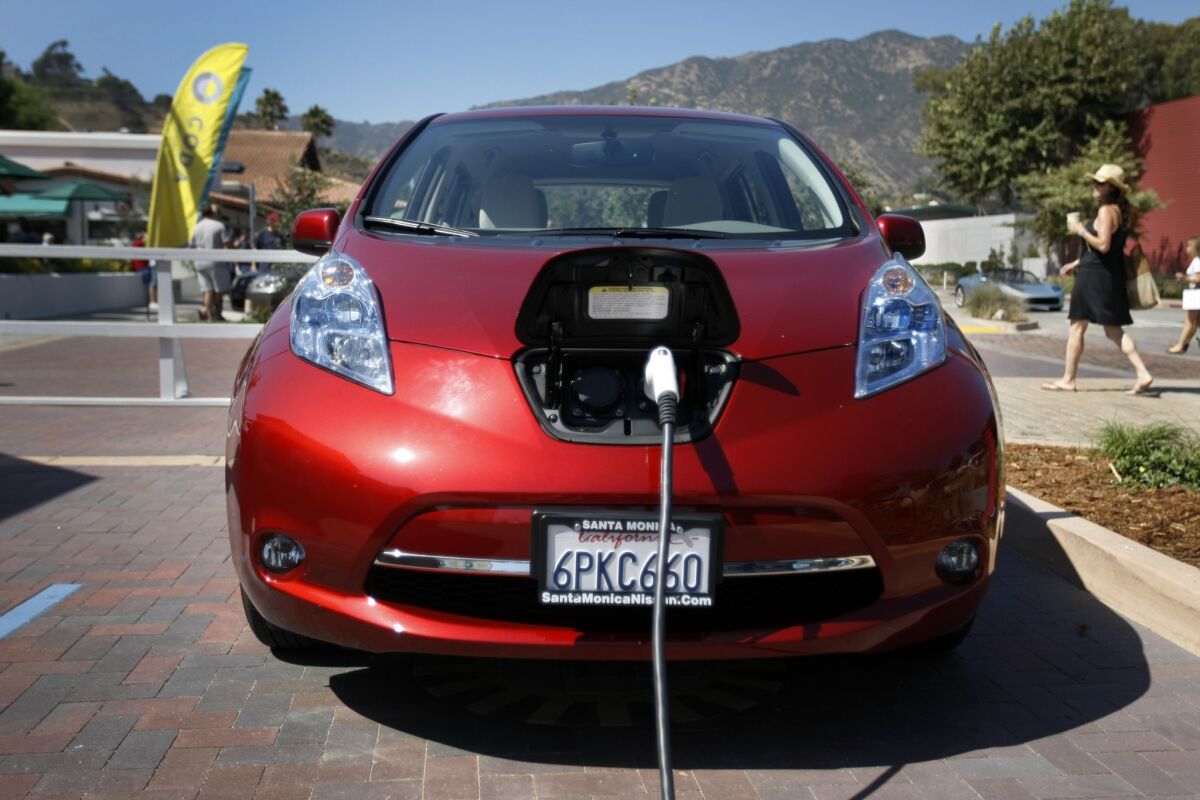 Reporting from Sacramento —
The state agency in charge of combating climate change signed off on a $500 million plan Thursday morning to get 100,000 clean cars on the road, limit pollution from heavy-duty trucks and replace outdated school buses.
There's just one problem.
"What's missing is the most important part of the funding plan, which is the funding," said Bill Magavern, policy director for the Coalition for Clean Air, to laughs from the crowd at the meeting of the California Air Resources Board.
The board regulates greenhouse gas emissions in the state and decides how much of the money collected from polluters should be spent to improve air quality and public health. But the board does not control when it actually gets the cash.
That's up to Gov. Jerry Brown and lawmakers who have not reached a deal on spending for low-carbon transportation programs next year. As a result, popular programs to subsidize consumers' purchase of zero-emission vehicles are running out of money, along with similar anti-climate change efforts.
Thursday's decision won't result in any money being spent until the political impasse gets resolved. Board members, who are appointed by Brown and leaders of the Assembly and Senate, said they were worried about the state's climate efforts if the money doesn't come.
"I think I'd be remiss if I just didn't express how important it is that we get this funded," said Sandra Berg, the board's vice chairwoman. "I just am thinking about Plan B. It's so painful."
Money to fund these efforts to reduce greenhouse gas emissions comes from the state's cap-and-trade program, which requires businesses such as oil refineries and manufacturers to buy permits based on how much they pollute.
But the cap-and-trade program is facing a number of financial, political and legal problems that are raising concerns about its long-term viability. Currently, there's $1.4 billion in greenhouse gas dollars in the bank that could be used to fund the programs the Air Resources Board approved Thursday.
But recent auction proceeds produced almost no revenue, and some environmental advocates believe Brown is holding back the spending to leverage lawmakers into voting for an extension of cap and trade by the end of the legislative session in August.
This is the second straight year that the climate change money has been held up because of politics. Last year, Brown proposed $350 million, but he and lawmakers could only agree to spend $95 million, an amount described as only enough to finance incentives the state had already agreed to pay. In January, Brown put forward the $500 million spending plan, but zero dollars were approved in the budget lawmakers agreed to last week.
The lack of action comes at a cost, board members said. The state is continuing to fall behind in its ambitious climate-change goals, including getting 1.5 million zero-emission vehicles on the road by 2025, said board member Alexander Sherriffs.
"Every time we delay, it's another vehicle we want to get off the road that we're going to have to deal with later," Sherriffs said.
Follow me at @dillonliam on Twitter
ALSO:
California lawmakers unplug the state's electric car program
California's cap-and-trade program faces daunting hurdles to avoid collapse
State cap-and-trade auction falls far short, hurting bullet train
Get our Essential Politics newsletter
The latest news, analysis and insights from our politics team.
You may occasionally receive promotional content from the Los Angeles Times.