On Politics: Adam Schiff, President Trump and the serendipity of slander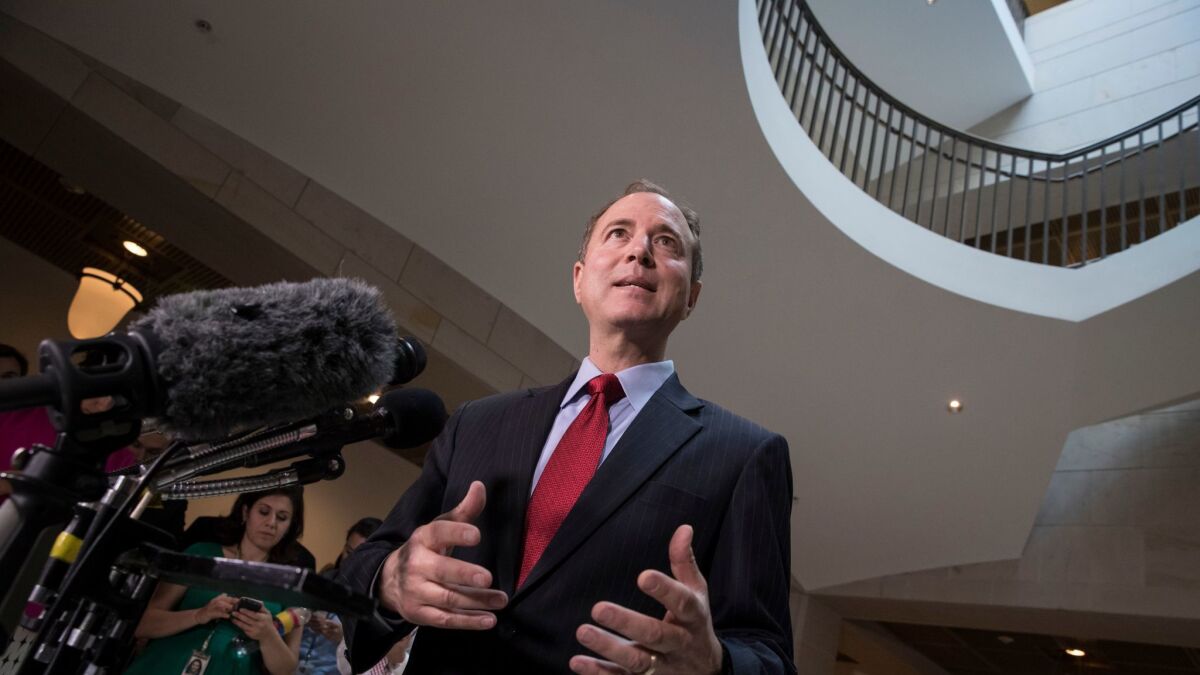 The road to elected office can be long and winding and is not always paved with the best of intentions.
Some politicians — think of the Kennedys, or the Bush family — are born to the trade. Others are borne by tragedy.
Former Santa Barbara Rep. Lois Capps succeeded her husband when he fell dead of a heart attack. Former New York Rep. Carolyn McCarthy was spurred to run when her husband was killed and her son gravely wounded in a mass shooting on the Long Island Rail Road.
Typically, though, the ascension is more methodical, one rung after the next, often with a pinch of right-place, right-time fortune thrown in for good measure.
Lately that bit of luck has visited itself upon Adam B. Schiff, in the form of Russian meddling and a president who hurls tweets like poison thunderbolts.
Schiff is the nine-term Democratic congressman from Southern California, representing parts of Los Angeles and several communities, including Burbank, Glendale and Pasadena, skirting the nearby mountains. Mild in mien and nondescript in appearance, Schiff was perhaps best known, until recently, for prevailing in 2000 in what was then the costliest House race in U.S. history.
(Irresistible fact: Adam's wife is named Eve.)
Everything changed when Congress launched its probe into Russia's interference in the 2016 presidential campaign. As the top Democrat on the House Intelligence Committee, one of several tasked with the inquiry, Schiff has emerged as a leading voice — calm, measured, deliberate — and one of the most prominent faces of the investigation.
This, naturally, drew the attention and ire of the president and tweeter-in-chief, who singled out the former federal prosecutor for his very own ad hominem insult: "Sleazy Adam Schiff."
Schiff, who has never been associated with the slightest whiff of scandal, responded in the purse-lipped tone of more sorrow than anger. "With respect Mr. President," he tweeted in reply, "the problem is how often you watch TV, and that your comments and actions are beneath the dignity of the office."
"It felt a bit like Bill Murray in 'Ghostbusters,'" Schiff said days later. "Like I'd just been slimed."
Politically, this amounts to pure gold.
With well over a dozen members of Congress crowding the Southern California media market and TV stations having close to zero interest in politics, about the only way for a Washington lawmaker to get attention is participating in a high-speed car chase, ideally in prime time with a Kardashian riding shotgun.
It is one reason the area's congressional lawmakers have a decades-long, unblemished record of futility when it comes to seeking prominent state office.
By contrast, Schiff has become, if not quite a household name, a hero to an important segment of the electorate — namely activist Democrats. He received a rapturous welcome at the state party convention in May as though, in the words of Times political writer Cathleen Decker, the nerd who headed the Calculus Club had just been crowned homecoming king.
"It's certainly a role I was neither expecting nor particularly wanting," Schiff said of his newfound political celebrity. "This role is very against type for me. I didn't have this kind of relationship with the last Republican president and I didn't expect to have it with a new president."
There's just one problem, from an electoral standpoint: At the moment there's nowhere beyond the House of Representatives for Schiff to go.
He's shown no interest in joining the crowded 2018 race for governor. And the most logical step, a bid for U.S. Senate, is thwarted unless incumbent Democrat Dianne Feinstein, who is weighing a sixth run next year, unexpectedly decides to stand aside.
Schiff emphatically ruled out a primary challenge. "If she runs for reelection," he said, he would be "solidly behind her."
At age 57, Schiff can wait. But if the Senate seat were to suddenly come available, he'd start the race in an enviable spot.
"Every California Democrat's favorite parlor game is wondering whether Feinstein will seek another term," said Dan Schnur, a longtime student of state politics who teaches at USC. "If she decides to run again, this is largely an irrelevant discussion. But if she doesn't, Schiff moves from being an afterthought to potential front-runner."
He would hardly be a shoo-in. Schiff would face all the hurdles confronting any Southern California member of Congress trying to make the broad leap to the Senate: the mountainous fundraising requirement, the difficulty of launching from a small geographic base and, not least, the built-in bias many Northern Californians have against voting for any politician from (ugh!) the L.A. area.
But if Schiff got elected to the Senate, he may want to tamp down his natural inclination and send flowers or some other token of appreciation to the president. Even though it is hardly his intent, Trump would have done a good deal to make it possible.
@markzbarabak on Twitter
ALSO
Tired of exporting campaign cash, these politicos are putting California first
Who will be the next governor of California? It's a mystery to these voters
John Dean helped bring down Richard Nixon. Now he thinks Donald Trump is even worse
Get our Essential Politics newsletter
The latest news, analysis and insights from our politics team.
You may occasionally receive promotional content from the Los Angeles Times.