On Politics: Nancy Pelosi and Kevin McCarthy are as different as the two Californias they represent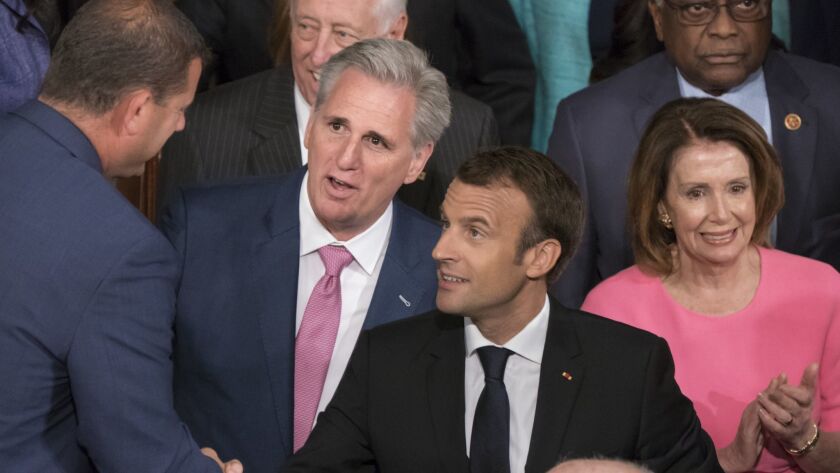 Reporting from San Francisco —
Kevin McCarthy and Nancy Pelosi may stand political poles apart but, together, the two California lawmakers are on the verge of making history.
If, as seems likely, McCarthy becomes the next Republican House leader and Pelosi continues as head of the Democratic caucus, it would mark the first time the congressional leaders of both parties hail from the same state.
Which of the two would reign as speaker, as opposed to minority leader, depends on the outcome of November's midterm elections and whether each withstands a potential challenge in his or her own ranks.
The prospect of two Californians — McCarthy from Bakersfield and Pelosi from San Francisco — leading their respective parties on Capitol Hill would suggest unparalleled clout for the state, save for the fact the two often work at political cross-purposes.
McCarthy, 53, fought to repeal the Affordable Care Act — also known as Obamacare — which Pelosi was instrumental in passing. She fiercely opposed President Trump's sweeping tax cut bill, which McCarthy helped usher into law.
Pelosi, 78, supports the proposed San Francisco-to-Los Angeles bullet train, while McCarthy staunchly opposes it.
Both reflect the city they represent. McCarthy, deeply conservative. Pelosi, unreservedly liberal. Indeed, although a mere 300 miles separate them, Bakersfield and San Francisco may as well occupy different planets.
Think Buck Owens vs. Jello Biafra, agriculture vs. high-tech, or a 72-degree August day in San Francisco when it's a broiling 97 in Bakersfield.
Here's a tale of their two cities:
Population
Bakersfield: 376,000
San Francisco: 884,000
Land area
Bakersfield: 151 square miles
San Francisco: 47 square miles
Population density
(Residents per square mile)
Bakersfield: 2,600
San Francisco: 18,700
Median age
Bakersfield: 30
San Francisco: 38
Life As It Should Be
— Bakersfield's official motto
Median income
Bakersfield: $59,000
San Francisco $104,000
Average hourly wage
Bakersfield: $22.79
San Francisco: $36.61
Major occupations
Bakersfield: Education, training; construction and extraction; protective services (correctional officers, police, firefighters)
San Francisco: Computer and mathematical; business and financial operations; management
Median home price
Bakersfield: $234,036
San Francisco: $1.3 million
What $500,000 will get you
Bakersfield: 3,400-square-foot, five-bedroom, three-bath single-family home
San Francisco: 1,000-square-foot tear-down/fixer-upper
Average monthly rent
Bakersfield: $935
San Francisco: $3,426
Oro en paz, fierro en guerra (Gold in Peace, Iron in War)
— San Francisco's official motto
Voter registration, by major party
Bakersfield: 36% Democratic, 35% Republican
San Francisco: 58% Democratic, 7% Republican
2016 presidential results
Bakersfield: Donald Trump 53%, Hillary Clinton 40%
San Francisco: Hillary Clinton 84%, Donald Trump 9%
2012 presidential results
Bakersfield: Mitt Romney 57%, Barack Obama 40%
San Francisco: Barack Obama 83%, Mitt Romney 13%
Famous natives
Bakersfield: David Benoit, jazz pianist; Frank Bidart, poet; Brandon Cruz, actor/punk rock musician; Kelli Garner, actress; Kevin Harvick, professional stock car racer; Tyrone Wallace, professional basketball player
San Francisco: Ansel Adams, photographer; Clint Eastwood, actor; Robert Frost, poet; Jerry Garcia, musician; Steve Jobs, entrepreneur; Jason Kidd, former pro basketball player and coach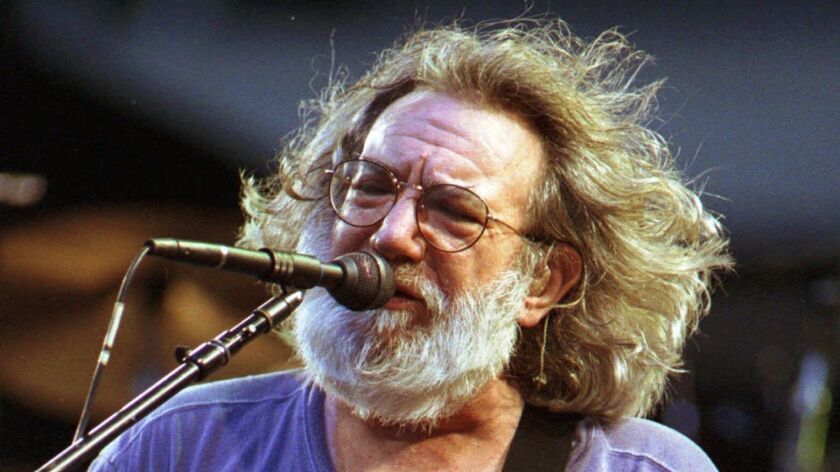 Songs about
Bakersfield: "A Bar in Bakersfield," "Bill Woods From Bakersfield," "Streets of Bakersfield"
San Francisco: "I Left my Heart in San Francisco," "Lights," "San Francisco (Be Sure to Wear Some Flowers)"
City motto
Bakersfield: "Life as it should be"
San Francisco: "Oro en paz, fierro en guerra" (Gold in Peace, Iron in War)
Tallest building
Bakersfield: Stockdale Tower, 176 feet
San Francisco: Salesforce Tower, 1,070 feet
Famous for
Bakersfield: Agriculture, conservative politics, country music, oil industry, summer heat
San Francisco: Cable cars, fog, liberal politics, sourdough bread, vertiginous hillsides
Still to be determined
Home to the most powerful lawmaker in Congress
ALSO
Ignoring the California governor's race? That's OK, it's really just starting
He struck out at baseball, but made it in politics. Now he's back to his first love
Why the rise of the independent voter is a political myth
---
Get our Essential Politics newsletter
The latest news, analysis and insights from our politics team in D.C.
You may occasionally receive promotional content from the Los Angeles Times.