California considers lower taxes on pot to help new legal industry compete with black market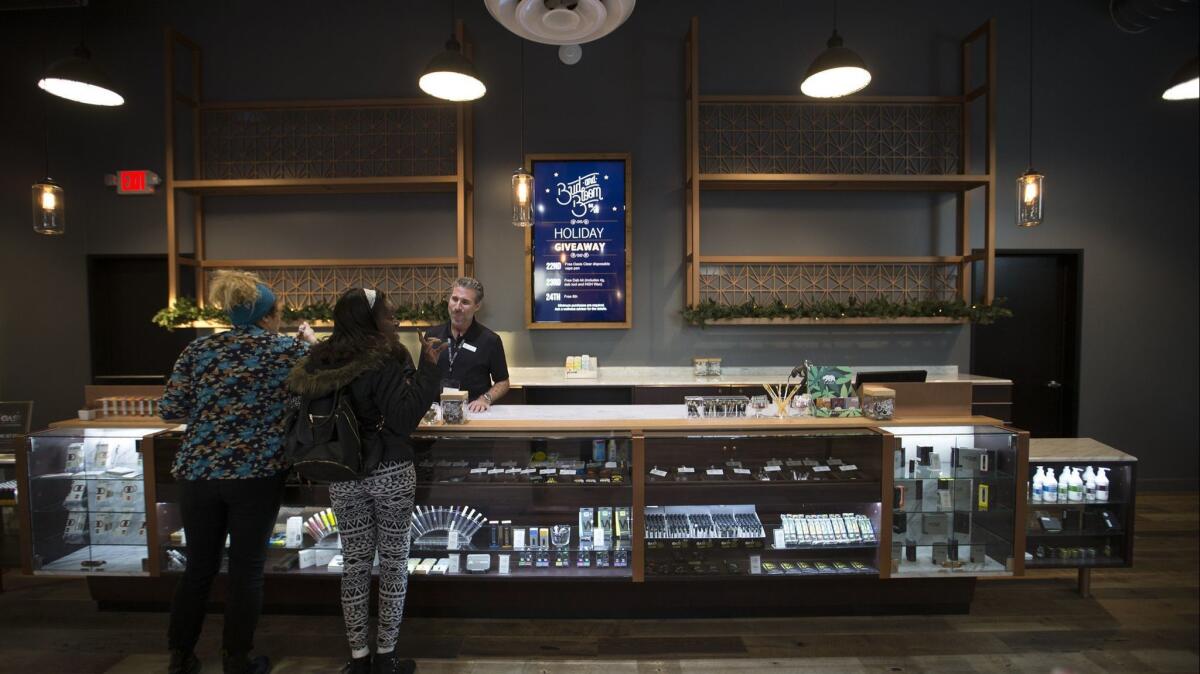 Reporting from Sacramento —
Alarmed that California's fledgling legal marijuana industry is being undercut by the black market, a group of lawmakers proposed Thursday to reduce state taxes for three years on growing and selling cannabis to allow licensed sellers to get on their feet.
With many California license holders claiming they can't compete because of high state and local taxes, the new legislation would cut the state excise tax from 15% to 11% and suspend a cultivation tax that charges $148 per pound.
"Criminals do not pay business taxes, ensure consumers are 21 and over, obtain licenses or follow product safety regulations," said Assemblyman Tom Lackey (R-Palmdale), one of five legislators pushing the bill. "We need to give legal businesses some temporary tax relief so they do not continue to be undercut by the black market."
California voters approved the 15% tax when they passed Proposition 64 in 2016, allowing legal growing, distribution and sales of marijuana for recreational use and requiring state licenses for the continued sale of pot for medical purposes. License holders began growing and selling pot on Jan. 1.
California's licensed pot sellers want the state to crack down on illegal competitors >>
Legal growers say the excise and grower's taxes are a burden on top of local taxes adopted by cities and counties, as well as a sales tax that is as high as 9.2% in some counties. Combined, taxes can raise the price of marijuana sold legally by up to 45%, according to the Fitch credit rating agency.
That is a major disadvantage, industry leaders say, especially when the state soon will begin charging a $1,000 license processing fee.
The temporary suspension of state taxes will "help level the playing field," between the legal and underground marijuana markets, according to Hezekiah Allen, executive director of the cannabis trade group California Growers Assn.
"This a huge step in the right direction," Allen said. "Right now, thousands of California businesses are struggling with one-time costs of regulatory compliance. These businesses are at a significant disadvantage to unregulated operators who are continuing to operate in the unregulated market and are not incurring their costs."
California's pot regulator warns 900 marijuana shops that they must stop operating without a state license >>
Although the 15% tax was set by Proposition 64, the Legislature is not required to go back to the ballot to reduce the assessment. The ballot measure allows the Legislature to amend the tax by way of a two-thirds vote as long as it furthers the intent of the proposition, which Lackey and others say their proposal will do by reducing the black market.
The tax reduction should give the legal pot industry new vigor, said Beau Whitney, senior economist at New Frontier Data, a data analytics firm focused on the cannabis industry.
The new legislation "will lower the overall price for consumers at the register, which will also reduce the differential between illicit and legal prices," he said.
Financial experts have estimated the legal industry could bring the state coffers $1 billion annually in tax revenue, though Gov. Jerry Brown's estimate for the fiscal year beginning July 1 is $643 million.
While the new legislation could blast a hole in the governor's budget projections, a spokesman for Brown declined Thursday to comment on the bill, saying the governor typically does not comment on pending legislative proposals.
Companies getting state licenses to grow, distribute and sell marijuana under tough regulations are making significant investments in establishing operations and deserve help, said Assemblyman Rob Bonta (D-Oakland), another leading author of AB 3157.
The bill, Bonta said, would lower tax burdens during the current transition period, "keeping customers at licensed stores and helping ensure the regulated market survives and thrives."
Twitter: @mcgreevy99
Get our Essential Politics newsletter
The latest news, analysis and insights from our politics team.
You may occasionally receive promotional content from the Los Angeles Times.