'I have other stuff to do.' Why some California politicians are skipping the Republican National Convention
Rep. Duncan Hunter didn't want to be a delegate to the Republican National Convention for Donald Trump. And he doesn't plan to go to Cleveland.
"I'm not into politics," said Hunter, who lives in Alpine. "If he calls and says I really want you to go there and make a speech or something, then sure, I'll fly in for that day and then leave immediately back to San Diego."
Hunter said his staff thought that given he was one of the first members of Congress to back Trump, being a delegate would be a good idea. His aides recommended him to the Trump campaign without asking, but Hunter said he planned to ask an alternate delegate to go in his place.
"I was kind of taken aback when I saw I was on the list," he said. "My guys put me on and they shouldn't have."
With three young children, four days at a convention hall has little appeal. "I have other stuff to do," Hunter said.
Hunter's not alone in skipping the convention. Five of the 14 Republicans in California's delegation say they won't attend the convention to officially pick the party's nominee and vice presidential pick.
About half of the Republicans in the California delegation don't say directly they will back Trump.
Rep. Steve Knight (R-Palmdale) says his time is better spent defending his seat in a tough reelection fight. He has never gone to a national convention.
"I have a choice of being in Ohio in July or Southern California. I'll be in Southern California," Knight said. "I'll have six straight weeks in the district, at home, campaigning to make sure I get reelected."
Democrats Bryan Caforio and Lou Vince are challenging Knight in the 25th Congressional District, and the Democratic Congressional Campaign Committee has targeted the seat as a potential pickup.
"Members who are in very tight districts like me should be defending their district and making sure voters know what that person is doing in Congress," Knight said. "If you're in a safe district, go to the convention. If you're not, go campaign."
"If you're in a safe district, go to the convention. If you're not, go campaign."

— Rep. Steve Knight
Rep. Doug LaMalfa hasn't gone to the convention in the past and said this year won't be any different. The Richvale Republican has drawn six opponents in his Northern California district, though none have come close to his fundraising.
"It's July in Cleveland, or I could be at home," LaMalfa said. "I don't think I'm needed there. There's a lot of people anxious and hot to go and be delegates, so have at it."
Rep. Paul Cook said that at 73, he'd rather spend the time with his grandchildren.
"I'm not a big convention person," the Yucca Valley Republican said. "It's a long way across country and everything. Normally when we have any types of breaks, I've got to tell you, the first priority is the grandkids. At my age, that's No. 1."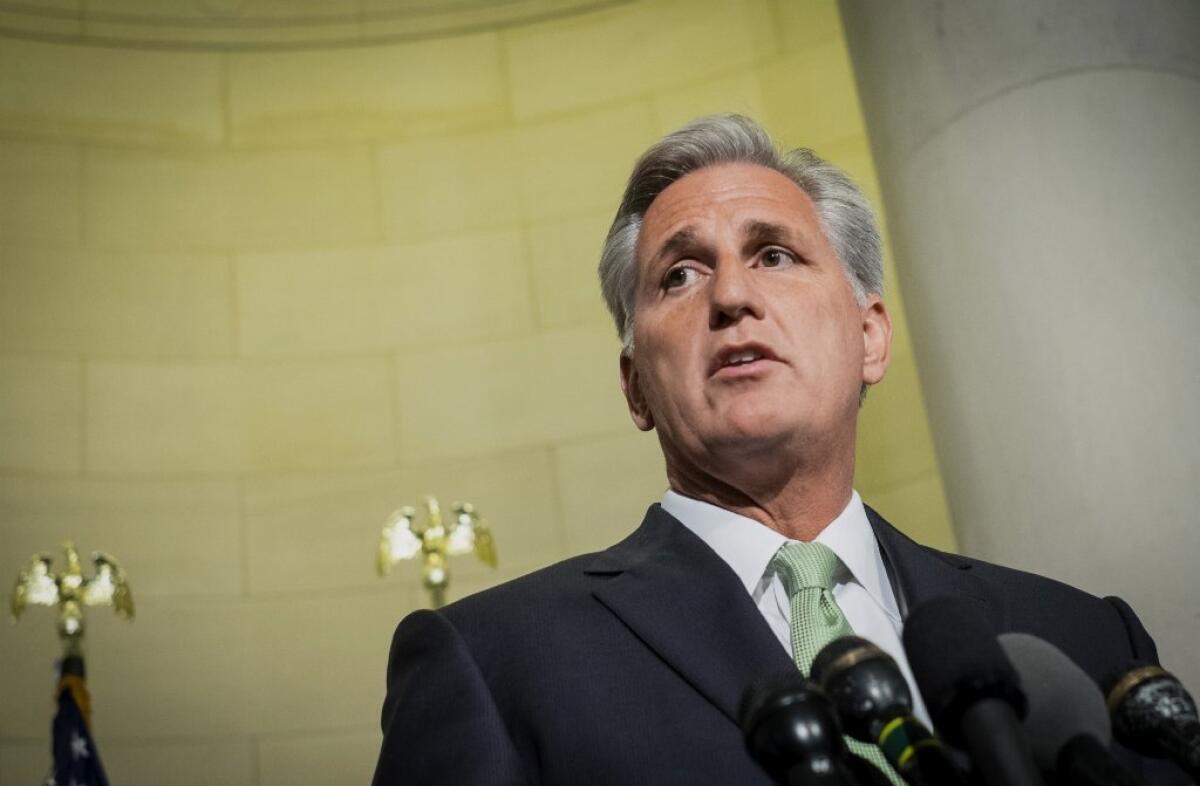 Pledged delegates
Some members will be on the convention floor in Cleveland to help officially designate the nominee.
Along with Hunter, Rep. Darrell Issa (R-Vista) and House Majority Leader Kevin McCarthy (R-Bakersfield) were on the Trump campaign's list of California delegates submitted to Secretary of State Alex Padilla.
Campaigns must submit a list of pledged delegates before the election; three from each of California's 53 congressional districts plus 10 statewide representatives.
The state's 172 delegates are allocated based on which candidate wins in each district. An additional 13 go to the statewide winner.
Though he has suspended his campaign, Sen. Ted Cruz (R-Texas) also submitted a slate of pledged delegates, which includes Costa Mesa GOP Rep. Dana Rohrabacher's wife, Rhonda Rohrabacher, and Rep. Tom McClintock (R-Elk Grove), who said after Cruz dropped out that he would support Trump.
Though not a delegate, Rep. Mimi Walters (R-Irvine) said she would be in Cleveland, partly because her daughter is hoping to intern at the convention.
"I happen to be curious to see how it all plays out because I've never been to one before," she said.
Senators in trouble
With control of the U.S. Senate in play this year, several vulnerable Republican senators have said they won't attend.
"I'm more valuable outside of Cleveland than inside of Cleveland," Sen. Richard Burr (R-N.C.) said on CNN.
Who's going to Cleveland and Philadelphia? See the list>>
I'm more valuable outside of Cleveland than inside of Cleveland.

— Sen. Richard Burr (R-N.C.)
Ohio Sen. Rob Portman told the Cleveland Plain Dealer he'll spend "very little" time at the convention despite it being held in his home state. He is facing former Democratic Gov. Ted Strickland.
Incumbents in two California seats that have been targeted by the Democratic Congressional Campaign Committee are split on what to do.
Staff for Rep. David Valadao (R-Hanford) said the second-term congressman is still weighing whether to attend or stay in the 21st Congressional District.
Rep. Jeff Denham (R-Turlock) is defending his 10th Congressional District seat, but is planning to go. "I think it's important to take part in the democratic process," he said.
Other prominent Republicans across the country have said they planned to skip the convention. That includes Former Presidents George H.W. Bush and George W. Bush and the party's two most recent nominees, former Massachusetts Gov. Mitt Romney and Sen. John McCain, who is seeking reelection in Arizona.
Former Kansas Sen. Bob Dole is the only former Republican presidential nominee who plans to be in Cleveland.
Senate hopefuls
The leading Republican candidates running to replace retiring Sen. Barbara Boxer were split on the convention. And they are not embracing Trump as they face the top-two June 7 primary.
George "Duf" Sundheim has no plans to attend the convention and hasn't endorsed Trump.
Ron Unz said he wasn't thrilled by his choices for president, but would consider attending the convention if he advances to the November ballot.
"Based on everything I've read in the newspapers, Trump seems like an ignorant buffoon, but I'll probably be voting for him over the other Republicans, who seem like total establishment donor-puppets," he said. "There's a very good chance I might just write in Ron Paul's name like I've done the last couple of times."
Tom Del Beccaro said he's waiting for a Republican candidate who can inspire the public through policy.
"I'm waiting both for Trump and for Cruz to empower the American people through their policies, instead of arguing the way that they are. That's why I've held off," he said.
For the 41 Democrats in the California delegation, 31 said they plan to attend the Democratic National Convention in Philadelphia, nine aren't sure yet and one, retiring Rep. Sam Farr (D-Carmel), is skipping it outright. All but four Democrats in the California delegation back Clinton.
Times staff writer Phil Willon contributed to this report.
Follow @sarahdwire on Twitter
Read more about the 55 members of California's delegation at latimes.com/politics
ALSO:
Who is going to the convention?
Endorsement tracker: Some California Republicans still not ready for Trump
All but four California House Democrats are with Clinton. Here's why
Who does your member of Congress support for president?
Get our Essential Politics newsletter
The latest news, analysis and insights from our politics team.
You may occasionally receive promotional content from the Los Angeles Times.