Schwarzenegger laughs off Trump's jabs: 'I think it is helping us, putting the spotlight on all of the issues I care about'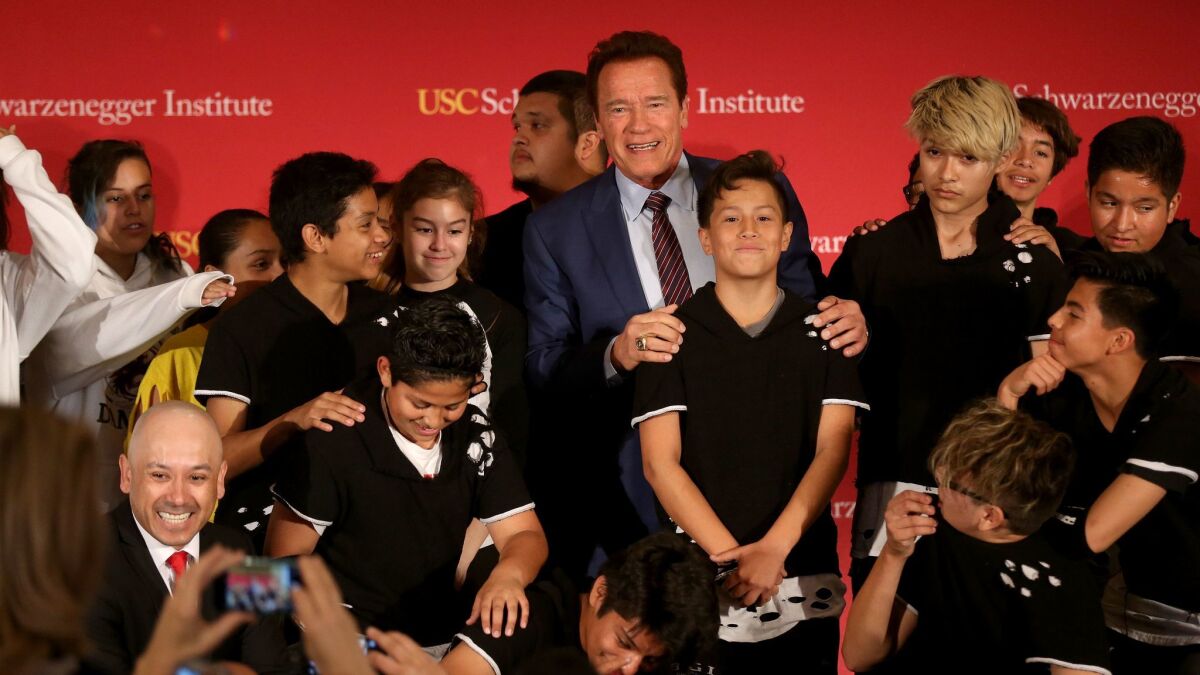 President Trump has many enemies he likes to target on social media: "failing" newspapers, political adversaries in both parties, foreign nations, former President Obama. But he shares many of the same characteristics, at least on paper, with one nemesis he has repeatedly singled out: former California Gov. Arnold Schwarzenegger.
Wealthy Republicans who were internationally known celebrities long before they ran for office, Trump and Schwarzenegger both were elected to top posts without electoral experience and have checkered histories with women. At one time, they had a warm relationship, and Trump supported Schwarzenegger's gubernatorial efforts.
But now there's a hard freeze on the relationship, with the former California governor offering to replace Trump in the White House so Americans "can finally sleep comfortably again," and the president chiding Schwarzenegger for low ratings on "Celebrity Apprentice" once he took over hosting duties. Trump has also criticized Schwarzenegger's stewardship of California and his support for other presidential candidates in the 2016 election.
Former Gov. Arnold Schwarzenegger discusses President Donald J. Trump's first 76 days in office and the challenges of governing in a partisan climate.
Schwarzenegger seemed amused as he compared the back-and-forth to playing ping-pong in a wide-reaching interview with The Times on Wednesday, saying he doesn't care about Trump's jabs as long as the attention helps him highlight causes close to his heart, such as climate change, immigration policy and redistricting reform.
"I think it is helping us, putting the spotlight on all of the issues I care about — environmental issues, after-school issues," he said, chuckling. "He puts the spotlight on it by just doing something that is a little crazy, and then everyone talks about it, and then I go and say, 'Whoa. Here is really what should happen.'"
Schwarzenegger spoke to The Times shortly before a televised town hall meeting on CNN where he discussed his plans to work on redistricting reform across the nation — to prevent elected officials from drawing district lines to suit their politics — an effort similar to one he championed in California. His staff announced he would match every dollar donated to a Common Cause crowdfunding account to pay for lawyers to fight gerrymandering nationwide.
Earlier in the day, Schwarzenegger hosted an event at USC focused on after-school programs, long a favored project for the actor-turned-governor. His support for Proposition 49, which provides $550 million annually in state funding for after-school programs, was crucial to its passage in 2002 and formed the foundation of his gubernatorial run the following year.
Trump has proposed cutting $1.2 billion in federal funding for such programs as part of a 13.5% cut in education spending, a point Schwarzenegger hammered during the event.
"President Trump promised us that he wants to Make America Great Again. That's not how you make America great, by taking $1.2 billion away from the children and robbing them blind," Schwarzenegger told an audience of hundreds and a bank of television cameras. "Why would you do that? Why would you balance the budget on the backs of these kids? Kids are the most vulnerable citizens. Kids are our future."
Schwarzenegger initially declined in the interview to weigh in on Trump's first months in office, but vowed to continue to challenge the president when he disagreed with him.
"I am sure there's a lot of things he does that are good, but when I feel that we're going backwards … I will let my voice be heard," he said, pointing to Trump's move to relax Obama administration environmental policy on the coal industry. "I said to myself, maybe next he is going to bring back buggies and horses, or pagers?"
For all the superficial similarities between the two men, there are critical differences. By all accounts, Schwarzenegger was a student of policy during California's brief 2003 recall election, and he actively sought the counsel of experts in various fields. Trump has become known for a more insular approach, once saying during the GOP primary last year that he consulted with himself on foreign policy and other issues "because I have a very good brain and I've said a lot of things."
Schwarzenegger has also been a consistent Republican, while Trump has danced across the political spectrum over the years.
The Austrian-born Schwarzenegger has long told an optimistic story of why he decided to join the Republican Party after he immigrated to the United States. Asked whether he would make the same decision today, he declared on CNN on Wednesday night that he was "not a Trump Republican," instead pointing to his admiration for the GOP presidents such as Ronald Reagan, Richard Nixon, Teddy Roosevelt and Abraham Lincoln.
Schwarzenegger attributes Trump's antipathy toward him to his support for Ohio Gov. John Kasich in the 2016 GOP primary — even after Kasich dropped out of the race. Schwarzenegger's public disclosure of his vote for Kasich, his longtime ally, in the California primary was a pointed snub of Trump, who was already the presumptive GOP nominee.
Speculation is swirling around whether Kasich will run again, thanks to a book tour stop later this month in New Hampshire, which holds the first presidential primary in the nation. Kasich has said he is not planning on running for president again, but has also refused to rule it out.
Asked whether Kasich should mount a bid for the White House in 2020, Schwarzenegger responded affirmatively, essentially calling for a primary challenge to his fellow Republican in the White House.
"He should run in 2020, yes," Schwarzenegger said, pointing to his friend's government experience at the federal, state and local levels and lauding the Ohio governor for his compassion. "Kasich is an extraordinary guy."
For the latest on national and California politics, follow @LATSeema on Twitter.
ALSO
Schwarzenegger says he's not running for U.S. Senate
Schwarzenegger blasts Trump's approval numbers: 'The ratings are in and you got swamped'
Trump's approach might seem new, but Arnold Schwarzenegger tried it first. It was a disaster.
---
Life is stressful. Our weekly mental wellness newsletter can help.
You may occasionally receive promotional content from the Los Angeles Times.