Riding high in the U.S. Senate race, Kamala Harris pushes to help down-ballot Democrats
Reporting from Santa Clarita —
Democratic U.S. Senate candidate Kamala Harris kicked off her 10-day campaign tour of California in a part of California that had, until recently, been the solid domain of the GOP.
But in Santa Clarita, the tiny, makeshift Democratic Party headquarters in an office building overflowed with party loyalists Sunday, all hyped by the prospect that Democrats had a fighting chance of capturing the local congressional and statehouse seats that have long been in Republican hands.
For Harris, holding a rally so close the the election and so far away from California's voter power centers in Los Angeles and the San Francisco Bay Area could indicate that she has enough confidence going into the November election against her rival, Rep. Loretta Sanchez (D-Orange), that she can spend the final days of the race helping down-ballot Democrats increase their numbers in the House of Representatives.
"Please give everything you have in your energy and your time and in your heart to make sure that we elect them, because these are difficult times," Harris, California's two-term attorney general, said at the rally.
Among those onstage with Harris was Democratic attorney Bryan Caforio, who has mounted a serious challenge to freshman Rep. Steve Knight (R-Palmdale), as well as state Senate candidate Johnathon Ervin and Assembly hopeful Christy Smith.
"With the AG coming into town, kicking off her bus tour here in Santa Clarita, it's showing people that this matters," Caforio said after the rally. "People are watching this, and people are seeing the backwards policies that are being brought in from the other side aren't working, and we're going to bring in change from the bottom up."
Just four years ago, Republicans had a 4-percentage-point edge in voter registration in Knight's 25th congressional district. Now Democrats hold a 1% advantage, according to the latest voter registration figures from the California Secretary of State.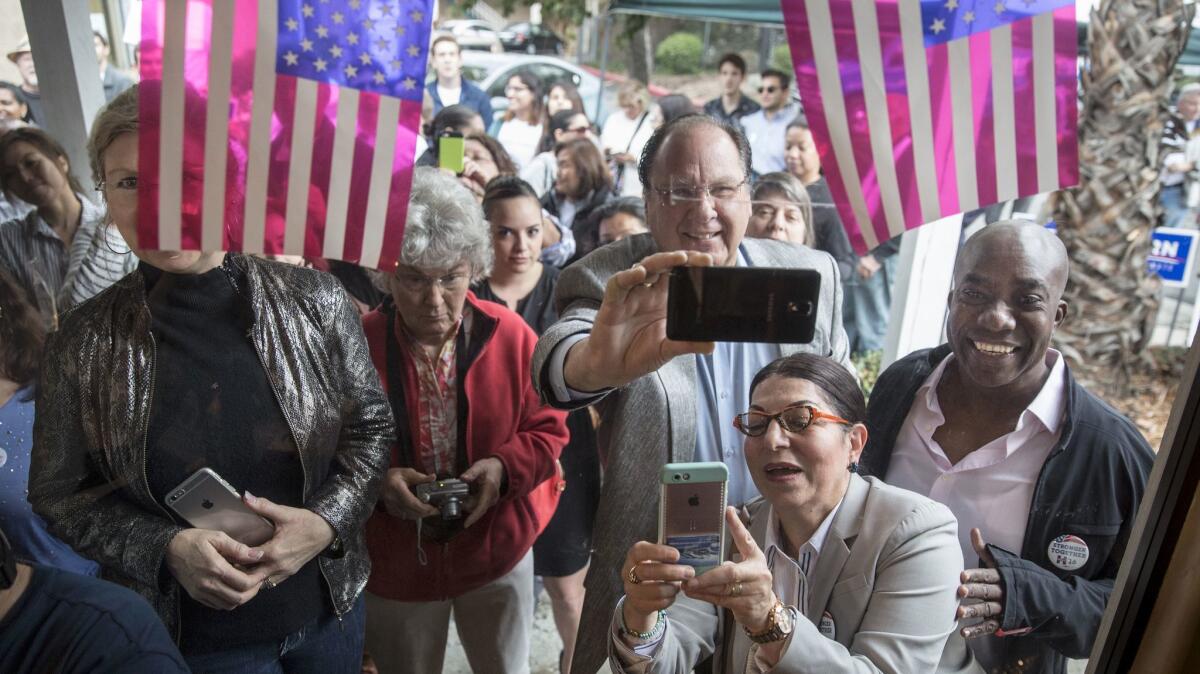 Smith, who is running for an Assembly district that opened up when when Assemblyman Scott Wilk (R-Santa Clarita) opted to run for state Senate, said Harris' presence showed that both national and state Democratic leaders are starting to believe that the Republican domain in the region is crumbling.
"Being here is about all of us supporting each other," Harris told reporters after the rally. "I'm here to talk with my colleagues and the people I hope my state elects into the state Legislature and the United States Congress."
Harris' campaign bus tour will wind through Southern California, the Santa Barbara coast, the Bay Area and the Central Valley over the next week. Noticeably, the tour includes rallies in California congressional districts Democrats hope to wrest away from GOP incumbents or are struggling to hold onto in hotly contested races.
In that strategy is a whiff of the national effort by Democratic presidential candidate Hillary Clinton, who in recent weeks has campaigned hard for Democratic candidates in states such as Nevada, Florida and North Carolina in hopes of helping to topple the Republican reign over the U.S. Senate.
A few of Harris' rallies are in areas outside the Bay Area and Los Angeles County, her political comfort zones. After the stop in Santa Clarita, the Harris bus tour includes stops in Modesto, San Diego and Orange County, and just weeks ago she held a rally in Bakersfield — all areas where she did not perform so well in her 2010 and 2014 campaigns for state attorney general.
"Think of this of this as the Kamala Harris victory lap. But rather than simply up building up her own margins, she's collecting political chits," said Dan Schnur, director of the Jesse M. Unruh Institute of Politics at USC. "Every single one of these candidates is going to remember that she campaigned for them in the last days before their election."
When asked this weekend, Sanchez bristled at the notion that Harris may be taking a victory lap.
"I don't notice what's she's doing, I'm concentrating on what I'm doing," Sanchez said after a campaign event Saturday. "We were meeting with down-ticket ballot people a year and a half ago. So we already know who's with us on the down-ticket ballot and they're already working with us."
On Saturday morning, Sanchez joined other Inland Empire politicians at the grand opening of a new water treatment facility in Rialto and spoke about her record on water issues.
Sanchez, who has represented her Orange County district in Congress for 20 years, used the opportunity to boast about helping deliver federal funding to an Orange County waste water treatment system that provides enough water for nearly 850,000 residents. Afterward, the congresswoman said having a senator with expertise on water issues is essential for California, a skill set that Sanchez said her opponent lacks.
Sanchez noted Harris once told the Sacramento Bee's editorial board that she was unfamiliar with the two largest proposed reservoirs in California. Sanchez hasn't taken a firm position on the reservoirs, which are generally supported by California farming interests and opposed by environmentalists, but said she is willing to listen to all sides on the issue.
"One of the biggest differences between my opponent and myself is that I actually talk about issues, I actually meet with people, I actually try to figure out what's going on," Sanchez said. "I've not seen anything about her. I've not seen any policy. All I see is commercials on TV."
After the Rialto event on Saturday, Sanchez headed to Chino Hills to open the Kids' Diwali Celebration at the BAPS Shri Swaminarayan Mandir Hindu temple. On Sunday, Sanchez traveled to the Central Valley for campaign events at Sikh temples in Selma and Fresno, and then hosted an open forum on water, jobs and immigration at a café in Mendota.
Harris has never done well in the Central Valley or the Inland Empire, losing in those regions to her Republican opponents in her 2010 and 2014 races for California attorney general. But Harris still won the the statewide elections because of her strong performance in Los Angeles County and the Bay Area, which are home to more than 40% of the California electorate.
A recent poll by the Public Policy Institute of California found that Harris had more than a 2-to-1 lead over Sanchez among likely voters going into the November election, and that she leads in every major region of the state.
Santa Clarita Democrat Carole Lutness, who lost her bid for the Assembly in 2008, said Harris' widespread support among loyal Democrats can only help party candidates in this year's election.
"It definitely helps to have the top of the ticket visiting. It really drives the grass roots," Lutness said. "I wish she was around when I ran."
Follow @philwillon on Twitter
ALSO
New poll shows Kamala Harris leading California's U.S. Senate race by a 2-to-1 margin
Hillary Clinton is helping Senate candidates now so they can help her if she wins the White House
Get our Essential Politics newsletter
The latest news, analysis and insights from our politics team.
You may occasionally receive promotional content from the Los Angeles Times.