How much are California's U.S. Senate candidates worth?
California's two U.S. Senate candidates may not be as rich as some of Washington's well-heeled politicians, but they aren't exactly hurting.
Both state Atty. Gen. Kamala Harris and Orange County Rep. Loretta Sanchez have a net worth that likely runs in the millions.
Harris and her husband, Los Angeles attorney Douglas Emhoff, live in a multimillion-dollar home in Brentwood. Sanchez owns an ocean-view home in Palos Verdes Estates, which she rents out.
Still, throughout most of their lives, both Harris and Sanchez have salted away retirement savings, bought homes and acquired other assets that wouldn't be considered outlandish for a successful career politician or professional in their 50s.
Neither appears to be a member of the exalted and equally vilified 1%, the wealthiest Americans, nor anywhere near as loaded as some members of California's congressional delegation. Vista Republican Rep. Darrell Issa, a former car alarm mogul, tops the list with a minimum net worth of $254.7 million.
More on their level is the retiring Barbara Boxer, the Democratic senator Harris and Sanchez are vying to succeed. Her net worth is at least $1.1 million, according to disclosures she files with the U.S. Senate.
While both live much more comfortably than the average Californian, Harris and Sanchez insist their lives have been steeped in the experiences and everyday challenges of the working class.
Tough to estimate net worth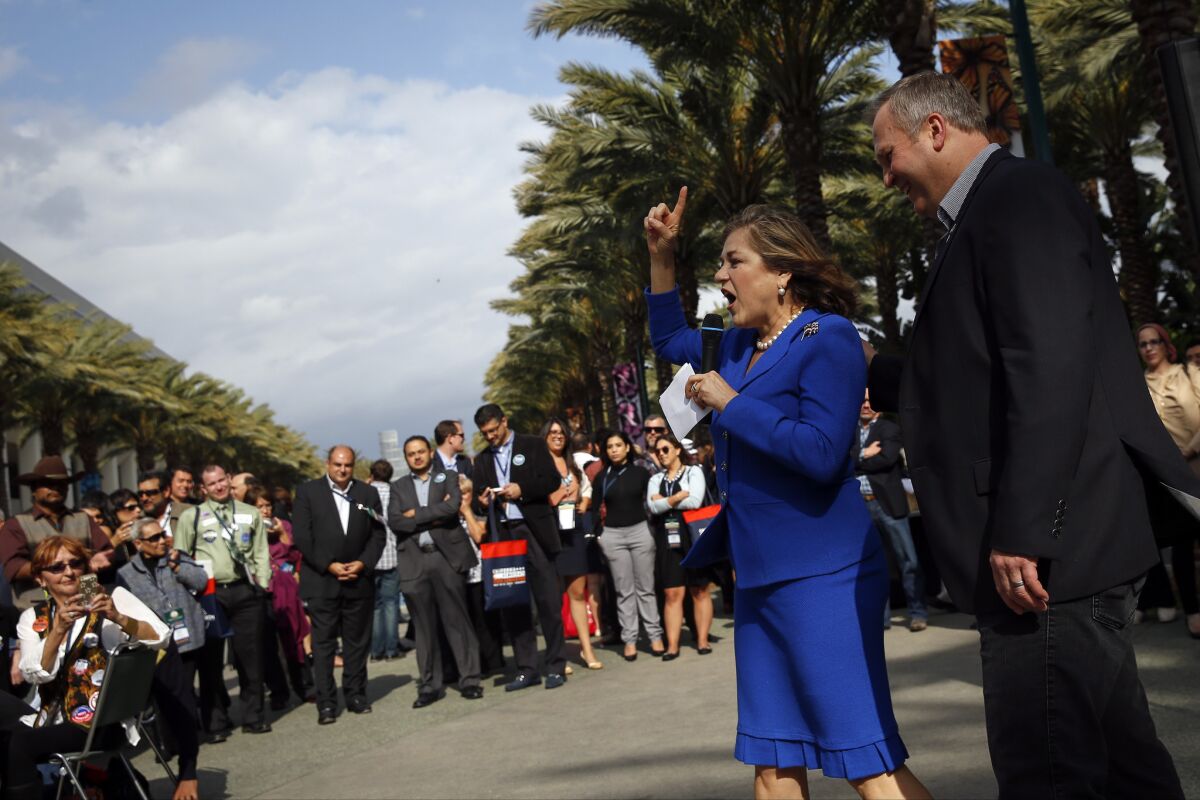 A precise net worth for Harris and Sanchez is difficult, if not impossible, to calculate based on Congress' disclosure rules.
While members of Congress and Senate candidates file annual financial disclosures, they are allowed to provide broad ranges for assets and liabilities, meaning an item could either be at the low or high end of the range, or anywhere in between.
Lawmakers also are not required to disclose the value of property they own unless it earns rental income. While some do, they don't need to list expensive personal property such as luxury cars, jewelry or fancy boats.
That makes it hard to compare lawmakers' wealth and income with the average person in California, where the median household income in 2014 was approximately $61,000 a year and the median sale price for a Southern California home in May was around $460,000.
The financial disclosures and other publicly available information do, however, provide a general picture of how Harris and Sanchez are living.
Election 2016 | California politics news feed | Sign up for the newsletter
A San Francisco condo and a home in Brentwood
As attorney general, Harris, 51, is paid an annual salary of $158,775. The Oakland native, who served as San Francisco's district attorney for two terms, has socked away between $411,000 and $1 million in personal savings, mutual funds and retirement accounts, according to a U.S. Senate financial disclosure form filed in August 2015.
Throughout most of her political career, Harris lived in a 938-square-foot condo in San Francisco that she bought in 1998. But her financial picture changed dramatically after she married Emhoff in October 2014.
Emhoff heads the Los Angeles office of the national law firm Venable. The form did not give his precise salary, but noted it was more than $100,000 in 2015. He also holds a partnership interest in the firm worth between $100,000 and $1 million, according to Harris' annual state financial disclosure report filed in March.
The couple lives in a 3,500-square foot, Brentwood contemporary with three large bedroom suites, a spa-like master bathroom and a kidney-shaped pool in the backyard. Emhoff purchased the home though a family trust for $2.7 million in 2012, before the two were married.
Stock holdings in Emhoff's individual retirement account, which "were funded prior to marriage," were sold shortly after Harris announced her Senate bid, according to financial disclosures. Those stocks included investments in companies such as Citicorp, Wells Fargo, Valero Energy, Walt Disney Co. and Monsanto.
Altogether, the couple had between $1.5 million and $4 million in assets in 2015, not including the two homes, and $200,000 to $500,000 in liabilities, according to the Senate disclosure.
It's unclear if Harris owns a car. A state Department of Justice security detail provides the attorney general with round-the-clock transportation. A spokesman for the Harris Senate campaign declined to say what type of car or cars she or her husband may own or lease.
A 1992 pickup truck and a home in Palos Verdes
Sanchez, 56, has represented Orange County in the U.S. House of Representatives since 1997 and earns an annual salary of $174,000. The congresswoman reported having between $52,000 and $130,000 in savings accounts on her financial disclosure filed in May. She is not required to report any savings she may have in a congressional retirement account.
Sanchez and her husband, attorney John "Jack" Einwechter, live in a modest 1,729-square-foot house near Chapman University in Orange. The 1962, three-bedroom ranch house includes a sizable, somewhat barren backyard. Sanchez bought the home in 2015 for $740,000.
The congresswoman's biggest asset is a home in Palos Verdes Estates that she acquired after a divorce settlement with her former husband, Stephen Brixey, in 2004. Sanchez reported the home was worth between $1 million and $5 million. It has been rented out for the past 22 years and in 2015, she reported collecting between $15,000 and $50,000 in rental income from the property.
The 2,514-square-foot home sits high above the coast and has a second-story view of the "Queen's Necklace" — Southern California's curving coastline that runs from Palos Verdes to Malibu.
Before going into private legal practice, Sanchez's husband worked for the Costa Mesa firm Sourcing Solutions, which specializes in technological hardware. His annual income was not reported on the congresswoman's 2015 financial disclosure. This year, he reported having sold Sourcing Solutions stock worth between $100,000 and $250,000 in 2015.
Sanchez owns two automobiles: a 2002 Ford Thunderbird and a Toyota pickup truck that she bought in 1992, her staff said.
Combined, the couple had between $1.7 million and $6.3 million in assets in 2015. That includes the home in Palos Verdes and the 2015 sale of her former house in Santa Ana. The couple reported having between $1 million to $2 million in liabilities.
Aides to both candidates stressed they each are well-rooted in the experiences of working-class families. Sanchez was raised by Mexican immigrant parents, attended public schools and relied on scholarships for her college education, her staff noted. Harris spent her career trying to better the lives of the most vulnerable Californians, her staff said.
The campaigns had similar lines for why the candidates' wealth signaled nothing about the type of senator she would be.
"Loretta, who at one point cleaned houses to help pay for her brother's college housing, has remained true to her humble roots. She represents what can be achieved in America, that if a person gets an education and works hard, he or she can be successful," said Luis Vizcaino, spokesman for the Sanchez campaign.
"She attended California public schools, worked her entire career as a prosecutor on a civil servant salary, and her family didn't realize the dream of home ownership until she was 14," said Nathan Click, spokesman for the Harris campaign.
Twitter: @philwillon
ALSO:
How many millionaires does California send to Congress?
8 things to know about Senate hopeful Loretta Sanchez's 20-year political career
8 things to know about Senate candidate Kamala Harris' career gold stars and demerits
Kamala Harris holds strong lead in California's U.S. Senate race
Updates on California politics
---
Life is stressful. Our weekly mental wellness newsletter can help.
You may occasionally receive promotional content from the Los Angeles Times.