Senior aide to Sen. Kamala Harris resigns over reports of gender harassment and discrimination settlement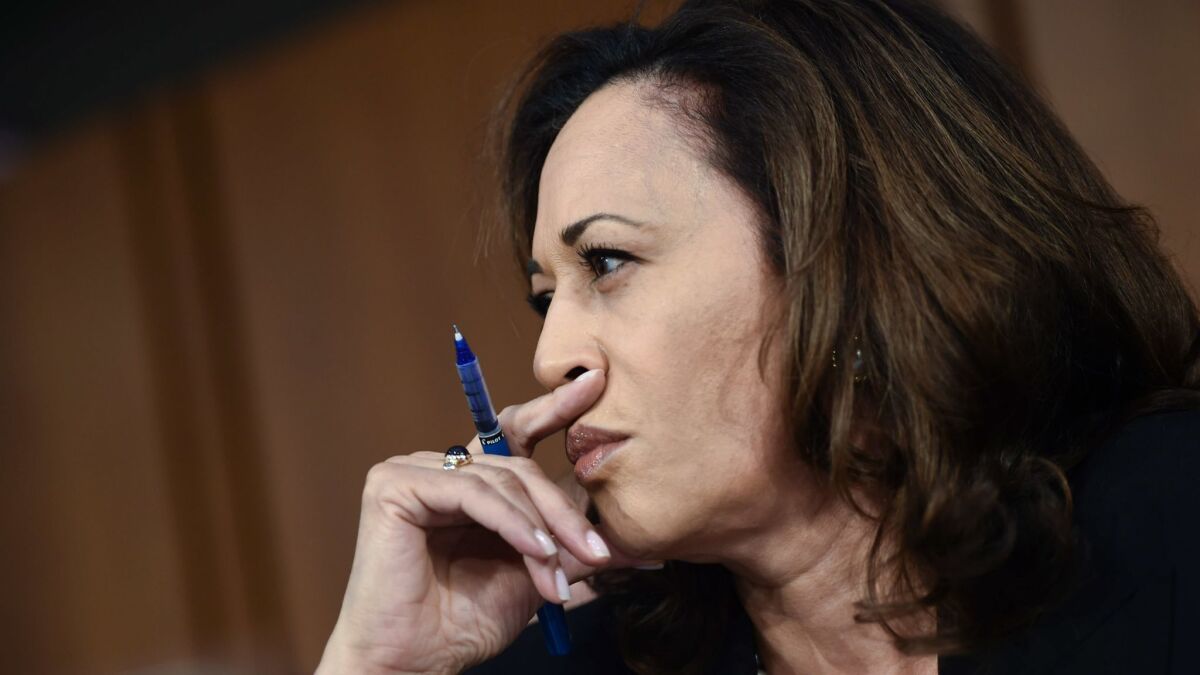 Reporting from Sacramento —
Larry Wallace, a top aide to Sen. Kamala Harris, resigned Wednesday after it was revealed that the California Department of Justice paid $400,000 last year to settle a sexual harassment and retaliation lawsuit stemming from his time at the state agency.
The May 2017 settlement was paid to Danielle Hartley, Wallace's former executive assistant, whose lawsuit accused Wallace of gender harassment and discrimination. At the time of the alleged harassment, Wallace was director of the state agency's Division of Law Enforcement and Harris was California's attorney general. She was elected to the U.S. Senate in November 2016, and Wallace became a senior advisor in her Sacramento field office.
"We were unaware of this issue and take accusations of harassment extremely seriously," said Lily Adams, a spokeswoman for Harris, adding that on Wednesday evening, "Mr. Wallace offered his resignation to the senator and she accepted it."
Harris, a potential candidate for president in 2020, was a leading opponent of President Trump's appointment of Brett M. Kavanaugh to the U.S. Supreme Court, citing allegations that he engaged in sexual misconduct.
The settlement and resignation were first reported Wednesday by the Sacramento Bee. The lawsuit was filed in December 2016, a month after Harris was elected to the U.S. Senate.
Among the actions alleged in the suit, Hartley claimed that Wallace placed his printer on the floor under his desk and ordered her to put in new paper or replace the ink each day, forcing her to get down on her knees in dresses and skirts in front of her boss and other staff members.
"Many times, Wallace would ask her to put paper in the printer while he was sitting at his desk or with other male executives … in the room," the lawsuit alleged.
In the civil complaint, Hartley said that meaningful tasks were taken away from her and she was asked to book flights for Wallace's children, wash his car and take it in for maintenance. The lawsuit alleges that other employees made hostile comments to Hartley when she returned from such jobs including, "Are you walking the walk of shame?"
The Department of Justice later subjected Hartley to an internal affairs investigation, transferred her to other jobs without meaningful work and set her up to fail in those jobs, said her attorney, Jill P. Telfer.
"The underlying issue was Wallace's conduct, but the actions of the Department of Justice retaliating against Ms. Hartley and then attempting to cover up the harassment and retaliation rather than correct the behavior is what I find to be reprehensible," Telfer said.
Hartley's lawsuit said there was a culture in the Department of Justice that did not provide support for victims of harassment. After Hartley complained about her treatment to Wallace's supervisor, Wallace began to retaliate against Hartley, the lawsuit alleges.
Just before Christmas 2014, Hartley was involuntarily transferred to the Bureau of Firearms, "assigned to a desk and not given any meaningful assignments," the lawsuit said.
After suffering from stress, depression and a physical ailment, Hartley later went on medical leave, according to the complaint.
A state filing said the Department of Justice "denied each and all of the allegations."
Xavier Becerra was appointed state attorney general after Harris was elected to the U.S. Senate and took over the job in January 2017, four months before the lawsuit was settled.
A representative for Becerra declined to discuss the case Thursday. Becerra's office also didn't comment on whether other settlements involving DOJ employees had been offered in recent years.
"We don't comment on personnel matters," spokeswoman Bethany Lesser said.
The case was settled on behalf of the state DOJ in a filing signed by Amanda Renteria, a former national political director for Hillary Clinton's presidential campaign, who later went to work for the state agency and was briefly a Democratic candidate for governor.
The settlement required Hartley to resign from the Department of Justice and barred her from reemployment.
Coverage of California politics »
Twitter: @mcgreevy99
Get our Essential Politics newsletter
The latest news, analysis and insights from our politics team.
You may occasionally receive promotional content from the Los Angeles Times.