These Californians all have tickets to the State of the Union address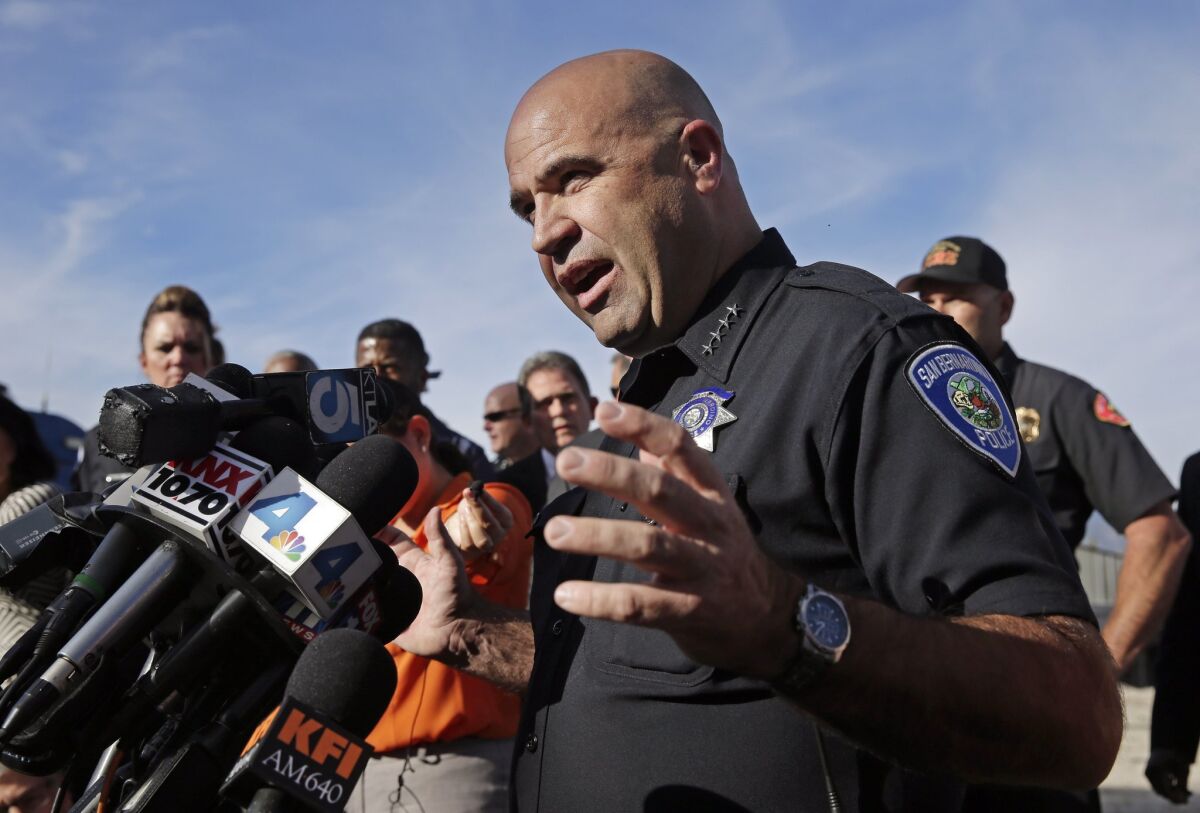 Several members of the San Bernardino community will watch from the House gallery on Tuesday night as President Obama gives his final State of the Union speech.
With the aid of two California colleagues, Rep. Pete Aguilar invited San Bernardino Police Chief Jarrod Burguan, San Bernardino County Sheriff John McMahon and Loma Linda University Medical Center emergency department nurse James Parnell to be his guests. First responders have been praised for calmly managing the December terrorist attack at the Inland Regional Center.
Aguilar, a Democrat and the former mayor of Redlands, represents the 31st District, still reeling from the shooting. He said he doesn't want the city just to be remembered for the tragedy.
"Having the positive response and coordination that law enforcement exhibited, I hope that also becomes a symbol of the events of Dec. 2, rather than just the tragedy and the terrorism," Aguilar said. "They did a very good job, and I want to thank them."
The White House also is recognizing San Bernardino by bringing Ryan Reyes, whose boyfriend, Daniel Kaufman, was killed in the attack. A seat in the first lady's section of the gallery is being left empty to represent victims of gun violence.
Aguilar said McMahon and Burguan would also talk with federal officials about helping to pay for the emergency response while they are in town.
Congressional members are each allowed one ticket for a seat inside the chamber. Some select a guest to highlight an issue or occasionally make a political point. Others use it as a special treat for a family member or constituent.
Reps. Ken Calvert (R-Corona) and Susan A. Davis (D-San Diego) gave Aguilar their coveted tickets so he could recognize more people.
Aguilar said he was "very happy that my colleagues understood how significant this was of a time for me and my district."
Rep. Mark Takano (D-Riverside) invited the family of Damian Meins, a Riverside man killed in the attack. His widow and two daughters will be there.
"I thought it was important for people in the area to show solidarity," Takano said. "It gives a representation of what our region suffered."
Annemarie Teall, the 911 dispatch supervisor who took the call during the San Bernardino shooting and coordinated emergency response, is scheduled to attend as the guest of Rep. Norma Torres (D-Pomona), a former emergency dispatcher herself.
Other California members are bringing gun-control advocates
Rep. Mark DeSaulnier (D-Concord) invited an old friend from the statehouse, Amanda Wilcox, legislative and policy chairwoman of the state chapter of the Brady Campaign to Prevent Gun Violence. Wilcox's 19-year-old daughter, Laura, was shot to death in 2001 while working at a mental health clinic.
Rep. Eric Swalwell (D-Dublin) invited Fremont Police Chief Richard Lucero, who's department sponsors a gun buyback program.
Others have found local advocates to highlight
Rep. Barbara Lee's (D-Oakland) guest will be Black Lives Matter co-founder Alicia Garza.
Rep. Jared Huffman (D-San Rafael) invited Ali Rezaian, brother of Washington Post reporter Jason Rezaian, in the hopes it will spark additional conversation about Jason's ongoing detention by Iran.
Jason, a California native, was arrested in Tehran in 2014 and convicted of unspecified charges in a closed-door trial in 2015. Iranian officials haven't said how long his prison sentence will be and have rejected U.S. calls for his release.
National Council for Behavioral Health President Linda Rosenberg is Rep. Doris Matsui's (D-Sacramento) guest.
Rep. Jackie Speier (D-Hillsborough) invited Dr. Bennet Omalu, the forensic pathologist who discovered the link between football concussions and subconcussive trauma and the brain disease chronic traumatic encephalopathy, portrayed by actor Will Smith in the movie "Concussion."
Omalu is scheduled to brief members and staff about head trauma before the speech Tuesday.
"This is a chance to shine a bright light on the scientific consensus that the NFL has failed to adequately address," Speier said in a statement. "Omalu's insight and persistence on this issue has been crucial to our understanding of the epidemic among players of one of America's most popular sports."
Burbank Mayor Bob Frutos is joining Rep. Adam B. Schiff (D-Burbank). Rep. Steve Knight (R-Palmdale) invited Major Gen. Curtis Bedke, who previously served as commander of the Air Force Flight Test Center at Edwards Air Force Base. Retired United Auto Workers of America executive Hank Lacayo will be in the gallery as the guest of Rep. Julia Brownley (D-Westlake Village).
Rep. Scott Peters (D-San Diego) invited Navy Special Operations veteran Joe Musselman, founder of the Honor Foundation, which prepares Special Operations Forces for private-sector careers.
SIGN UP for our free Essential Politics newsletter >>
Several California members plan to bring Muslim guests
They are answering a challenge from Rep. Keith Ellison (D-Minn.), the first Muslim American elected to Congress, in response to Republican presidential candidate Donald Trump's call to ban Muslims from entering the United States.
Rep. Zoe Lofgren (D-San Jose) invited Sameena Usman, government relations coordinator for the Council on American-Islamic Relations' San Francisco Bay Area chapter, and Rep. Ami Bera (D-Elk Grove) will bring Carmichael engineer Sarmed Ibrahim, an Iraqi refugee who fled after Al Qaeda destroyed his home and business and tried to kill him for helping the U.S. Army. Rep. Judy Chu (D-Monterey Park) invited small-business owner Adnan Khan, a past president of the Council of Pakistan American Affairs.
Others have more personal reasons to wave to the gallery
Retiring Rep. Lois Capps (D-Santa Barbara) asked her son-in-law, Bill Burton, the former deputy White House press secretary. Capps' staff said she thought it was fitting they attend the speech together, given it will be Obama's final address.
Rep. Ed Royce's wife of 29 years, Marie Royce, is going to be the Fullerton Republican's date, and Rep. Ted Lieu (D-Torrance) used a spare ticket from a Republican colleague to invite his parents, George and Kerry Lieu.
"They have done so much to raise me and my brother. They immigrated to America to seek the American dream," Lieu said. "They wanted to see the president."
Follow @sarahdwire on Twitter
Read more about the 55 members of California's delegation at latimes.com/politics
Get our Essential Politics newsletter
The latest news, analysis and insights from our politics team.
You may occasionally receive promotional content from the Los Angeles Times.