Majority of California voters want to repeal gas tax increase, poll finds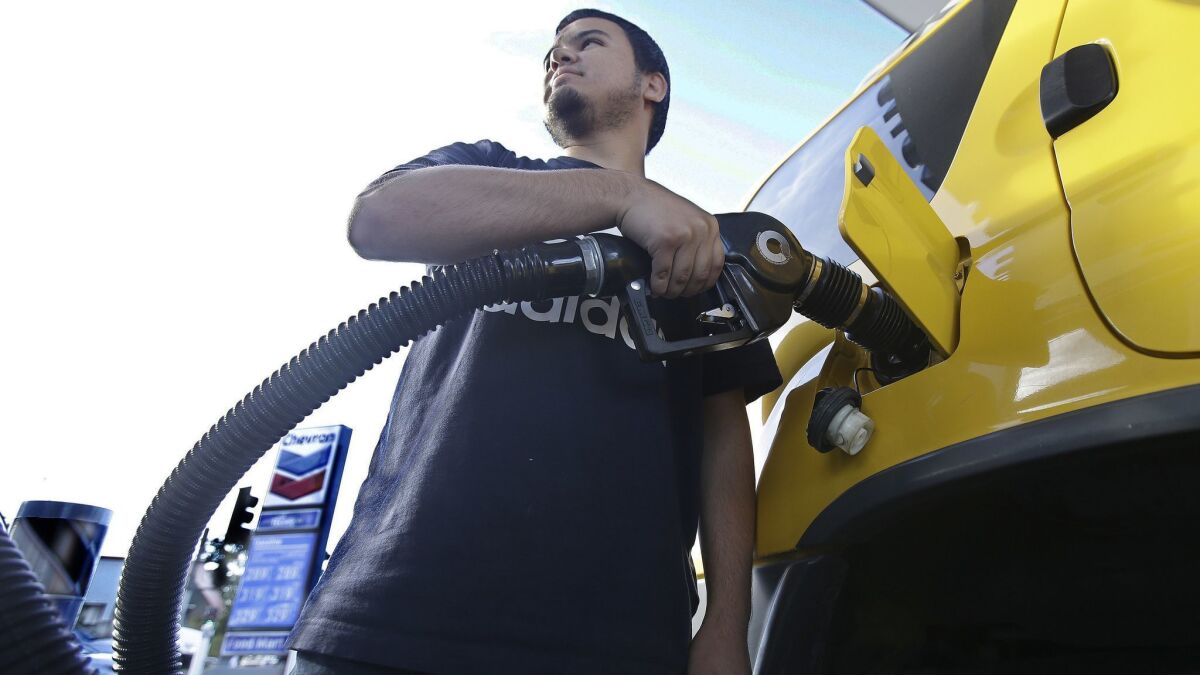 Reporting from Sacramento —
As a new poll found a majority of California voters want to repeal increases to the state's gas tax and vehicle fees, Gov. Jerry Brown has begun campaigning to preserve them, arguing the sacrifice is needed to fix long-neglected roads and bridges and improve mass transit.
Repeal of the higher taxes and fees was supported by 51% of registered voters in the state, according to a new USC Dornsife/Los Angeles Times statewide poll.
The survey found 38% of registered voters supported keeping the higher taxes, 9% hadn't heard enough to say either way and 2% said they wouldn't vote on the measure.
The results bode well for a measure that Republican members of Congress hope to place on the November statewide ballot that could boost turnout of GOP voters by offering the chance to repeal the gas tax increase, said Bob Shrum, director of the Jesse M. Unruh Institute of Politics at USC.
"If it qualifies for the ballot it will be, I suspect, very hard to sustain it," Shrum said of the tax. "It's almost dead."
At issue is Senate Bill 1, approved by the Legislature and governor in April 2017. It raised the gas tax by 12 cents per gallon, boosted the diesel fuel tax by 20 cents per gallon and increased vehicle fees. The new charges will raise $5.4 billion annually for road and transit projects.
In launching a campaign to preserve the taxes, Brown has come out swinging, calling the proposed repeal initiative "devious and deceptive" in a speech Friday to Southern California transportation leaders.
"The test of America's strength is whether we defeat this stupid repeal measure, which is nothing more than a Republican stunt to get a few of their losers returned to Congress, and we're not going to let that happen," Brown told the transportation officials at Union Station in Los Angeles.
The California Transportation Commission has so far allocated $9.2 billion for transportation projects throughout California as a result of SB 1.
The governor's comments drew a sharp rebuke as "disgraceful name-calling" from Carl DeMaio, a Republican leader of the initiative drive who is a former member of the San Diego City Council.
The poll results are encouraging, he said.
New poll finds a volatile race for second place »
"It just goes to show you that in order for Gov. Jerry Brown and his backers to prevail in keeping the tax in place they are going to have to pull out all stops, and the level of dishonesty is going to be breathtaking," DeMaio said.
The governor and other supporters of the tax "might have a chance" to succeed, Shrum said, if they make the question about safe bridges, fixing the state's crumbling roads and boosting the economy.
That is the tactic that seems to be emerging.
Caltrans officials held a news conference Tuesday in Oxnard to announce $68.6 million in SB 1 funds to build an overpass for Rice Avenue over busy rail tracks.
The project will end delays as cars wait for trains to pass and make safer an intersection that has been identified as one of the most dangerous in the state, officials said.
Brown had planned to attend the Oxnard event, but his flight from Sacramento was delayed. The governor plans similar events throughout the state, aides said, and he made his case to reporters in a conference call.
"It's great to recognize this, one of many projects that SB 1 is going to finance," Brown said. "It's going to save lives. It's going to make commuting and traveling easier and safer."
That supporters of the tax are addressing voters outside of Los Angeles and San Francisco is also noteworthy. The poll found only 44% of voters in Los Angeles want to repeal the tax, but the number goes to 55% in the suburbs, 56% in the state's Central Valley and 64% in Orange and San Diego counties and the Inland Empire.
Shrum said supporters of the tax should be concerned about the level of opposition by voters, including the poll findings that half of Latino voters want to repeal the taxes. "That's not a promising number, given you have to use a Democratic base" to mount a campaign to keep the tax, he said.
"If Democrats are going to save this they are going to have to spend a lot of money," Shrum added.
Coverage of California politics »
Hoping to boost turnout of GOP voters, Republican leaders providing major funding of the repeal initiative include House Speaker Paul D. Ryan of Wisconsin, House Majority Whip Steve Scalise of Louisiana and House Majority Leader Kevin McCarthy of Bakersfield, who, because he is poised to be the next speaker, has a lot on the line when it comes to who controls Congress.
The campaign against the initiative is backed by a coalition of deep-pocketed big businesses that often align with Republicans to fight higher taxes, and it also has support from labor, law enforcement and cities.
The "Fix Our Roads" coalition fighting repeal includes the Los Angeles Area Chamber of Commerce, the Bay Area Council, the Silicon Valley Leadership Group, the League of California Cities, the State Building & Construction Trades Council of California and the California Assn. of Highway Patrolmen.
A political committee set up to fight any attempt to repeal the gas tax has raised more than $1 million so far.
The poll did not shake the confidence of anti-repeal coalition leader Michael Quigley, executive director of the California Alliance for Jobs.
"This campaign will be about whether voters want to rip away thousands of local projects, whether they want unsafe, congested roads, and whether they want to let partisan politicians take us backward," Quigley said.
The governor's leading role could help to keep the gas tax on the books, but his ability to assist is limited, said Mike Murphy, a Republican strategist and consultant to the poll. "The governor's numbers aren't what they used to be."
The poll found that 48% of voters approved of the job Brown has done and 40% disapproved.
The online survey was conducted from April 18 to May 18 and included 691 registered voters. The overall margin of sampling error is plus or minus 4 percentage points.
Jill Darling, survey director of the USC Dornsife Center for Economic and Social Research, contributed to this report.
Twitter: @mcgreevy99
---
UPDATES:
10:15 a.m.: This article was updated with revised figures from state officials who reported that the California Transportation Commission has allocated a total of $9.2 billion from SB 1 funds for transportation projects.
This article was originally published at 12:05 a.m.
---
Life is stressful. Our weekly mental wellness newsletter can help.
You may occasionally receive promotional content from the Los Angeles Times.