Boyle Heights residents remember Villaraigosa's political career as he asks for their votes
As he campaigned for governor in Boyle Heights, Antonio Villaraigosa kept meeting people from his past.
The former Los Angeles mayor walked down Cesar Chavez Avenue on Friday morning to listen to small business owners. From parking concerns to fears the economy will hurt business, they told the Democrat what they wanted him to do if he is elected governor.
But first, he must win a spot in California's top-two primary election on June 5, which is why he spent the day getting out the vote in friendly territory. Villaraigosa grew up in Boyle Heights, and he served as L.A. mayor from 2005 to 2013.
His first stop was King Taco. "I came here in May 1983," when the iconic restaurant first opened, he told customers and employees. "I used to go to the one in Cypress Park before."
Sergio Mosqueda, who has managed this King Taco for 20 of the 28 years he's worked there, said, "It feels good to see someone from the neighborhood rise like he did."
Down the block at Pet Care Inc., co-owners Luz Padua and Jesus Ornelas display a certificate of appreciation for small businesses next to the register. Villaraigosa presented it to them in August 2007.
"We supported him back then, because of his support for our community's youth, as well as their education," said Padua, 47, of Carson.
"To see him come back to the community where he was born, to come back to his roots, is significant," Padua said. "It means he really is trying to hear everyone's voices."
Villaraigosa listened as the couple talked about the pressure that gentrification has put on business owners. Ornelas said they fear the property they rent monthly for their business will be sold out from under them.
"Because of gentrification, I might be pushed out, and a lot of us feel like that around here," Ornelas said. "They don't care that we've been here for 33 years."
The rising cost of living has made residents put pet food last on their list of priorities, Padua said.
"You're exactly why we need to fix this economy. It's not working for enough people," Villaraigosa told the couple.
Coverage of California politics »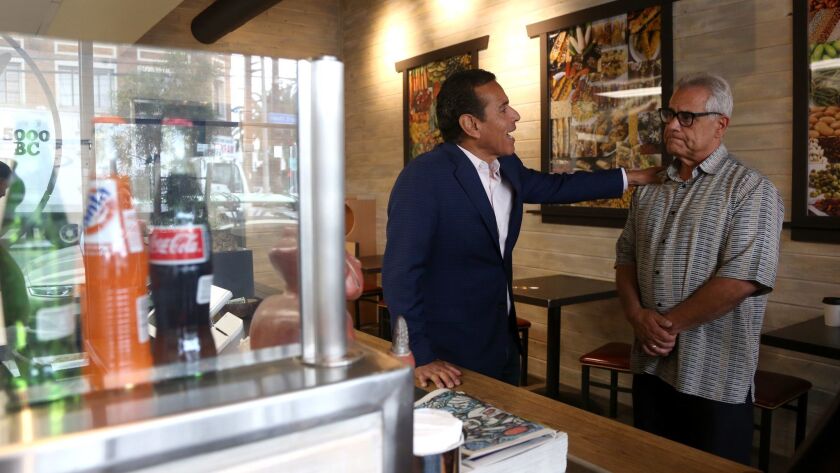 Farther down Cesar Chavez Avenue, Milpa Grille co-owner Dan Morales served Villaraigosa a chili bowl and shed light on the struggles of owning a small-business without a parking lot.
"We rely heavily on foot traffic … our customers are the community," Morales said of the Mesoamerican restaurant that opened its doors four months ago.
"We can all complain about fees and permits, but our biggest challenge is the parking situation, and we knew that going in," Morales said.
Morales and Villaraigosa attended Cathedral High School together. The two reminisced about the student walkouts Villaraigosa led at the private high school in support of the farmworkers' boycott.
One of the students' demands before resuming classes was to abolish school uniforms. "Everybody got to wear jeans except for us," Villaraigosa said. "Because of what we did, you guys got to wear jeans later on," Villaraigosa said to Morales. "I got thrown out!"
Villaraigosa was expelled from Cathedral for fighting, but later graduated from Theodore Roosevelt High School.
As mayor, he unsuccessfully tried to take control of the Los Angeles Unified School District, saying that city schools were failing the neediest students and needed to be overhauled. He eventually gained control of more than a dozen struggling schools, including Roosevelt, through a nonprofit he founded.
Villaraigosa said at the restaurant that the graduation rate for Roosevelt rose from 36% to more than 80%.
Morales said he looks at Villaraigosa as a friend and a leader and that he would be a capable governor.
"You can say we both come from this neighborhood — different parts but still the same," Morales said.
In the Candelas Guitar Shop, owner Tomas Delgado gave Villaraigosa a tour of the store and strolled down memory lane.
"I don't think you remember how you helped me," Delgado said.
Delgado's family had rented the building for 70 years, and when he tried to buy it, he sought assistance from Villaraigosa, then an assemblyman, in trying to secure a small business loan.
Delgado got the loan and bought the building, but technical issues persisted. "I called your office and your staff said 'What can we do?'" he said.
Villaraigosa said he didn't recall the story but praised his former legislative employees.
"I had the kind of staff that understood our job was in service to others, and our job is to serve others, and cut through the bureaucracy," Villaraigosa said. "I can't tell you I remember all of that, except that we made it clear. We wanted to make a difference."
Sign up for the Essential Politics newsletter »
michael.livingston@latimes.com
---
Get our Essential Politics newsletter
The latest news, analysis and insights from our politics teams from Sacramento to D.C.
You may occasionally receive promotional content from the Los Angeles Times.