California must fix fatal flaws in wildfire warning and evacuation plans, experts tell lawmakers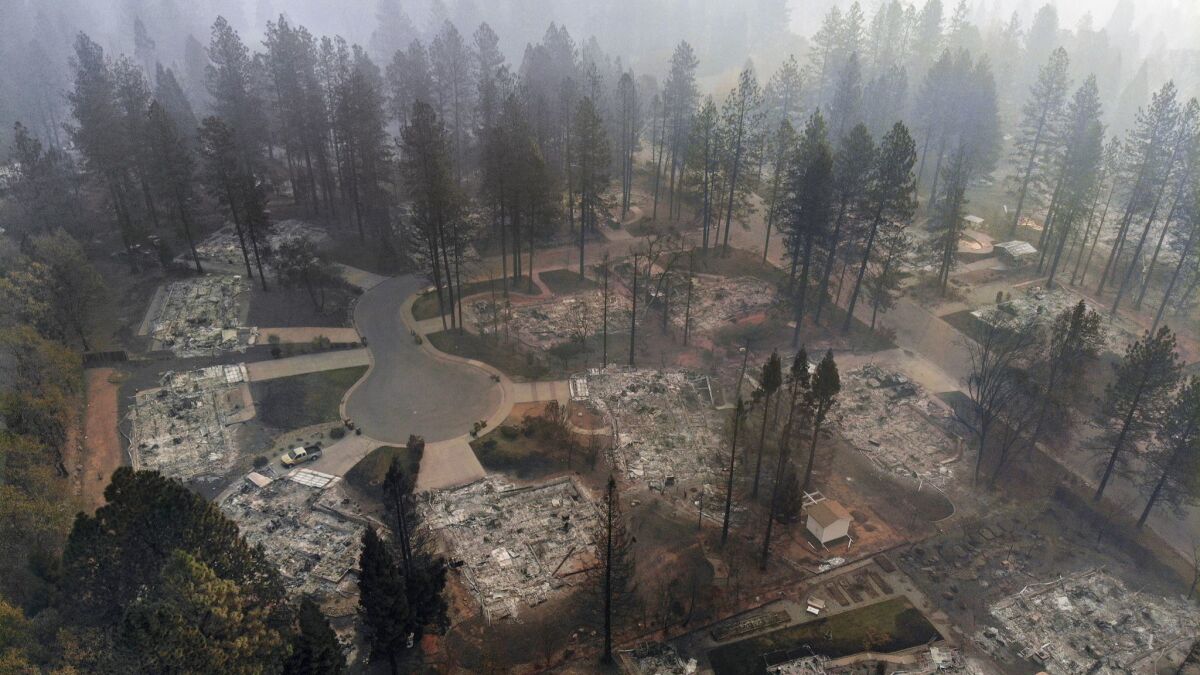 Reporting from Sacramento —
The deadly Camp fire that destroyed the Northern California town of Paradise this month overwhelmed emergency alert and evacuation plans, leaving many residents in harm's way without sufficient warning, state officials acknowledged Tuesday at a legislative hearing.
Because the Paradise area, where officials say at least 88 people died in the blaze, was known for being prone to wildfires, it has been the subject of extensive planning for warnings and evacuations, said Thom Porter, chief of strategic planning for the California Department of Forestry and Fire Protection. But he said the unusual speed of the Camp fire hindered an adequate evacuation.
"They are areas where we have had bad fires," Porter said. "We know there are road system issues."
The Camp fire, he said, "outstripped our planning efforts in sheer time."
Assemblyman James Gallagher (R-Yuba City), who represents Paradise and the surrounding communities in Butte County, said the fire highlighted serious flaws in the state's warning system.
"In the end, we had people who said they had no notice," he said in a written statement read at the hearing held jointly by Assembly and Senate committees in Carpinteria, close to the area hit by the Thomas fire, which swept through parts of Santa Barbara County nearly a year ago.
The state needs to do a better job of getting warnings to residents through cellphones, broadcast outlets and the internet, said experts and legislators including Sen. Hannah-Beth Jackson (D-Santa Barbara), chairwoman of the Joint Legislative Committee on Emergency Management.
Jackson said a cellphone warning she received during the Thomas fire did not provide her with essential information about the blaze's location. She voiced concern that only 45 of California's 58 counties have signed on to a wireless emergency alert system that is tied to a federal warning program that transmits communications through cellphones and broadcasters when wildfires start.
"Their communities are going to be pretty upset if they don't get the kinds of warnings that might be available," Jackson told the emergency planners.
Experts said flaws in the current system included the need for more help to warn and evacuate people who are elderly, disabled, do not speak English or who have pets they want to take with them.
Sen. Henry Stern (D-Canoga Park), whose Malibu rental home was destroyed by the Woolsey fire, said the urgent question for state officials was "how to get the most accurate real-time data out there" to the public when a fire hits.
"There has to be a better way to engage," he said.
Stern said the system was still vulnerable to problems including power and cell service being lost in areas hit by fire. He called for the state to provide more resilient power and cell services.
Local fire officials, including Santa Barbara County Emergency Manager Brian Uhl, agreed the state needed to develop clear guidelines for when and how emergency alert systems would be used to warn people to leave areas threatened by fire.
Under a bill approved by the Legislature in August, new guidelines on coordinating and using emergency warnings must be developed by July 1, 2019. A draft of the guidelines was due next month, but November's fires are expected to delay their release.
"We are very close to being able to push definitive guidelines," said Mitch Medigovich, deputy director of logistics management for the Governor's Office of Emergency Services.
In San Diego County, only 550,000 of 3.3 million residents have registered their mobile phones to receive emergency warnings, according to Holly Crawford, director of the county's Office of Emergency Services.
"Getting people to opt into the system has not been as successful as we would like," Jackson said. She wrote legislation recently signed into law that will allow each county to automatically register residents to receive phone and email warnings unless they opt out, but counties are still developing guidelines to implement the opt-out system.
Crawford also said targeting of emergency alerts has not been efficient, noting an alert she sent to people in San Diego also went to people in Orange and Riverside counties.
"There is mass over-alerting in the system," she told the panel, adding that new technology will better target alerts and allow longer messages.
Firefighters on the front lines have also faced difficulty in communicating with radio and mobile phones, fire experts said.
They said state funding for improving 911 systems is inadequate. A bill championed by Gov. Jerry Brown to impose a new customer fee on phone lines to boost emergency services failed to advance in the Legislature this year.
Medigovich told lawmakers those efforts were the victim of "partisan politics during the election year."
Coverage of California politics »
Twitter: @mcgreevy99
---
Life is stressful. Our weekly mental wellness newsletter can help.
You may occasionally receive promotional content from the Los Angeles Times.