Opponents of California's aid-in-dying law come up short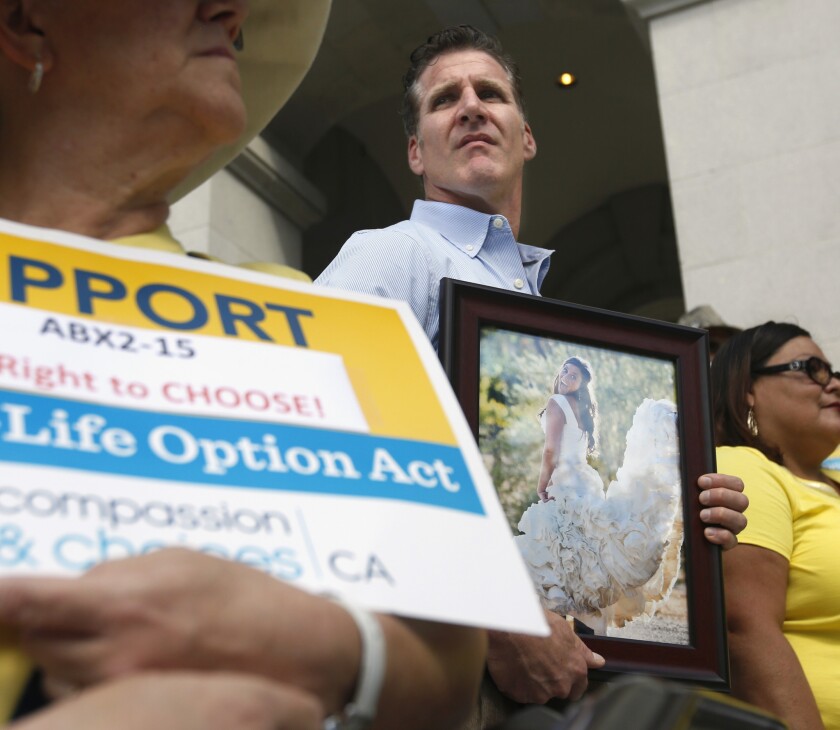 Reporting from Sacramento —
Opponents of California's new aid-in-dying law said Monday that they were unable to collect the signatures needed for a November ballot referendum seeking to overturn the measure.
The law, which allows physicians in California to prescribe lethal doses of drugs to terminally ill patients, was opposed by many religious leaders and advocates for senior citizens and the disabled, who feared people might be coerced into ending their lives prematurely.
Opponents collected about 200,000 of the 365,880 signatures they had needed by Monday to put the issue before voters, according to Dr. Mark Hoffman, a spokesman for the group Seniors Against Suicide.
"We're saying it doesn't look like we got the significant number of signatures we needed … but our effort does not end there," Hoffman said.
The aid-in-dying law will not take effect until 90 days after the adjournment of a legislative special section on healthcare. That could take place any time between now and November.
Critics of the measure also are considering a lawsuit challenging adoption of the law during the session, Hoffman said. They argue that special session action is limited to the purpose for which it was called -- in this case discussing how to finance healthcare for the poor -- thus making the aid-in-dying bill ineligible.
SIGN UP for our free Essential Politics newsletter >>
Gov. Jerry Brown had urged lawmakers not to consider the bill during the special session because he wanted them to focus on finding money to improve healthcare. However, the governor eventually signed the measure.
Supporters of the aid-in-dying law on Monday welcomed news of the referendum drive's failure.
Among them was Dan Diaz. His wife, Brittany Maynard, was dying from brain cancer and moved from California to Oregon in order to take her life.
"I'm very relieved that Californians who are terminally ill are not going to be delayed from implementing what 74% of Californians are in favor of," Diaz said.
Assemblywoman Susan Talamantes Eggman (D-Stockton), who authored the legislation, was not surprised by the failure of the referendum drive.
"Polls have consistently shown broad and overwhelming support for death with dignity," Eggman said. "Today's announcement reaffirms Californians support a compassionate choice for the terminally ill."
Compassion & Choices, which led the effort to pass the law, had been prepared to wage an expensive campaign in case the referendum qualified, according to Toni Broaddus, the group's California campaign director.
"We did not believe they could get the signatures they needed," Broaddus said. "I don't think there was a strong sense of support by Californians to do this."
Brown's office declined to comment Monday.
But in a message when he signed the bill, Brown -- a former Jesuit seminary student -- had said: "In the end, I was left to reflect on what I would want in the face of my own death.
"I do not know what I would do if I were dying in prolonged and excruciating pain. I am certain, however, that it would be a comfort to be able to consider the options afforded by this bill. And I wouldn't deny that right to others."
---
Get our Essential Politics newsletter
The latest news, analysis and insights from our politics teams from Sacramento to D.C.
You may occasionally receive promotional content from the Los Angeles Times.