Meet the unopposed Assembly candidate who says climate change is a good thing that hurts 'enemies on the equator'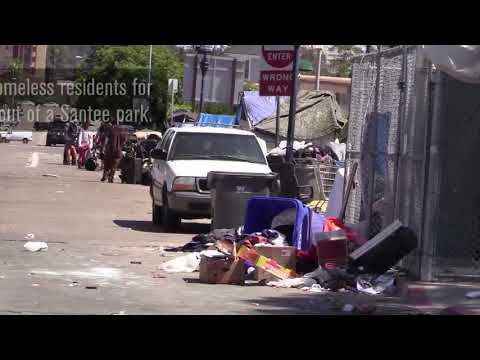 Randy Voepel, the mayor of Santee, is running to be the next assemblyman from northeastern San Diego.
Reporting from Sacramento —
This year, one of the most consequential new laws passed by the California Legislature aims to be one of the world's most ambitious efforts to combat climate change. A likely incoming member of the Legislature couldn't disagree more with that decision.
Randy Voepel, who will almost certainly be the next state assemblyman from northeastern San Diego, believes that climate change is good.
"Our enemies are on the equator," Voepel told a reporter nine years ago, adding that a warmer climate would make it worse for them.
Voepel still feels the same way. "Most of the Muslim nations are in the hot areas of the world," Voepel said in an interview with The Times last week.
Voepel, the Republican mayor of the San Diego suburb of Santee, is preparing to replace termed-out Republican Brian Jones in the state Assembly later this year. Voepel's opponent abandoned his campaign in April — too late to remove his name from the primary ballot — and has endorsed Voepel.
In the 71st Assembly District, which covers northeastern San Diego County and a small portion of Riverside, Republicans outnumber Democrats by nearly 15 percentage points. Voepel, a 66-year-old who is planning to retire from his insurance brokerage company after the November election, described himself as "pretty right-wing."
But some of Voepel's opinions and actions go further than the party's typical positions in California.
In his 16 years as Santee mayor, Voepel has had a series of notable statements and stunts:
He refused to give his autograph in response to an email request from someone claiming to be a Chinese national: "I respectfully decline to cooperate in any way with what I consider to be an enemy of the United States," Voepel replied, describing the Chinese communist regime as an evil police state. Voepel signed his response, "Best Capitalist Regards, Randy Voepel Mayor, The freedom and human rights City of Santee."
"Chi-Coms are Chi-Coms," Voepel said in last week's interview, referring to communists in China.

"I say, F for Freedom," Voepel said last week. "If you're stupid enough to smoke cigarettes, you should be able to do it."

In a television interview two years ago, Voepel blamed homeless residents for stripping copper out of a Santee park. "I served two tours in Vietnam. And I'm getting attacked here by the Viet Cong, stealing my copper, and I don't like it," Voepel said, waving a copper bar at the camera.
The analogy between a San Diego suburb's homeless population and a Vietnamese guerrilla force that fought the United States 40 years ago remains apt, Voepel said last week: "They attacked in the dark of night."
Even before Voepel's onetime opponent, local jeweler Leo Hamel, left the race, Voepel was the favorite to succeed Jones. Voepel has raised almost $300,000 and has been endorsed by Jones, the state GOP, Assembly Republican Leader Chad Mayes of Yucca Valley and 14 other sitting Republican lawmakers. Voepel topped the June primary with 60.2% of the vote.
Jones, who first met Voepel more than 15 years ago and served with him on the Santee City Council, believes Voepel will be a great legislator. Voepel, Jones said, has helped turn once-sleepy Santee into a draw for residents from all over eastern San Diego for its restaurants and other attractions. Jones, however, doesn't agree with what he called Voepel's "outlandish" comments about climate change, homeless people and others.
"Sometimes I just shake my head and move on and let Randy be Randy," Jones said. "I don't think he's purposely trying to insult people. I think he thinks some of those things are ridiculous and he responds to those things with ridiculous statements."
Jones said lobbyists and others around the Capitol have already asked about Voepel's antics. But he tells them that once people get used to Voepel's personality, he should be able to govern well.
Voepel said he talks and acts like he does because of his service in the Navy during the Vietnam War. He said he grew up "poor white trash in the backwoods of Missouri," and his time in the military improved him, he said.
Voepel said he served on the U.S.S. Buchanan during the 1972 Easter Offensive when the warship fought under sustained enemy fire. He suffered from post-traumatic stress disorder and stayed in the military for nine years before he felt ready to reenter civilian life, he said.
"If you talk to veterans, combat veterans, we suffer for the rest of our lives," Voepel said. "I use humor and hubris to make up for it. I feel a duty to remind people for all veterans that veterans are different. They will never be like you."
In Sacramento, Voepel said he hopes to serve on the Assembly Committee on Veterans Affairs. The first bill he plans to introduce will aim to improve state hiring preferences for Iraq and Afghanistan veterans.
Voepel has another goal for his first years in the Legislature: Taking out Democrats.
Voepel's plan, he told a gathering of a San Diego County chapter of the conservative California Republican Assembly interest group last year, is to start by determining which Democrats are weak.
"What I'm going to do, a year and a half into the term, if you elect me and endorse me, I'm going to nail and identify the weakest Democrat seat in California, and then we will marshal every Republican insurgent to get rid of that Democrat," Voepel said, according to a recording of the meeting posted by an anonymously run anti-Voepel website.
This success, Voepel told the group, will lead to newfound prowess.
"When I walk up the hall to talk to a Democrat after I've killed one of their seats, how much respect do you think I'm going to get?" Voepel said. "A whole lot. It's going to be 'Mr. Voepel.' "
For their part, Assembly Democrats are not amused by Voepel.
"Randy Voepel is exactly what is wrong with the direction of the Republican Party leaders," Steve Barkan, senior strategist for Assembly Democrats, said in a written statement. "He's another fringe, out-of-the-mainstream BULLY in a position of power, taking the GOP to the edge of his flat Earth."
Once he arrives in Sacramento, Voepel expects to be busy scheming against his enemies in the Legislature.
"When they go to bed at night, I'm up still plotting and planning," he said in the California Republican Assembly speech. "My wife, Susan, will tell you, I sleep four hours a night. That makes me a dangerous man in the world. I got all those other hours to do stuff."
Follow me at @dillonliam on Twitter
ALSO
Randy Voepel tops 71st Assembly race
Anonymous website attacks Voepel in his Assembly run
Get our Essential Politics newsletter
The latest news, analysis and insights from our politics team.
You may occasionally receive promotional content from the Los Angeles Times.