California lawmakers want to block police from helping federal drug agents take action against marijuana license holders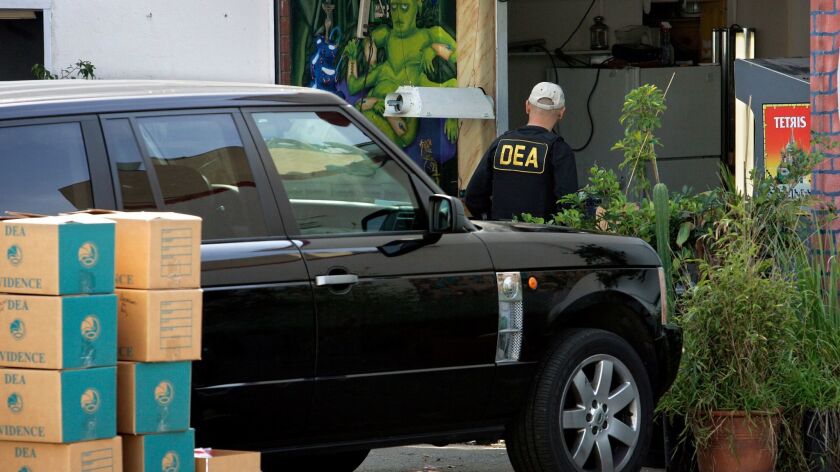 Reporting from Sacramento —
With federal authorities hinting at a possible crackdown on state-licensed marijuana dealers, a group of California lawmakers wants to block local police and sheriff's departments from assisting such investigations and arrests unless compelled by a court order.
A bill by six Democratic legislators has drawn strenuous objections from local law enforcement officials, who say it improperly ties their hands, preventing them from cooperating with federal drug agents.
"It really is quite offensive," said Kern County Sheriff Donny Youngblood, president of the California State Sheriffs' Assn., who said he objected to lawmakers "wanting to direct law enforcement how they want us to work."
But proponents say the measure is needed to assure marijuana growers and sellers that applying for state licenses will not make them more vulnerable to arrest and prosecution under federal law, which designates cannabis as an illegal drug.
"Prohibiting our state and local law enforcement agencies from expending resources to assist federal intrusion of California-compliant cannabis activity reinforces … the will of our state's voters who overwhelmingly supported Proposition 64," said Assemblyman Reggie Jones-Sawyer (D-Los Angeles), the lead author of the new bill.
The act of resistance is similar to legislation that would prevent California law enforcement agencies from cooperating with federal immigration officials in the deportation of people in the country illegally. Senate Bill 54 would address that concern and make California a so-called sanctuary state for immigrants, while Jones-Sawyer's legislation would similarly make the state a sanctuary for the marijuana industry.
The immigration and marijuana issues have been given new focus by the administration of President Trump, who state officials fear is breaking from the policy of former President Obama, who took a more hands-off approach to both issues.
U.S. Atty. Gen. Jeff Sessions has indicated in public comments that he thinks marijuana is a danger to society. Last month, White House Press Secretary Sean Spicer caused a stir when he said, "I do believe that you'll see greater enforcement" of laws against the sale and use of recreational marijuana.
In November, California voters approved Proposition 64, which legalized the growing and sale of marijuana for recreational use. State agencies plan to begin issuing licenses early next year.
The new legislation would prohibit state and local agencies, unless served with a court order, from using agency money, facilities or personnel to assist a federal agency to "investigate, detain, report, or arrest" any person for actions that are authorized by state law. California authorities would also be unable to respond to requests by federal agencies for the personal information of anyone issued state licenses.
The measure has angered some local law enforcement officials — including Youngblood, who sees it as improperly meddling in law enforcement decisions in the same manner lawmakers are proposing with immigration law.
"This is ridiculous that this looks like a solution to somebody," he said.
The sheriff said his agency frequently works with federal drug agents in task forces targeting illegal marijuana grows in forested areas of the county. He said he doesn't want to be prevented from working with federal authorities, even if the state starts licensing pot farms.
"[Growing and selling marijuana] is still a federal felony and we are still in the United States of America, and the state of California cannot take over the United States," Youngblood said, predicting that "at some point the federal government is going to have to step in and say, 'You can't do that.' "
The legislation has garnered initial support from marijuana industry leaders, including Hezekiah Allen, executive director of the California Growers Assn.
"The election of Mr. Trump as president, and subsequent confirmation of Mr. Sessions as attorney general, has been perceived by many of our members to have increased the risk of doing business," Allen said. "Businesses will need to feel confident that the state will protect them from the federal government."
Current protocol and law obligates local law enforcement to cooperate with federal drug agents, he said.
"It is very hard for federal agents to go into a rural county and kick down a bunch of doors and arrest a bunch of people without the local sheriff being a part of it." Allen said. "It's dangerous, actually. This is about giving them legal standing to actively not participate."
Assemblyman Rob Bonta (D-Oakland), a coauthor of the measure, said the legislation is needed because of a threat that the Trump administration might withhold federal funds from states that do not cooperate with federal authorities, although that threat has so far been limited to immigration enforcement.
"As this administration has threatened to defund California, we should not be expending scarce local and state resources to assist the federal government in ways that run counter to the crystal-clear wishes of California voters," Bonta said, adding that the measure, Assembly Bill 1578, "will reassure responsible operators" that the state won't turn them in to federal authorities.
The assemblyman said it is important that the bill also protects the personal information of license holders so that they are willing to share it with state regulators.
"California is committed to not sharing licensee information with the federal government and thereby upholding the will of the voters in creating a safe marketplace for medical and adult use," Bonta said.
The current policy of the state Bureau of Medical Cannabis Regulation would be to treat any request for personal information as a formal request under the California Public Records Act. The agency "would determine, based on the information being requested, what is required to be released and what is exempt from disclosure under the law," said Alex Traverso, a bureau spokesman.
Allen expects California to follow the lead of states such as Colorado, which makes public on a website the names of businesses and addresses of those who are given licenses to grow and sell marijuana.
The Colorado website lists growers and sellers by the names of limited liability corporations and does not list who the individual investors and partners are.
Allen said industry attorneys have advised him that some basic information about license holders will have to be made public.
The bill's provision on personal information "is good symbolically and well-intentioned," Allen said, "but we are not relying on anonymity as our pathway forward."
To read the article in Spanish, click here
Twitter: @mcgreevy99
ALSO
Here's why law enforcement groups are divided on legislation to turn California into a 'sanctuary state'
Trump administration signals a possible crackdown on states over marijuana
---
Get our Essential Politics newsletter
The latest news, analysis and insights from our politics teams from Sacramento to D.C.
You may occasionally receive promotional content from the Los Angeles Times.