State Senate leaders propose repealing ban on fundraising during budget season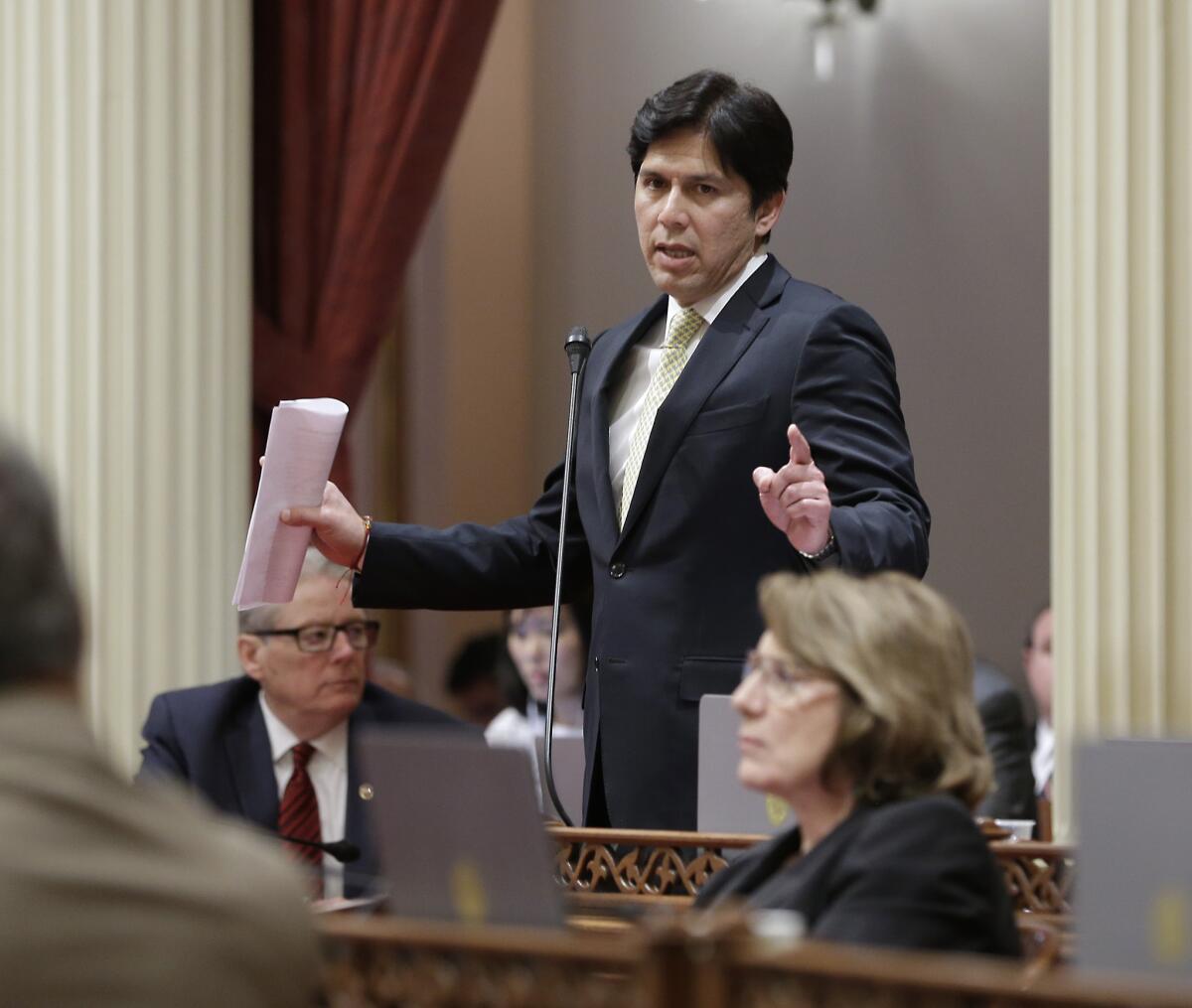 Reporting from Sacramento —
Two years after the state Senate adopted fundraising restrictions in response to a series of scandals, lawmakers plan to rescind the ban on collecting money during budget season.
The proposed rollback was criticized Wednesday by good-government advocates, but Senate President Pro Tem Kevin de León (D-Los Angeles) said the change is only fair.
With the budget scheduled for a vote June 15, the blackout period is set to begin Monday. De León plans to seek a Senate vote to revoke the fundraising restriction as early as Thursday.
The decision was made because a blackout was not adopted by the Assembly or applied universally to all candidates, putting Senate incumbents at a disadvantage.
"The Senate remains strongly committed to statewide campaign finance reform that applies universally, but in an election year with unprecedented millions of dollars pouring in from outside special interests, we can't continue to unilaterally disarm and prevent our members from defending themselves when no other elected officials or candidates are abiding by the same rules," De León said in a statement.
"Campaign finance reform only works when it's a fair and level playing field," he added. "When it isn't, deep-pocketed special interests win."
The blackout period — along with another in effect during the four weeks preceding the end of the legislative session — was adopted by Senate resolution in 2014 as part of an effort to restore public trust after a series of corruption scandals.
That year, now former Democratic Sens. Ronald Calderon and Leland Yee were indicted on charges of taking payments for official actions as part of separate FBI sting operations, while Sen. Roderick Wright was convicted of voting fraud for lying about living in his Senate district.
At the time, De León said the blackout periods "will ensure that elected officials are focused exclusively on the people's business at the busiest times of the legislative year."
De León added then that the rules were "preserving the ability for members to wage effective campaigns by raising the necessary money at more appropriate times of the year."
The proposal to rescind the blackout rule at least for the budget season and possibly for the end of the session drew criticism from Gavin Baker, the open government program manager for California Common Cause.
"The fundraising blackout period is an important safeguard for preventing undue influence by special interests during the most critical times in the legislative calendar," Baker said. "The Senate should not abandon it."
Baker said voters are frustrated with the growing influence of money in politics.
"Now is the time to strengthen campaign finance reforms, not roll them back," he said.
Last year, Assembly members held 42 campaign fundraisers in the four weeks before the budget was approved. Some of the fundraisers were held by lawmakers who were then considering possible runs for state Senate, including Assembly members Mike Gatto of Glendale, Das Williams of Santa Barbara and Toni Atkins of San Diego.
But last year was not an election year, so the pressure on senators to raise campaign funds was not as strong as it is this year.
This year, Sen. Jim Beall (D-San Jose) is lagging behind in the money race while facing a competitive challenge from Assemblywoman Nora Campos (D-San Jose).
Beall's campaign has directly raised about $596,000 compared with $323,000 by Campos, but a campaign committee backed by oil companies Chevron, Tesoro and Valero has independently spent $340,000 in favor of Campos.
De León's push to help Beall defeat Campos comes after previous friction between the senator and assemblywoman.
In 2014, De León backed his former girlfriend, Magdalena Carrasco, with whom he has a daughter, as she unseated San Jose City Councilman Xavier Campos.
The former councilman is Nora Campos' brother and beat Carrasco in a bitter contest for the same council seat in the previous election.
Follow @mcgreevy99 on Twitter
ALSO:
Calif. Senate adopts new ethics standards, rejects others
California Senate panel shelves GOP ethics bill
Get our Essential Politics newsletter
The latest news, analysis and insights from our politics team.
You may occasionally receive promotional content from the Los Angeles Times.