A California lawmaker wants to make it easier for taxis to compete with Uber. But is it too little, too late?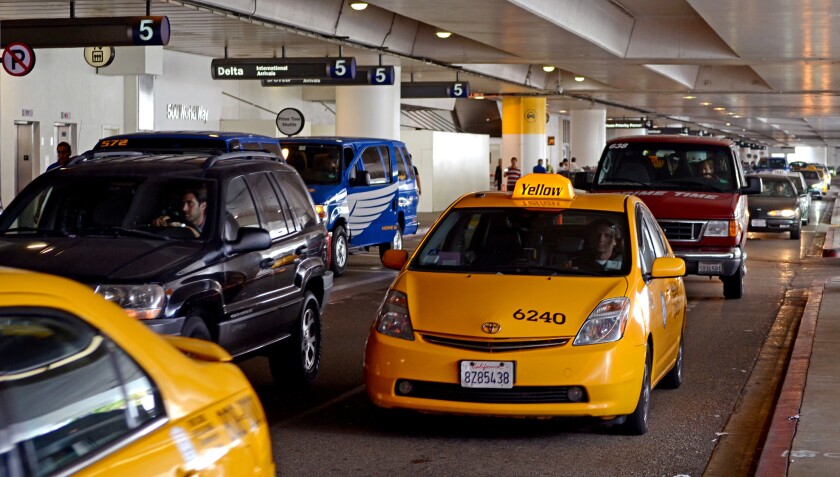 Reporting from Sacramento —
Uber and Lyft continue to expand their dominance in California, and taxi companies are looking to the state Legislature for some relief.
"If communities value taxicabs, then we're going to have to have a regulatory environment that allows cab companies to thrive," said William Rouse, general manager of Yellow Cab of Los Angeles. "Right now, that's just not the case."
Rouse and others in the taxi industry have turned to Assemblyman Evan Low (D-Campbell) for help. Low has introduced AB 1069, which aims to ease taxi regulations to make the companies more competitive with their ride-hailing rivals.
Under Low's legislation, which overwhelmingly passed the Assembly last month, taxi regulation would occur regionally rather than city by city. This means, for instance, cabs could pick up passengers in Los Angeles, drop them off in Santa Monica and vice versa without needing multiple permits.
Taxis also could lower or raise their prices — similar to Uber and Lyft's surge-pricing models — in response to demand, with a maximum price set by each region.
"If we don't do anything now, they will completely be annihilated," Low said.
In California, numbers show the extent of the taxi industry's decline and the ride-hailing boom. Taxi trips dropped nearly 30% in Los Angeles from 2012, right before Uber and Lyft began operating, to 2015. New research from the Brookings Institution shows that the number of ride-hailing drivers doubled in Los Angeles, Sacramento, San Diego and San Jose in 2015.
Uber and Lyft's business models rely on using public pressure and lobbying to shape and change laws and regulations, said Elizabeth Pollman, a professor at Loyola Law School who has written about how Uber and Lyft have challenged existing state and local rules.
"Their business model wasn't just to replicate the world we had, but rather to create a new model," Pollman said.
Uber and Lyft have succeeded at the state Capitol in getting regulations and laws passed to benefit their industry and shooting down those that don't. Even if Low's bill passes, major regulatory disparities between ride-hailing companies and taxis will remain.
Taxi drivers still will have to pass fingerprint-based background checks, while Uber and Lyft drivers face less onerous rules. After years of delays, the California Public Utilities Commission, which regulates ride-hailing statewide, is scheduled in the fall to decide whether ride-hailing drivers will need to pass fingerprint checks as well. Neither Uber nor Lyft has taken a position on Low's bill, but each company has been generally supportive of loosening taxi regulations.
Still, cab companies and transportation experts said the legislation could have clear benefits for the taxi industry. Currently, it costs more than $3,000 a year for taxi permits to operate in four cities — Torrance, Redondo Beach, Hermosa Beach and Manhattan Beach — that stretch roughly six miles along the Los Angeles County coast. In Silicon Valley, similar annual city-by-city fees can run $13,000. Low's bill aims to wipe away such charges and replace them with a single payment.
The measure would promote greater competition by allowing taxis to grow their own on-demand apps and other dispatch services with fewer restrictions, said Bruce Schaller, a New York-based consultant who monitors both industries.
Schaller said the taxi industry's problems go beyond regulation, and cabs will need to dramatically improve their service and reduce their fares.
"Why do people use Uber and Lyft?" Schaller said. "It's because they're cheap and they show up. That's it."
Low's bill faces many obstacles. Last year, he wrote legislation that would have turned over taxi regulation to the state, but Gov. Jerry Brown vetoed it. The governor's veto message said he didn't believe such a major change was warranted. Low's current bill shifts the burden from cities to counties, but counties don't want the responsibility.
In a May letter opposing the bill, a representative of the California State Assn. of Counties wrote that counties were ill-equipped to handle taxi regulations without help from cities.
"AB 1069 confuses the relationship between counties and cities by arbitrarily placing the entire burden on the county for taxicab licensure," the letter said.
Low said he's open to another entity, such as regional agencies including the Southern California Assn. of Governments in the Los Angeles area, to regulate taxis instead of counties handling them. But he warned that local governments shouldn't be shortsighted in maintaining strict regulations and high fees that could continue driving taxis out of business.
In that case, Low said, cities "won't get any of their revenues whatsoever."
ALSO
An overhaul of California's taxi regulations passes the Legislature
With Uber battle raging, one state lawmaker wants to deregulate the taxi industry
Uber and Lyft are winning at the state Capitol — here's why
---
For reporting and exclusive analysis from bureau chief John Myers, get our California Politics newsletter.
You may occasionally receive promotional content from the Los Angeles Times.