Looking for Organizing for Action website? You've reached the NRA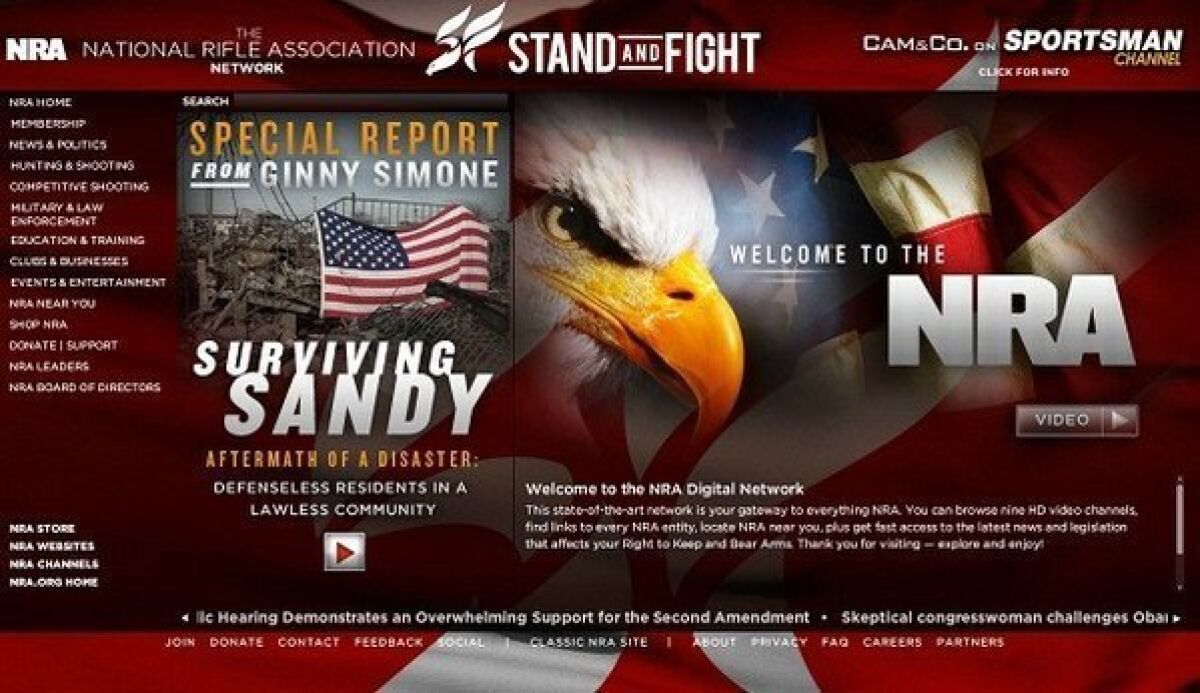 <i>This post has been corrected. See below for details.</i>
WASHINGTON — Derek Bovard, a 40-year-old computer technician in Castle Rock, Colo., was up watching Fox News early the morning of Jan. 18 when he saw the news that President Obama's advisors were launching a new advocacy group called Organizing for Action.
Bovard jumped on the computer and snapped up the domain name Organizingforaction.net. He then proceeded to configure the site so all hits are directed to the website for the National Rifle Assn. – the very group that Obama is facing off against in his efforts to toughen gun laws.
"I'm for the Second Amendment," Bovard said. "I'm not in agreement with a lot of things that are going on right now. If they don't like it, they can buy it from me."
Bovard, who paid about $10 to register the site, said he'd sell it for "somewhere around $10,000."
PHOTOS: President Obama's second inauguration
He is one of several individuals who secured the domain names for Organizing for Action, which failed to register the sites before launching, as first reported by the website TechPresident.
Organizingforaction.com and Organizingforaction.org were both scooped up on Jan. 18 by Michael Deutsch, a registered Republican who lives in Wellington, Fla. Both currently direct to a blank page with an email contact.
When reached, Deutsch declined to comment.
A spokeswoman for Organizing for Action declined to comment.
At a conference of Obama volunteers held in Washington on Jan. 20 to launch the new group, hand-painted posters listed the website address for the organization as OFA.BO. That website directs readers to barackobama.com, Obama's official campaign website. It is unclear whether that will be the permanent website for the advocacy group.
Other websites with the OFA domain are already taken. OFA.org belongs to the Assn. of Horticulture Professionals, "the leading horticulture educational association in the United States." OFA.net is the home of the Orthopedic Foundation for Animals. And OFA.com appears to belong to a Dutch electronics company.
Bovard said he was surprised that OFA had not secured its domain name ahead of time.
"Organizing for Action is not that organized, I guess," he said.
PHOTOS: President Obama's past
Bovard said he and his friends frequently register domain names of entities that are in the news, hoping to nab a website address that someone will be willing to pay a sizable sum to redeem. He's currently holding onto hostesstwinkie.com, hoping that will pay off.
He has not yet heard anything from OFA officials.
"I'm going to wait for them to come to me," Bovard said. "But I assume I wasted my money when I bought it."
[For the Record, 11:05 a.m. PST Jan. 29: An earlier version of this online post described Derek Bovard as a 40-year computer technician. He is 40 years old.]
Follow Politics Now on Twitter and Facebook
Twitter: @mateagold
---
Life is stressful. Our weekly mental wellness newsletter can help.
You may occasionally receive promotional content from the Los Angeles Times.