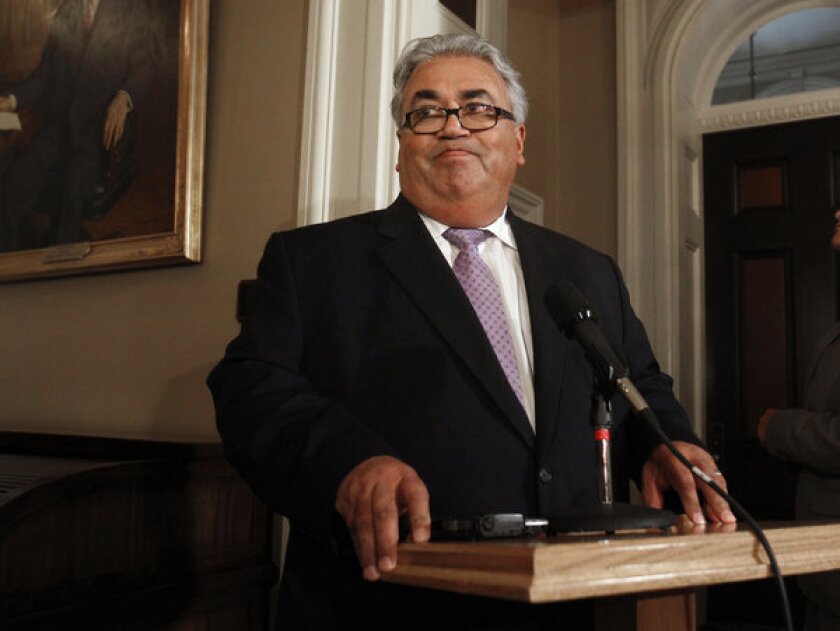 SACRAMENTO -- In a rare break from silence, state Sen. Ronald S. Calderon (D-Montebello) on Friday criticized another lawmaker for repeatedly calling on him to resign in the face of an FBI investigation into corruption in the Capitol.
Calderon does not plan to resign, said spokesman Mario Beltran.
Assemblywoman Cristina Garcia (D-Bell Gardens) said on Nov. 1 that Calderon should resign from office "to allow this black cloud to be removed from over the Capitol and over the state of California."
Garcia repeated her call a couple of more times, most recently on Wednesday when she said a recommendation by Senate Democratic leader Darrell Steinberg that Calderon be suspended from his committee assignments did not go far enough.
Calderon broke his months-long silence Friday.
"It is outrageous in a democratic society for Cristina Garcia, an elected official, to trample on the Constitution by making a mockery of the presumption of innocence, a fundamental right, and seek political gain by embracing the criminal acts of media outlets that violate federal law by revealing the contents of sealed federal documents," Calderon said in a statement.
"I would suggest that Assemblywoman Garcia would best serve her constituents by reviewing her notes from her 8th grade civics class," Calderon added.
The FBI investigation surfaced in June when agents raided Calderon's Capitol office and carted away documents. A sealed FBI affidavit made public recently by the Al Jazeera America cable network alleges an undercover FBI agent posing as a film executive paid Calderon $60,000 in bribes in exchange for his efforts to expand tax credits for the film industry.
Calderon has denied wrongdoing and has not been charged with a crime.
ALSO:
Assemblywoman Garcia calls for Sen. Calderon to resign
Affidavits are key to corruption cases, former FBI agent says
Federal prosecutor probing Calderon is used to high-profile cases
---