California Sen. Ron Calderon flooded with gifts while facing FBI probe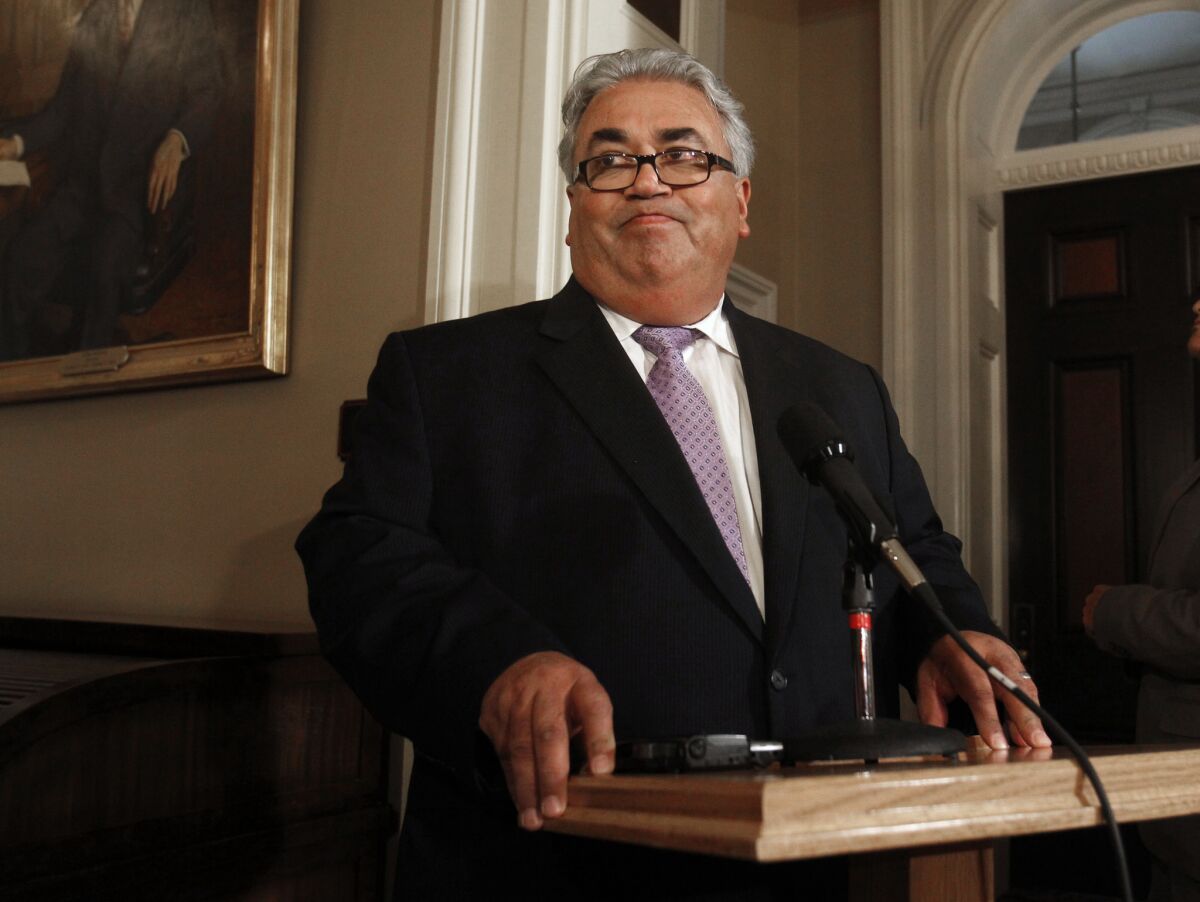 SACRAMENTO -- While under investigation for allegedly taking bribes last year, state Sen. Ronald S. Calderon (D-Montebello) openly accepted $6,827 in legal gifts, including concert and fight tickets, expensive meals and travel from special interests, and a golf game from a group that investigators say was part of a criminal conspiracy, records show.
The nonprofit group Californians for Diversity, which is controlled by the senator's brother, former Assemblyman Thomas Calderon, spent $265 to provide Sen. Calderon with a game of golf in September 2013, the lawmaker reported in his annual statement of economic interests.
Sen. Calderon is on a leave of absence after pleading not guilty to federal charges that he accepted nearly $100,000 in bribes, some of that amount from an undercover FBI agent posing as a film mogul seeking legislation to expand tax credits for independent films.
The indictment last month alleges that Sen. Calderon directed undercover FBI agents "to make bribe payments to Californians for Diversity," which in turn paid $13,000 to a consulting firm run by Thomas Calderon.
The indictment says that on Feb. 14, 2013, Sen. Calderon "failed to disclose" to the state that he had directed an undercover FBI agent posing as a film industry executive to make a $25,000 contribution to Californians for Diversity "to conceal from the citizens of California the fact that the payment was made at his behest."
The FBI probe became known in June 2013 when agents raided Sen. Calderon's office, but special interests continued to shower him with gifts afterward.
Sen. Calderon's disclosure of gifts also shows that while he was chairman of the Senate Insurance Committee, he received gifts from the industry, including $2,400 in travel and lodging from the Assn. of California Life and Health Insurance Companies to attend a September conference sponsored by the group at the Pelican Hill Resort in Newport Beach.
Other insurance industry gifts he accepted included $440 in event admission and meals from Farmers Group Inc., a $365 dinner from the Personal Insurance Federation and a $341 dinner from Pacific Life, and $87 in food from State Farm.
Sen. Calderon also received $440 worth of concert tickets from Bridgeport Education and $424 worth of tickets to a mixed martial arts fight, UFC 157, from promoter Zuffa LLC of Las Vegas.
ALSO:
Gov. Jerry Brown reports more than $11,000 in gifts
California lawmakers report meals, sports tickets, other gifts
Assembly speaker got nearly $38,000 in gifts, travel last year
---
Life is stressful. Our weekly mental wellness newsletter can help.
You may occasionally receive promotional content from the Los Angeles Times.