Jan. 6 committee seeks interview with GOP Rep. Jim Jordan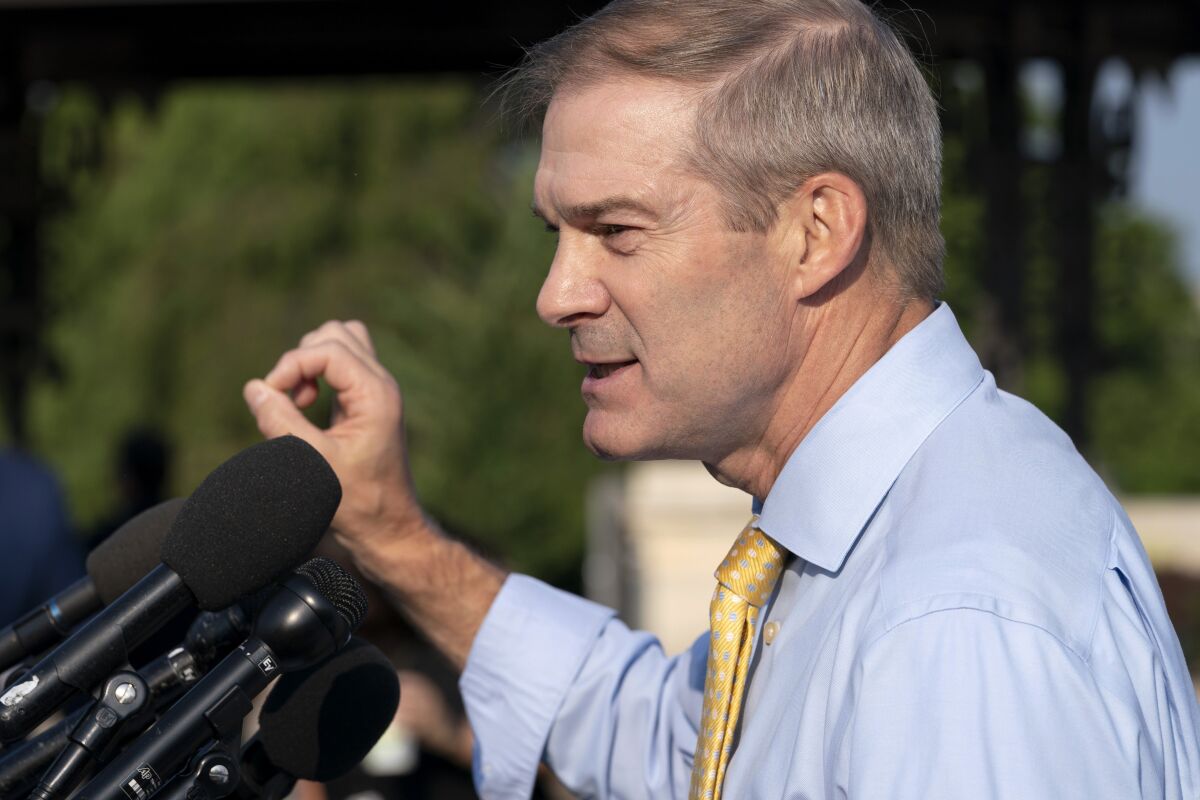 WASHINGTON —
The House committee investigating the Jan. 6 U.S. Capitol riot on Wednesday requested an interview with Rep. Jim Jordan (R-Ohio), the second time this week the panel has sought to question a Republican member of Congress about the insurrection.
Rep. Bennie Thompson (D-Miss.), the chairman of the special committee investigating the deadly insurrection, said in a letter to Jordan that the he appeared to have been in communication with then-President Trump on Jan. 6 and that he was reportedly involved in efforts to challenge the results of the 2020 election.
"We understand that you had at least one and possibly multiple communications with President Trump on January 6th. We would like to discuss each such communication with you in detail," Thompson wrote in a letter to Jordan, adding that the panel is looking into whether the congressman might have information about meetings with White House officials and Trump "about strategies for overturning the results of the 2020 election."
Thompson added that the committee would also like to ask Jordan about discussions that delved into the possibility of the president pardoning "individuals involved in any aspect of January 6th or the planning for January 6th."
It's unclear whether Jordan will cooperate with the inquiry by the Select Committee to Investigate the January 6th Attack on the U.S. Capitol. His office did not respond to a request for comment.
Jordan has sharply criticized how Democrats and the bipartisan panel are handling the investigation.
It is the second time in a week that the committee has sought to speak with and obtain information from a Republican lawmaker. On Monday, it asked Rep. Scott Perry (R-Pa.) to answer questions before the nine-member panel, which includes two Republican members.
Perry rebuffed the entreaty. In a tweet on Tuesday, he called the committee "illegitimate." "I decline this entity's request and will continue to fight the failures of the radical Left who desperately seek distraction from their abject failures of crushing inflation, a humiliating surrender in Afghanistan, and the horrendous crisis they created at our border," he wrote.
In a letter to Perry, Thompson said the Pennsylvania lawmaker appeared to have been involved in efforts to install a Justice Department official as acting attorney general, an effort aimed at helping Trump use the power of the department to overturn his election loss to Joe Biden.
The committee has interviewed about 300 people as it attempts to create a comprehensive record of what happened and what led thousands of Trump supporters to storm the Capitol in an effort to block the certification of Biden's election victory. The Justice Department has charged at least 700 people in the riot.

---
Life is stressful. Our weekly mental wellness newsletter can help.
You may occasionally receive promotional content from the Los Angeles Times.