Former White House counsel Pat Cipollone to testify before Jan. 6 panel, source says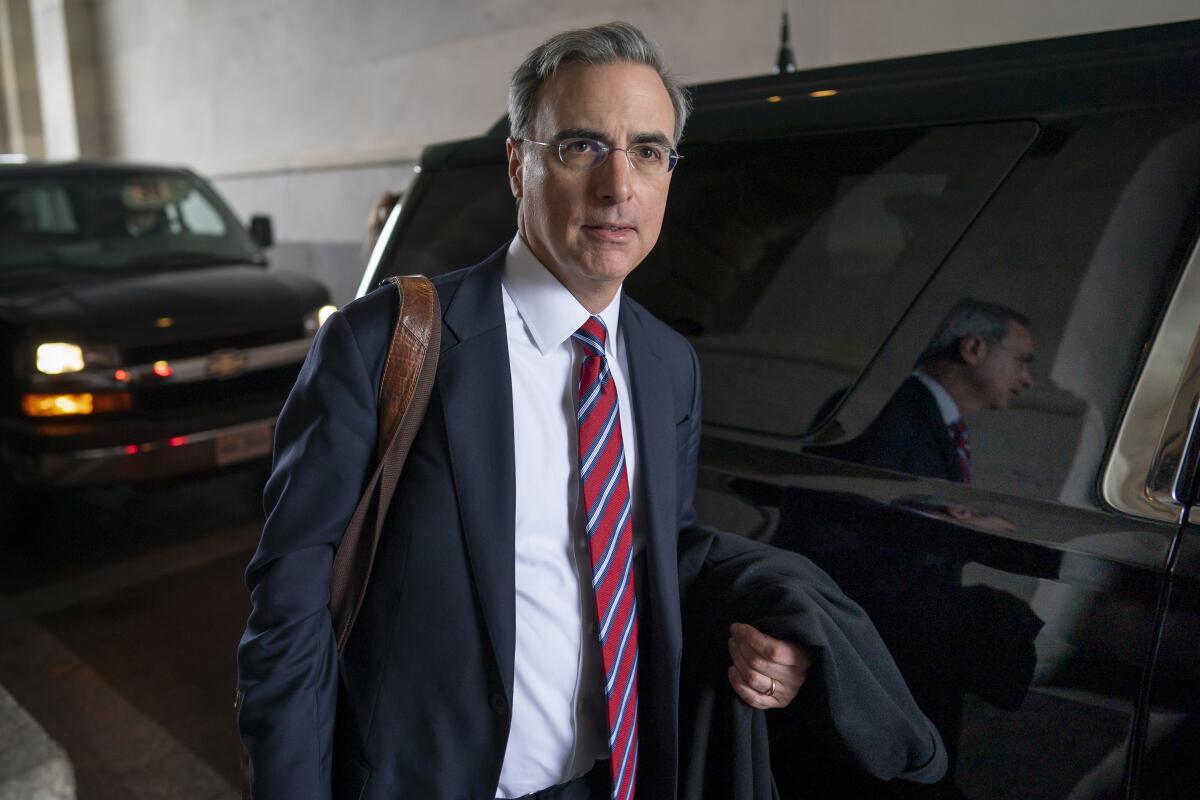 WASHINGTON —
Pat Cipollone, Donald Trump's former White House counsel, is scheduled to testify Friday before the House committee investigating the Jan. 6 attack on the U.S. Capitol, according to a person briefed on the matter.
Cipollone, whose reported resistance to Trump's schemes to overturn his 2020 election defeat has made him a long-sought and potentially revelatory witness, was subpoenaed by the select committee last week after weeks of public pressure to provide testimony to the panel.
The person briefed on the matter, who spoke to the Associated Press on the condition of anonymity to discuss private negotiations, said Cipollone agreed to appear before the committee for a private, transcribed interview.
As Trump's top White House lawyer, Cipollone was in the West Wing on Jan. 6, 2021, as well as for key meetings in the turbulent weeks after the election when Trump and associates — including Republican lawmakers and lawyer Rudolph W. Giuliani — debated and plotted ways to challenge the election.
The agreement for Cipollone to speak to the panel follows last week's dramatic testimony from former Trump White House aide Cassidy Hutchinson. The young aide to former Chief of Staff Mark Meadows provided the committee with a striking account of what she saw and heard in those weeks and presented lawmakers with arguably their clearest case for how Trump or some of his allies could face criminal liability.
Cipollone is said to have stridently and repeatedly warned Trump and his allies against their efforts to challenge the election, threatening to resign as Trump eyed a dramatic reshuffling atop the Justice Department.
One witness said Cipollone referred to a proposed letter making false claims about voter fraud as a "murder-suicide pact." Another witness said Cipollone had warned her that Trump was at risk of committing "every crime imaginable" if he went to the Capitol on Jan. 6.
But while his interview with the committee could prove to be a breakthrough, it remained unclear whether Cipollone would try to limit what he is willing to talk about. As the administration's chief lawyer, he could argue that some or all of his conversations with Trump are privileged.
Get our Essential Politics newsletter
The latest news, analysis and insights from our politics team.
You may occasionally receive promotional content from the Los Angeles Times.