Rep. Katie Porter announces bid for Dianne Feinstein's Senate seat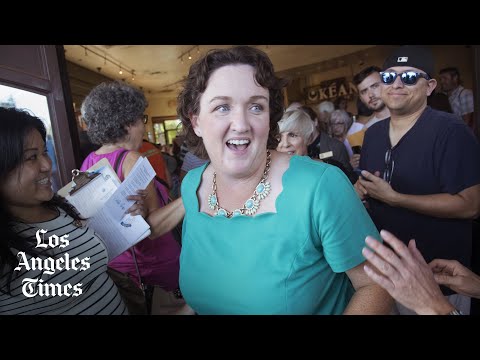 Rep. Katie Porter of Orange County announces she'll run for the Senate seat held by Dianne Feinstein, who at 89 is not expected to seek reelection in 2024.
Rep. Katie Porter, a Democratic star known for her incisive questioning of corporate leaders and use of a whiteboard to distill complex concepts in congressional hearings, announced Tuesday that she is running for the U.S. Senate.
The Irvine attorney is running for the California seat widely expected to be vacated by Democrat Dianne Feinstein. The trailblazing San Francisco politician, 89, who was first elected to the Senate in 1992, has faced questions in recent years about her mental fitness for office and has stepped back from some official duties. Her current term ends in early 2025.
"I think that people understand that Washington is broken, and they see it caters to billionaires, powerful corporations and special interests, and in doing that leaves families behind and threatens our democracy," Porter said in a telephone interview.
"I've seen how this corruption threatens our country and our economy," she continued. "I want to run to do what I have been doing in Congress — standing up to special interests and fighting for families."
While Feinstein has not announced her plans, if she retires as expected it will create a rare vacancy for a Senate seat representing California.
In a state overflowing with ambitious Democratic politicians, election to the coveted post could provide a perch of influence in Washington for decades or, as was the case for Vice President Kamala Harris, a springboard to even higher office.
Porter said she had reached out to the senator before announcing her campaign. She spoke with her staff and said she hopes to speak with Feinstein soon.
"I have deep respect for Sen. Feinstein and all that she does, and I think she will make her own decision in her own time. That's up to her," Porter said. "She is a trailblazer, and the path she created for women in California politics is one I am proud to follow."
Porter added, however, that she believes it is "time for a change" and that Californians need "the best warrior" to represent their interests in the Senate.
Democratic strategists said it was wise to jump into the race early.
"There's always an advantage in being early, as long as you're not seen as inappropriately speculating on someone's retirement," said Rose Kapolczynski, who managed former California Sen. Barbara Boxer's campaigns.
She noted that Boxer announced her bid for Sen. Alan Cranston's seat before he announced that he was retiring.
"That gave her a head start on organizing and talking to people and being a part of every story about who might run for Senate," Kapolczynski said.
Porter, a rising star in the Democratic Party, in November fended off a challenge from Republican Scott Baugh, a former state lawmaker, to secure her third term in Congress. The 49-year-old single mom was swept into Congress in 2018 as part of that year's blue wave and quickly built a profile that extended beyond Orange County.
Her appearances at congressional hearings, wielding a whiteboard and lobbing tough questions at corporate executives and Trump administration officials, repeatedly went viral. Her national notoriety became a fundraising juggernaut; she was one of the top House fundraisers this last election cycle, raising $25.7 million, according to Federal Election Commission filings.
Porter's willingness to publicly confront party leaders, including former Speaker Nancy Pelosi (D-San Francisco), was an example of the determination that made Porter the surprise national standout of California's 2018 House freshman class — and that even early on stoked speculation of a future run for the Senate.
Feinstein has said she does not plan to step down before her term ends but has not announced whether she will run for reelection in 2024. She told The Times she would probably announce her intentions this spring. A spokesperson for Feinstein did not respond to a request for comment Tuesday.
Her anticipated retirement is expected to prompt a contentious race among California Democrats. The state has a deep bench of elected officials hoping to win higher office who have largely been stymied by veteran politicians.
"It's going to be extremely exciting because we have so much talent in our state," Boxer said late last year. She and Feinstein made history when they were elected to the Senate in 1992. "I think there will be a big battle in the primary. It'll be fabulous."
More than four decades ago, Feinstein became mayor of San Francisco after former county Supervisor Dan White killed Supervisor Harvey Milk, one of the nation's first openly gay elected officials, and Mayor George Moscone.
"I became mayor as the product of assassination," Feinstein said in an interview with The Times.
In recent years, liberal Californians have grown weary of her moderate stances, including her vote for the Iraq war; her support for the Patriot Act with expanded federal surveillance capabilities after the Sept. 11 terrorist attack; her opposition to single-payer healthcare; and her initial call for "patience" with the presidency of Republican Donald Trump.
Long viewed as one of the sharpest minds on Capitol Hill, Feinstein has recently faced allegations that her memory is slipping. She declined to become the Senate president pro tempore, a post historically awarded to the senior-most member of the majority party that puts the person third in the line of presidential succession.
In addition to Porter, other potential Senate candidates include Reps. Adam B. Schiff of Burbank, Barbara Lee of Oakland, Ro Khanna of Fremont and Eric Swalwell of Dublin, as well as Los Angeles County Supervisor Holly Mitchell and former Oakland Mayor Libby Schaaf.
Khanna said Tuesday that his immediate focus is on the issues facing his district.
"Right now, California is facing severe storms and floods, and my district is facing historic weather conditions," he said. "My focus is on that. In the next few months, I will make a decision."
Schiff said he had decided not to seek a leadership role in the House due to a possible Senate run.
"I was persuaded by many of my colleagues to consider running for the Senate if Sen. Feinstein decides not to run for reelection in two years, so I am exploring it," he told NBC-Los Angeles in November.
A person close to Schiff told The Times on Tuesday that his priority is to help respond to the extreme weather lashing the state — "not running for Senate in the middle of a natural disaster where people are dead."
Porter countered that the storms in California illustrate the dire risks facing the nation from climate change and elected officials beholden to the oil industry and corporate PAC money.
"The truth is we have gone from one crisis to another to another in my time in Congress, and the time is now to change Washington," she said. "And we can't make excuses to put that off any longer."

Get our Essential Politics newsletter
The latest news, analysis and insights from our politics team.
You may occasionally receive promotional content from the Los Angeles Times.