Hitting the beach should be cleaner this summer — as long as you avoid these sandy stretches
Some good news (and then some not so good news) for those hitting the beach this summer: A relatively dry year has meant much cleaner beaches — particularly in Southern California, according to Heal the Bay's new Beach Report Card.
The annual survey of more than 450 beaches across the state, released Thursday, showed that about 95% of the region's beaches logged top water-quality marks during the summer — a notable improvement from the prior year, when heavy winter rains poured billions of gallons of polluted runoff, containing trash, fertilizer, pet waste, metal and automotive fluids into storm drains and out to the ocean.
Still, the environmental group noted, there remain "stubborn pockets of chronic pollution" that plague several popular beaches and could get you sick. The state's top 10 dirtiest beaches this year include three in Southern California.
California beaches with the poorest water quality
Poche Beach at the ocean outlet (San Clemente, Orange County)
Lakeshore Park, Marina Lagoon (San Mateo, San Mateo County)
Linda Mar Beach at San Pedro Creek (Pacifica, San Mateo County)
Clam Beach County Park near Strawberry Creek (McKinleyville, Humboldt County)
Roosevelt Beach, south of the parking lot (Half Moon Bay, San Mateo County)
Luffenholtz Beach near the creek (Trinidad, Humboldt County)
Santa Monica Municipal Pier (Santa Monica, L.A. County)
Cowell Beach, west of the wharf (Santa Cruz, Santa Cruz County)
Cabrillo Beach, harborside (San Pedro, L.A. County)
Surfer's Beach, south end of the riprap (Half Moon Bay, San Mateo County)
Santa Monica Pier has been on this list for years, with moist conditions, flocks of birds and storm drain runoff the likely pollution culprits. Construction has begun on a 1.6-million gallon stormwater storage tank that should help, the report noted.
Other beaches that used to be among the worst cleaned up their act, such as Malibu Pier and La Jolla Cove in San Diego County. Mother's Beach in Marina del Rey, a regular on the most-polluted list, was replaced this year by Cabrillo Beach.
How they're judged
The annual "report card" assigns letter grades, A+ through F, based on weekly beach water-quality sampling conducted by county health agencies, sanitation departments and dischargers. Water samples are analyzed for three fecal indicator bacteria that indicate pollution from numerous sources, including human and animal waste.
Because the raw data and formatting varies county to county, Heal the Bay began compiling the data each year and translating the information into an easy-to-understand letter grade. The State Water Resources Control Board has endorsed this methodology.
For more details on your local beaches, read the report »
Swimming at a beach with a water-quality grade of C or lower greatly increases the risk of getting ear infections, skin rashes and stomach illnesses, Heal the Bay officials said.
C-grade hot spots in Southern California include Monarch Beach and San Clemente Pier in Orange County and Topanga State Beach in Los Angeles County.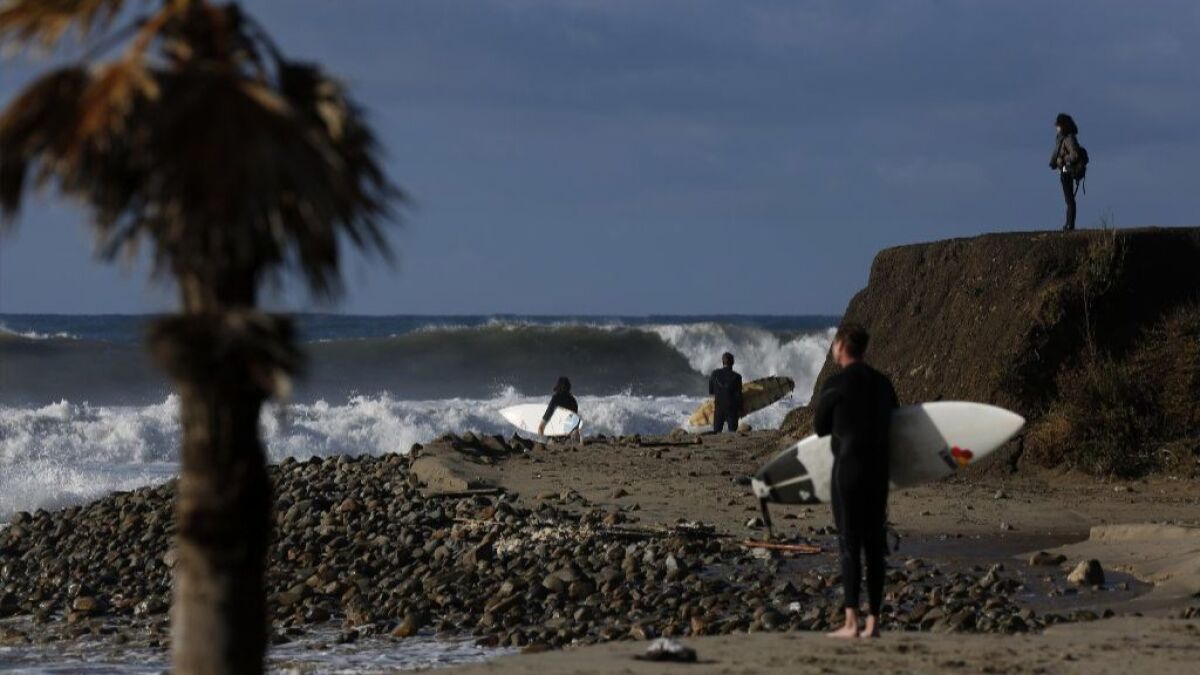 Honor roll
A record number — 37 beaches — received an A+ grade every week of the year, during all seasons and weather conditions. These beaches include El Matador State Beach in Malibu, Morro Bay in San Luis Obispo and a number of beaches in Laguna Beach, Newport Beach, Oxnard and the Palos Verdes Peninsula.
Heal the Bay, based in Santa Monica, also used the release of the report, which has become an annual publicity platform, to endorse an effort to place a property tax measure on the November ballot in Los Angeles County to build infrastructure for increased stormwater capture.
By harnessing the intense rains that are sure to come again, the environmental group said, the region can increase water supply and reduce harmful pollution.
"A day at the beach shouldn't make anyone sick," Shelley Luce, president of Heal the Bay, said. "We are glad to see water quality improving, but there are no guarantees."
Interested in coastal issues? Follow @RosannaXia on Twitter.
Get our free Coronavirus Today newsletter
Sign up for the latest news, best stories and what they mean for you, plus answers to your questions.
You may occasionally receive promotional content from the Los Angeles Times.