Wildlife officers had fortuitous role in hunt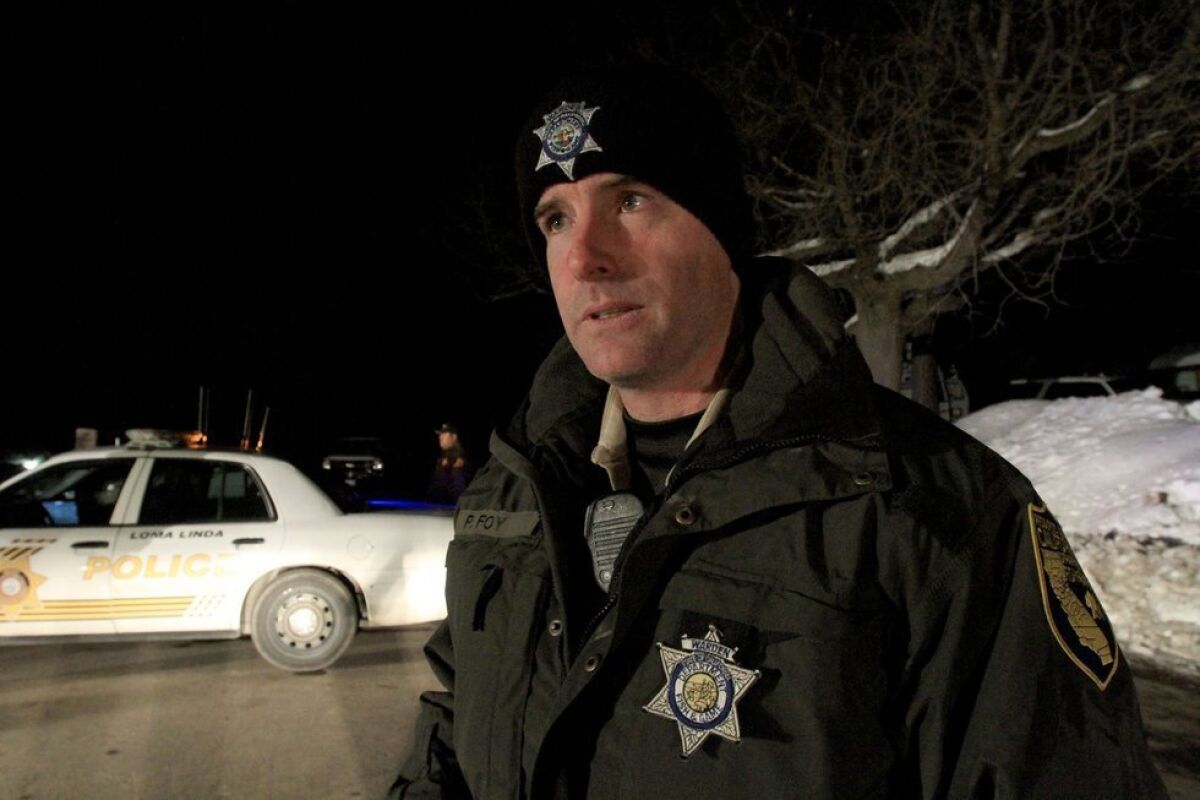 While law enforcement officials scoured the hillsides above Big Bear on Tuesday for murder suspect Christopher Dorner, wardens from California's Department of Fish and Wildlife were called in to patrol the rugged terrain of Highway 38.
It was on that highway that the officers first encountered Dorner, engaging the former cop in a white-knuckle chase involving two commandeered vehicles. The pursuit culminated in what officials described as a wild shootout between Dorner and a state game warden.
The actions by alert wildlife officers may have set in motion Dorner's last stand — in a snowbound cabin, surrounded by police. The cabin burned to the ground and there were conflicting reports over whether a body had been found inside.
Details of the chase over icy rural roads emerged late Tuesday as authorities pieced together what appeared to be the fugitive's last, desperate movements.
The encounter began about 12:45 p.m. as Dorner was driving a purple Nissan on Highway 38 when he passed a Fish and Wildlife vehicle.
Dorner's car was tucked behind buses when officers saw him and swung their cars around in pursuit. The murder suspect, authorities said, attempted to evade them by turning off onto Glass Road. At some point, they said, Dorner crashed and abandoned the small car.
With officers still in pursuit, Dorner then stopped a truck driven by local resident Rick Heltebrake, ordering him out. Heltebrake, a ranger at a nearby Boy Scout camp, didn't want to leave his dog behind.
Dorner allowed Heltebrake and his Dalmatian, Suni, to get out and then took off, according to an account from a friend of Heltebrake.
Behind the wheel of the stolen truck, Dorner was once again careening down Glass Road and passed another Fish and Wildlife vehicle coming from the opposite direction, officials said. Again an officer recognized Dorner.
That officer radioed his colleagues traveling behind him that Dorner was heading their way in a silver pickup truck.
When Dorner saw a third Fish and Wildlife truck approaching, he rolled down his window and allegedly took aim. Dorner opened fire as the vehicle passed, strafing the truck with a handgun, officials said.
The badly damaged state truck skidded to a halt. A game warden exited the vehicle and fired a high-powered rifle several times as Dorner sped away, according to authorities.
Dorner subsequently crashed that truck, authorities said, and ran into the cabin.
For days, multiple law enforcement agencies from across Southern California had been searching for Dorner. But Fish and Wildlife, whose wardens are involved in about one shooting a year, encountered him first.
Tuesday's gun battle was the second incident in seven weeks involving game wardens being fired upon.
And while the five wardens were "certainly rattled," said Lt. Patrick Foy, Fish and Wildlife spokesman, they were all highly trained and had just received the rifles.
As for their part in the day's drama, given the casualties suffered by law enforcement, "nobody's really celebrating," Foy said.
julie.cart@latimes.com
matt.stevens@latimes.com
Get our free Coronavirus Today newsletter
Sign up for the latest news, best stories and what they mean for you, plus answers to your questions.
You may occasionally receive promotional content from the Los Angeles Times.