How L.A. Zoo cares for a 360-pound gorilla who won't take his medicine
Animal keepers work with Jabari, a western lowland gorilla, who is recovering from valley fever. He has had the infection for about three years and has recently regained the weight he lost when he initially fell ill.
(Rick Loomis / Los Angeles Times)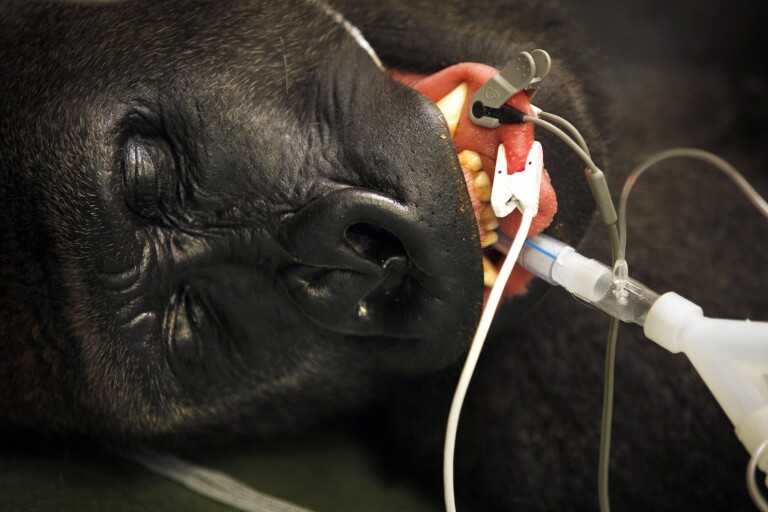 Jabari was tranquilized on Thursday in order to check his blood and give him a chest X-ray.
(Rick Loomis / Los Angeles Times)
Jabari's checkup also monitored the drugs being used to fight the fungal infection. At left is Dr. Lana Krol, a veterinary intern, and at right is David D'Souza, a veterinary technician.
(Rick Loomis / Los Angeles Times)
Medical supplies for Jabari's checkup. The procedure lasted about an hour.
(Rick Loomis / Los Angeles Times)
Tania Prebble, an animal keeper, works on Jabari before his checkup.
(Rick Loomis / Los Angeles Times)
Jabari waiting for his valley fever checkup to end. He enjoys playing with his brother, Hasani.
(Rick Loomis / Los Angeles Times)
Cindy Stadler, the attending veterinarian, works on Jabari.
(Rick Loomis / Los Angeles Times)
Veterinarian Cindy Stadler carefully pushed a 2-foot-long plastic breathing tube down the 360-pound gorilla's throat after he'd been sedated in preparation for a medical exam Thursday at the Los Angeles Zoo.
It was the first checkup of the year for Jabari, a 16-year-old western lowland gorilla recovering from a severe case of valley fever.
"The good news is that Jabari has finally turned the corner and is doing very well," said Curtis Eng, chief veterinarian at the zoo, as staffers tightened a tourniquet and shaved a patch of hair off the gorilla's massive right arm in order to draw blood samples. Jabari was sprawled on the concrete floor, his heartbeat steady.
The staff set to work, adjusting the flow of anesthesia while keeping a close eye on the digital heart monitor.
Putting any animal under anesthesia can be a risky proposition, yet Jabari has endured dozens of such procedures since he became the first great ape at the zoo to contract valley fever.
In late 2011, Jabari developed symptoms consistent with a bad cold: persistent cough, fever, runny nose, loss of appetite and lethargy. When he didn't respond to antibiotics, extensive testing revealed he was suffering from fungal pneumonia brought on by coccidioidomycosis, or valley fever.
Because gorillas share 98.5% of their genes with humans, they are susceptible to many of the same pathogens. And they often are treated with the same drugs
But Jabari was especially uncooperative and refused any oral medication. Zookeepers tried hiding it in bananas, papayas, oranges, and leafy vegetables.
"We even tried hiding it in oatmeal, mashed potatoes and cooked pasta doused in soy sauce and salad dressing," said Candace Sclimenti, senior animal keeper of the ape section. "No luck."
It wasn't long before Jabari was having serious trouble breathing. He lost a fifth of his body weight.
After consulting with veterinarians across the country and physicians who treat humans with the disease, zookeepers placed Jabari on a medication that needed to be administered intravenously after he was sedated.
"Jabari was immobilized 25 times over a period of about two months in 2012 to get him to start feeling better," Eng said.
Several months ago Jabari was put on posaconazole, a potent and expensive medication that he washes down with grape juice. He may end up taking it for the rest of his life, at a cost of roughly $17,000 a month.
In man and beast alike, valley fever is contracted by breathing fungal spores that are released into the air when soil is disturbed. The illness is prevalent in the desert areas of California and Arizona, but is rarely contracted in the Los Angeles area.
It is not contagious.
In most cases, contact with the spores results in lifelong immunity. In extreme cases, valley fever can cause death.
"We have a very limited array of drugs to treat it," said Lisa Shubitz, a veterinarian and associate research professor at the University of Arizona. "Since these drugs are only approved for use by humans, they are administered off-label with animals."
Toward the end of Jabari's exam, zoo staffers tucked their hands under the gorilla's arms, legs and head. "On three," Stadler said as they lifted him up and positioned him for X-rays.
A few minutes later, Stadler pulled the gorilla's tongue a few times, then checked the tracheal tube. "Everything good," she said, telling the others to leave through the enclosure's steel door before she sat down beside Jabari to monitor his emergence from sedation.
Three minutes later, the ape's hands and arms began to twitch. Stadler pulled the tube out of his throat and left the pen in a hurry.
Before too long, Jabari was back playing with his brother, Hasani.
"I hope he gets to live a long life and sire lots of kids," Eng said.
louis.sahagun@latimes.com
Twitter: @LouisSahagun
---
Get our free Coronavirus Today newsletter
Sign up for the latest news, best stories and what they mean for you, plus answers to your questions.
You may occasionally receive promotional content from the Los Angeles Times.