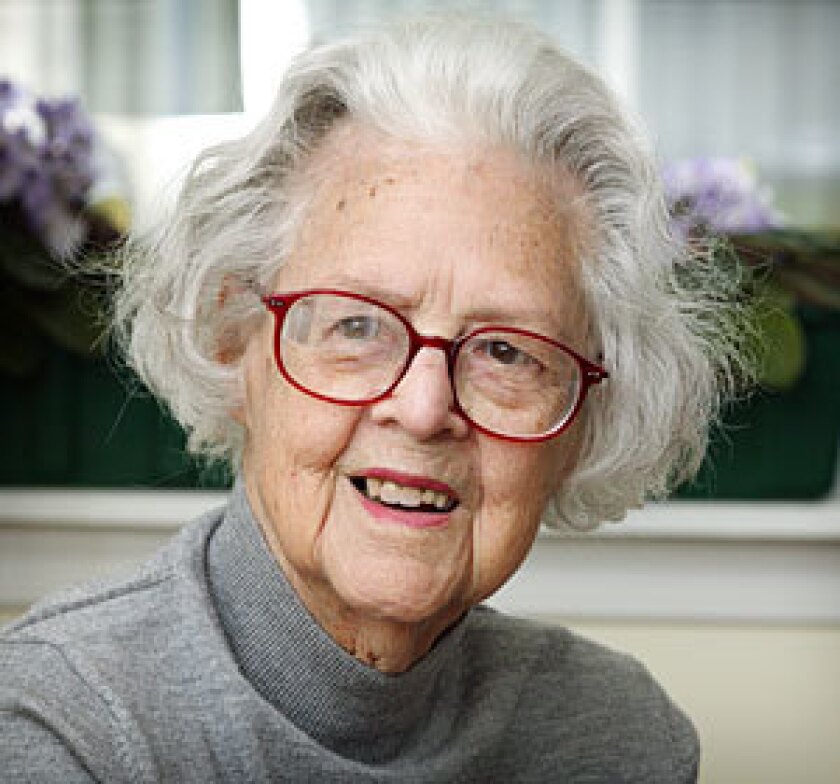 Reporting from Washington —
Dr. Janet B. Hardy, a Johns Hopkins University pediatrics professor who led a pioneering study of mothers and children that provided a wealth of information on teen pregnancy, medical concerns and social issues, died Oct. 23 at a retirement community in Glen Arm, Md. She was 92 and had had a stroke.
Hardy helped design the Collaborative Perinatal Project, a wide-reaching federal study of 60,000 expectant mothers and their children that began in 1957. She was the lead researcher for the Baltimore portion of the 12-city project, which focused largely on inner-city mothers and the physical and social development of their children.
The interdisciplinary project, which officially lasted 20 years but continues to yield results, combined medicine with sociology, psychology, public health and education.
Hardy followed 4,000 Baltimore mothers and their children throughout the study and published dozens of groundbreaking papers. Among other things, she was the first researcher to document the serious dangers of rubella, or German measles, during pregnancy and how the disease could lead to birth defects.
Long after the first phases of the project had ended, Hardy returned to her early subjects and examined how they had fared in life. She discovered a clear relationship between a mother's age and her child's well-being later in life.
Researchers had little information about younger mothers until Hardy showed that the children of girls younger than 18 had lower IQs and other physical and developmental problems.
All other conditions being equal, Hardy found, children born to mothers in their late 20s appeared to have a greater chance of educational, financial and social success.
"My speculation based on observing a lot of mothers and children is that older mothers are better parents because they are more mature socially," Hardy said in 1998. "I think this has implications for public policy. We really ought to let people know that having children while young compromises their [children's] chances."
Among the more surprising findings of the study was that poor black children tended to have a greater chance of social and educational success than children born to impoverished white families.
Hardy also discovered that childhood smoking was strongly correlated with later problems in life.
"I have no real explanation for it, but I think smoking is what we call a 'marker' for some other behaviors," she said in 1997. "It's a very persistent finding in our data."
During the study, Hardy asked young mothers and their children to report for monthly checkups to measure physical and psychological development and to answer questions about family and school life.
She took blood samples from mothers and children, which were frozen and proved useful for future studies.
To keep participants from dropping out, according to a 2005 article in Johns Hopkins magazine, Hardy "sent taxis to their doors to ferry them to doctors' appointments and always remembered to send birthday and Christmas cards.
'Thank you for coming,' Hardy and her staff always told the women. 'Without your help there would be no study.' "
Hardy was born Janet Baillie on Jan. 14, 1916, in Duncan on Canada's Vancouver Island; she grew up in Victoria. Her father, a doctor, once told her, "No daughter of mine is ever going to be a physician."
After graduating from the University of British Columbia, she nonetheless went to medical school at McGill University in Montreal, graduating in 1941 with a specialty in pediatrics. She was one of five women in a class of 150. She went to Johns Hopkins a year later and established the first neonatology ward at its hospital.
Hardy spent six years as director of the Baltimore Health Department's Bureau of Child Hygiene before returning to Johns Hopkins in 1957 to direct the perinatal project.
As an outgrowth of that study, she established the Johns Hopkins adolescent pregnancy and parenting programs in the mid-1970s. She provided education, counseling and access to birth control to girls at a Baltimore high school and junior high and documented a 30% drop in pregnancy rates.
At schools without the program, pregnancies increased 58%.
Hardy officially retired in 1981 but continued to publish research papers well into her 80s.
Survivors include her husband of 69 years, Dr. Paul Hardy of Glen Arm; two children, David Hardy of Northampton, Mass., and Janet Thayer of Glen Arm; a sister; and three grandchildren.
Schudel writes for the Washington Post, where this obituary first appeared.
---