California coastal property owners face new fees on sea walls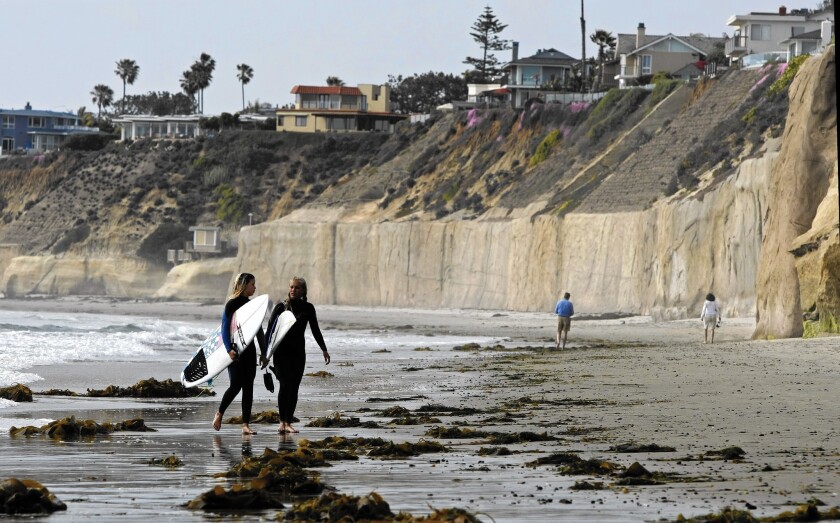 SOLANA BEACH —
Walking along the beach and building sandcastles may be priceless pastimes in California, but in places where sea walls are contributing to shrinking shorelines, state officials say someone's got to pay.
The California Coastal Commission has started asking some cities to put a value on the recreational opportunities lost when sand disappears — and then to pass that cost along to property owners who apply for sea wall permits.
First to face the challenge is Solana Beach, which sits along 1.7 miles of a bluff at the edge of the Pacific Ocean. It's one of the few coastal towns in the state that has yet to implement a Local Coastal Program, which allows municipal governments to oversee limited development without full Coastal Commission review.
Solana Beach is working on its plan, which the commission says must include a recreation mitigation fee. The fee could be rolled out across the state as other cities develop or modify their local programs.
"Solana Beach is at the forefront" of the effort, said Eric Stevens, an analyst with the Coastal Commission. He said some cities have factored recreation into other fees levied on sea walls, but Solana Beach will be the first to create a separate fee and formula for calculating how much the structures cost in lost recreational opportunities.
Protecting the shoreline and preserving beach access is the key aim of the California Coastal Act, enacted in the mid-1970s. And sea walls have been a point of contention for decades.
Environmentalists, backed by the Coastal Commission, say the structures occupy land that otherwise would be available to the public and also prevent bluffs from eroding and replenishing beaches.
Coastal homeowners say the walls are necessary to safeguard property from high tides and storm-driven waves — and protect people on the beach from being crushed by collapsing bluffs.
Establishing reasonable fees for sea wall permits is the best way to balance the two sides, said Solana Beach Community Development Director Bill Chopyk.
"You've got two diverse interests," Chopyk said. "People who've spent a lot of money to live on top of that bluff, and the environmentalists who'd just prefer to let nature proceed."
There are sea walls along most of the shoreline in Solana Beach. Permit applicants already pay a sand replacement fee under a formula set up by the Coastal Commission about 15 years ago.
Under Solana Beach's proposal, a one-time recreation fee of $870 per linear foot of sea wall would be imposed beginning this year, then increase until it reaches $1,311 per foot for a sea wall permit in 2026. Most sea walls in the city are about 50 feet long.
Officials said they arrived at those values using a formula based on how many people visit the beach, how long they stay, how far they travel and how much they spend, among other factors.
Most homeowners have "a begrudging understanding" that they should pay some mitigation fees for sea walls, said Jon Corn, an attorney for several San Diego County oceanfront homeowners associations, but they believe an additional public recreation fee is unfair.
Sea walls have a civic benefit, he said. "You are taking a huge swath of beach that is unsafe and making it safe for the public." Corn said. Since 1995, five people have been killed by bluff collapses in San Diego County between Torrey Pines and Carlsbad.
Environmental groups such as the Sierra Club and the Surfrider Foundation support the fees, though they say it's pointless to build sea walls because eventually the ocean will destroy them and the bluffs will collapse.
"You have cliffs because the coastline erodes," said Jim Jaffee, a Surfrider member and Solana Beach resident.
The fee will help compensate the public for the loss of the beaches and bluffs, he said, but added that any fix is short term: Rising sea levels will accelerate coastal erosion, and communities will have to adapt. The only reasonable solution, Jaffee said, is to retreat from the edge of the bluff.
The recreation fee will go before the Solana Beach City Council this year and ultimately to the California Coastal Commission.
Diehl writes for the San Diego Union-Tribune.
---
Get our free Coronavirus Today newsletter
Sign up for the latest news, best stories and what they mean for you, plus answers to your questions.
You may occasionally receive promotional content from the Los Angeles Times.