Stalking wildflowers in the Anza-Borrego desert to forecast the Big Bloom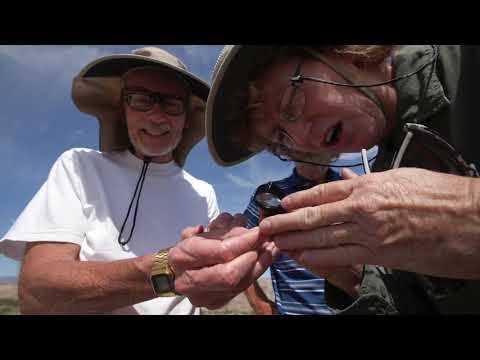 Plant enthusiasts catalog wildflowers blooming at Anza-Borrego Desert State Park.
Tom Chester is standing in the middle of Anza-Borrego Desert State Park, ignoring the majestic scenery.
The towering Santa Rosa Mountains, the wide vistas and the clear blue sky are not what interests the 64-year-old retired astrophysicist. Instead, he keeps his eyes trained to the ground.
He's looking for flowers. He's collecting data.
"Geraea canescens, Cryptantha angustifolia, Pectocarya heterocarpa," he says, rattling off a list of plant names to his partner in botany, Kate Harper.
She nods along. "All right, OK," she says, making mental notes.
Chester turns away from his list and scans the desert floor one more time. The plants may be small, but their buds are ready to burst.
"I think we are finally taking off here," he says.
Despite a disappointing El Niño, which has brought none of the promised rain to this far western edge of the Sonoran Desert, Chester and his small band of plant enthusiasts counted eight species of flowers just starting to bloom on the sandy wash off Henderson Canyon Road, including desert lilies, brown-eyed primroses and hairy desert sunflowers.
Later, Chester will add the day's observations to his computer plots, enter GPS points on his species distribution maps, and send estimates of the size of the bloom to his fellow botanizers for their review.
Some people like to look at wildflowers. Chester likes to measure them.
"If you don't track it numerically, you can't really compare year to year, or even know for sure where you are in the bloom cycle," he explains.
According to his calculations, the Anza-Borrego annual bloom had just begun.
::
Death Valley's super-bloom may be the botanical hot spot for flower tourists this year, but Anza-Borrego Desert State Park is a perennial paradise for flower lovers. The 640,000-acre park is home to more than 1,000 species of plants. In a good year, knee-high fields of annual flowers rise out of the sandy desert floor in the spring, stretching for a mile out toward the base of the mountains.
Hard-core wildflower fans from across the world begin tracking the state of the Anza-Borrego bloom in September and October. By January, the early online reports are posted, with germination rates and rainfall tallies.
For those who prefer to do their flower stalking by phone, the park runs a 24-hour wildflower hotline that tells callers the best places to find flowers in the park on a given day, as well as the state of the year's bloom.
See the most-read stories in Science this hour >>
Back in the early 1980s, tourists could buy a 20-cent postcard, add their address and have park employees alert them when they thought the peak was coming up.
But predicting the moment of peak bloom is a tricky business. The desert is like a living, breathing organism, and its plants — particularly the famous ones on the desert floor — are temperamental. They are affected not just by rain, but by temperature and wind as well.
As the year began, Chester and his fellow botanists had high hopes for the 2016 bloom. A storm in early January delivered a healthy two inches of rain to the desert, prompting millions of seedlings to emerge a few weeks later.
Paul Johnson, who's been working in the park for 43 years, said he expected 2016's bloom to be "out of this world."
"We had the highest volume of annual germination I've ever seen," he said.
But the rain was followed by a cold spell, with temperatures 10 degrees below normal, and the flowers didn't grow. The promised El Niño deluge never came and an untimely heat wave in February forced the flora to make a decision: Either bloom now or risk losing a seed-making season.
"We're seeing a fascinating adaptation," Johnson said. "The volume is tremendous, but they are pygmies. The plants are in a race to get their flowers out."
According to Chester, they are blooming at one-tenth to one-half their usual height.
::
Flower peepers — a term locals use to describe visitors who prefer to see desert flowers from the comfort of their cars — might be disappointed by the 2016 bloom, but Chester and his crew find beauty even when the flowers are small.
"To be awed by the desert, you have to get down on your knees," Harper says. "It's all there."
Harper is 6 feet tall, 65 years old, and dressed in black leggings and a hot pink top. She makes a ceremony of presenting first-timers with a lightweight jeweler's loupe that provides 45-power magnification.
"May you see the desert with new eyes," she says.
Chester, who is slight with a trim gray beard and white hair peeking out of his safari hat, warns newbies on his botanizing trips that the group might easily spend an hour in a single spot, itemizing the plants and plotting GPS points.
A tireless researcher who spent 21 years working on satellites at NASA's Jet Propulsion Laboratory, Chester now lives in Fallbrook and makes the 90-minute trek to the desert every three or four days from November through April to collect data for his plant research.
Though early-morning hours are usually the most comfortable time in the desert, Chester never starts before 10. "I'm an astronomer," he says. "I'm a night guy."
He is accompanied on his Anza-Borrego trips by a rotating cast of plant enthusiasts. Harper, however, is a constant. The two are now collaborating on a scientific paper about the flora of the Borrego desert.
This day's trip also includes Fred Melgert and Carla Hoegen, a Dutch couple who spend half the year in Borrego Springs and provide frequent wildflower reports on the Anza-Borrego Desert Natural History Assn.'s website. Nancy Accola, a retiree who fell in love with California flora after moving to Temecula from the Boston area, has come along as well.
"People who are attracted to this are members of the same tribe," Harper says. "It's really about exploration."
::
After wrapping up his notes on the status of Henderson Canyon Road, Chester suggests the group drive out to the end of DiGiorgio Road. Another contributor to the natural history group's website reported seeing thousands of blooming desert lilies in that part of the park, and Chester wants to check it out.
Along the way, the group is pleasantly surprised by the fields of Dithyrea californica lining both sides of the pavement. The small plant with white flowers is also known as spectacle pod because its flat fruit resembles a tiny pair of eyeglasses.
"This isn't bad," Chester says, even though the plants were half the size they would have been if the El Niño rains had materialized. "Botanists would love it, although the public might not."
See more of our top stories on Facebook >>
The desert lilies appear further down the road. They seem incongruous in the desert, with long straight stalks sticking rigidly out of the sand. The plant's scientific name is Hesperocallis undulata, in part because its long leaves undulate like waves.
"Bend down and smell that," Harper commands. "Isn't that heavenly? Just think if a woman could bottle it up."
Chester notes on his blog that in any given year, there are some species that respond well to the winter's unique rainfall pattern. This year, it's the desert lilies that have capitalized on the El Niño tease.
Toward the end of the day's survey, Hoegen spots a mysterious fuzzy green plant, just 5 inches high. Upon very close inspection, the botanizers discover flowers so tiny they are barely perceptible to the naked eye.
"Look at that, Kate," Chester says. "It's like, why even bother?"
Harper thinks the plant might be Cryptantha barbigera, or bearded cryptantha, but Chester has another idea.
"There is ganderi around here," he says. "It's the only spot it exists in the county."
A pulse of excitement shoots through the group and those with cameras quickly pull them out. Cryptantha ganderi is a notoriously rare plant that is only found in this particular area of the desert. Chester hasn't seen one since at least 2010. Hoegen has never seen one at all.
"Do you have your GPS on it?" Harper asks.
"I'll go get it," Chester says, hurrying back to his car.
"Ganderi!" he says as he scampers away. "Yay!"
Twitter: @DeborahNetburn
MORE SCIENCE NEWS
To help quadriplegics, monkeys navigate a wheelchair with their minds
In the Everglades, birds nest near alligators for safety. But what's in it for the gators?
Why are so many sea lion pups starving? Scientists find the answer off the Central California coast