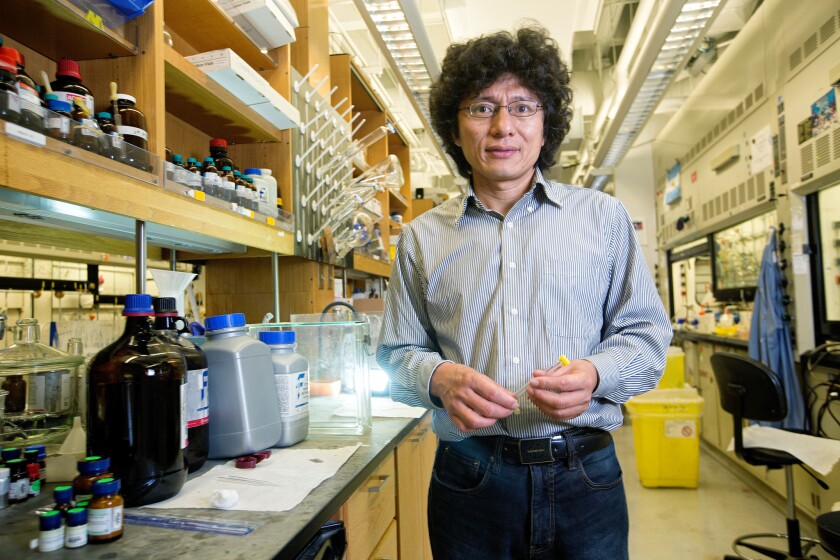 Growing up in a small Chinese village, Jin-Quan Yu walked nearly four miles to school, traversing a mountain pass and rowing himself across a river to get to the campus.
"Every day when I reached school, pretty much the first two classes I would have missed," Yu said.
And yet he didn't miss much, at least where science is concerned. Now a groundbreaking chemist at the Scripps Research Institute in La Jolla, Yu was one of 23 people named to the list of 2016 MacArthur Fellows. The high-profile honor is widely known as the "genius grant."
Yu has gained attention in the chemistry world for discovering and refining new methods for breaking bonds between carbon and hydrogen atoms. These are some of the most common connections in the molecular world — and some of the strongest.
Yu and his 35-member team at Scripps Research use the metal palladium as a catalyst to sever these links, creating the opportunity to splice in other elements from the periodic table. This method can be used to synthesize difficult-to-create molecules such as amino acids — the building blocks of life — in much less time, and with much less waste, than was previously possible.
Drug makers and other companies are harnessing Yu's approach to try to develop new medications more quickly and to formulate novel compounds not achievable with current technology.
Yu said that like those roughly eight-mile round trips to his grade school in China, realizing progress in bond-breaking has been neither quick nor easy. His current project started in 2002.
"It is only in the last five years that my ideas have really gotten attention," said Yu, now 50.
Yu says he is already thinking of ways to use his stipend. He would love to dig deeper into the idea of using less-precious metals as catalysts for molecular bond-breaking. Copper or iron, for example, would be less costly than palladium.
"The beauty of this funding is you can propose some very bold ideas," he said. "It allows me to open new directions that are highly risky but could be highly rewarding."
Sisson writes for the San Diego Union-Tribune.
MORE IN SCIENCE
MacArthur winner Victoria Orphan showed how deep-sea microbes keep greenhouse gas out of atmosphere
Manu Prakash, newly minted MacArthur 'genius,' builds water computers and origami microscopes
Bacteria have sculpted the world we live in, and that's why MacArthur winner Dianne Newman studies them
---