Uber and Lyft have made San Francisco's traffic much worse, study says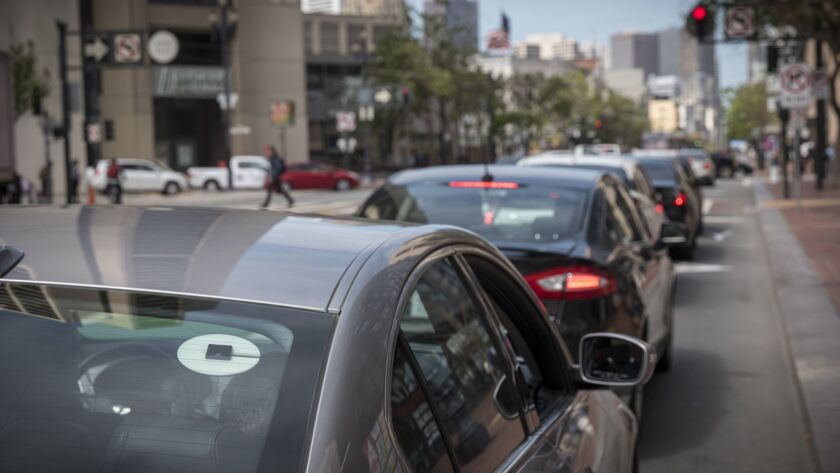 Ride-hailing services like Uber and Lyft are so popular in San Francisco that they have become the single biggest factor behind the city's increasingly snarled traffic, according to a new report.
Researchers analyzed millions of trips and concluded that the services accounted for more than half of the 62% increase in weekday traffic delays between 2010 and 2016. They also found that many of the cars offering rides via Uber and Lyft did not reduce or replace private vehicles, as originally envisioned. Instead, they often increased the total number of cars on the road.
So much for the claim that ride-hailing would improve traffic — at least in San Francisco.
"It does not live up that promise," said Greg Erhardt, a civil engineer at the University of Kentucky and lead author of the report published Wednesday in Science Advances.
Uber and Lyft both disputed the findings, saying the analysis did not account for all the factors that might have affected traffic.
Assessing the effects of ride-hailing services on traffic has proved to be a tricky task. Some previous studies have found that they reduce congestion, while others come to the opposite conclusion.
In San Francisco, it's clear traffic has gotten much worse over the last five or six years, as ride-hailing services have caught on.
"We saw a very precipitous rise in congestion," said Joe Castiglione, the deputy director for technology, data and analysis at the San Francisco County Transportation Authority.
However, the city underwent a transformation over that same period, as tech companies and their employees flocked to the area. "How do we parse all that out?" said Castiglione, a coauthor of the new report.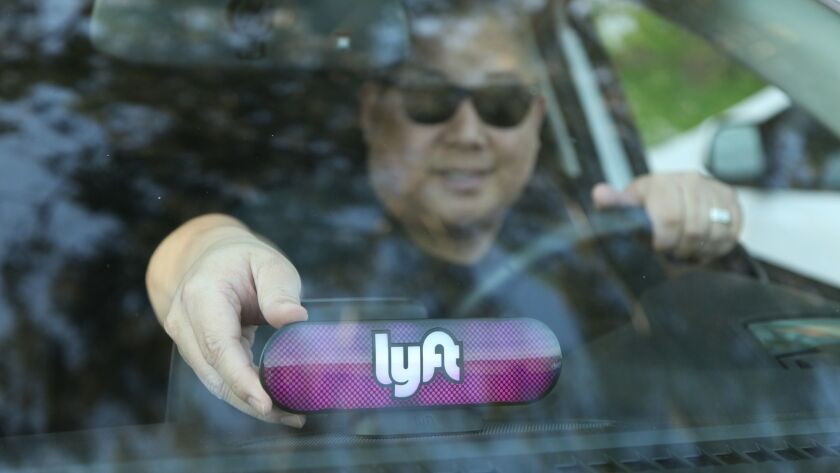 The first thing the study authors had to do was figure out where and when Uber and Lyft were operating in San Francisco.
Companies have been reluctant to share such data with city officials, Castiglione said. So has the California Public Utilities Commission, which regulates the industry.
So analysts at SFCTA got creative. They partnered with researchers at Northeastern University who figured out a way to "scrape" data from Uber's and Lyft's application programming interfaces, or APIs. These APIs, which are publicly accessible, allow you to see all the cars in your area when you open up a ride-hailing app on your phone, said Drew Cooper, a modeler at SFCTA.
The Northeastern researchers created a program to mimic the Uber and Lyft apps so they could collect data on the locations of available drivers and keep track of when they had picked up or dropped off a passenger. Team members downloaded the data every five seconds during a six-week period in the fall of 2016, and Cooper crunched the numbers.
He calculated that Uber and Lyft accounted for about 170,000 trips in San Francisco on an average weekday — representing up to 25% of all trips at peak hours in some neighborhoods.
"The trips are primarily happening in the most congested parts of the city at the most congested times of day," Castiglione said.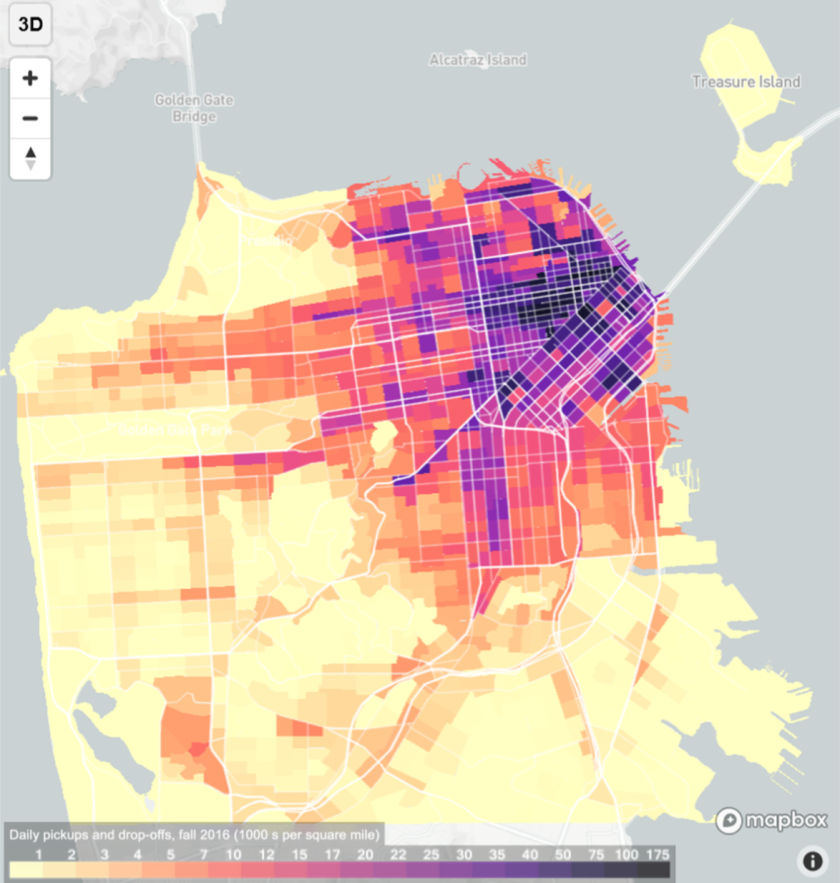 Those results were released in 2017. But they didn't tell researchers how much ride-hailing activity actually affected traffic. So they turned to a model that simulates how people get around San Francisco. This allowed them to calculate what traffic would have been like in 2016 considering recent changes in population and employment but without Uber and Lyft.
Erhardt and his colleagues also looked at data from a traffic-tracking company to get a picture of how real-world conditions changed over time.
By comparing traffic patterns in 2010 — when ride-hailing services were effectively absent — with those from the real and simulated versions of 2016, the researchers were able to tease out how much of the increased congestion was caused by the companies.
Their results suggest that the number of miles traveled on city streets and the hours spent doing so rose twice as much with ride-hailing as they would have without it. The 62% increase in the hours that vehicles spent stuck in traffic between 2010 and 2016 would have been just 22% if the city didn't have Uber and Lyft, according to the study.
The researchers found that travel times became more unpredictable too. And average speeds dropped by 13%, versus 4% without ride-hailing.
Each customer pickup and drop-off caused a significant disruption; on major roads, it was equivalent to closing the lane for more than two minutes, Erhardt said. Diverting stops to side roads could minimize delays, he noted.
Adding to the problem is the practice known as "deadheading," which is when drivers travel without a passenger. This accounted for 20% of ride-hailing traffic in San Francisco. (In New York, deadheading makes up about 50%.)
The researchers also noted that 70% of Uber and Lyft drivers don't live in San Francisco, which further increases commuter traffic. Some come from as far away as the Central Valley, Erhardt said.
Alejandro Henao, a mobility researcher at the National Renewable Energy Laboratory who was not involved in the work, cautioned against taking the study's exact numbers to heart. But, he said, "this is giving us a signal" that ride-hailing increases congestion.
"I don't think Uber and Lyft can totally dismiss this," he said.
Both companies say they are committed to working with cities on solutions like congestion pricing and infrastructure investment. But they take issue with the study's conclusions. In a statement, a Lyft spokesperson said the report "overlooks notable contributors to congestion including increased freight and commercial deliveries, and tourism growth."
The researchers said they did not have enough data to evaluate the role of trucks, but they found that tourism was likely a minor factor that increased vehicle trips less than 1% in 2016.
Some proponents of ride-hailing services have predicted that Uber and Lyft would decrease congestion by allowing passengers to travel together using shared services like UberPool, or by making it easier for people to link up with public transportation. To that end, Uber and Lyft are rolling out programs to integrate transit options into their apps.
But countervailing forces appear to be winning out in San Francisco, the study authors said. Although there aren't a lot of available data on ride-splitting, previous research shows that fewer than one in five customers are willing to share their car with others, and even fewer are successfully matched with another rider.
Equally worrying is the tendency for ride-hailing to compete with public transportation, said Henao, who surveyed passengers while driving for Uber and Lyft to collect data for his PhD research. His work and others' suggest that about half of customers would have walked, biked or taken public transportation if ride-hailing services weren't available.
This might help explain why the researchers found that about two-thirds of the ride-hailing cars on the road would not have been present if not for the services, Erhardt said.
The question now is what policymakers decide to do about the traffic problem, said Elliot Martin, a transportation researcher at UC Berkeley who was not involved in the study. Given the benefits of ride-hailing, "is this something that's highly concerning?"
The answer depends on whether it's more important to maximize mobility or to minimize congestion. It will also mean considering other benefits of ride-hailing, such as how Uber and Lyft might reduce car ownership in surrounding areas, he said.
The upside of ride-hailing services might be more pronounced outside of city centers, but "that's not where they are viable to operate," Erhardt said. Drivers know they can make the most money in the dense downtown area, and that's where most ride-hailing trips happen.
"Those are the exact places where people ride the bus and where people can walk," he said.
---
Get our free Coronavirus Today newsletter
Sign up for the latest news, best stories and what they mean for you, plus answers to your questions.
You may occasionally receive promotional content from the Los Angeles Times.