Alex Trebek said he plans to beat his pancreatic cancer. That will be a tall order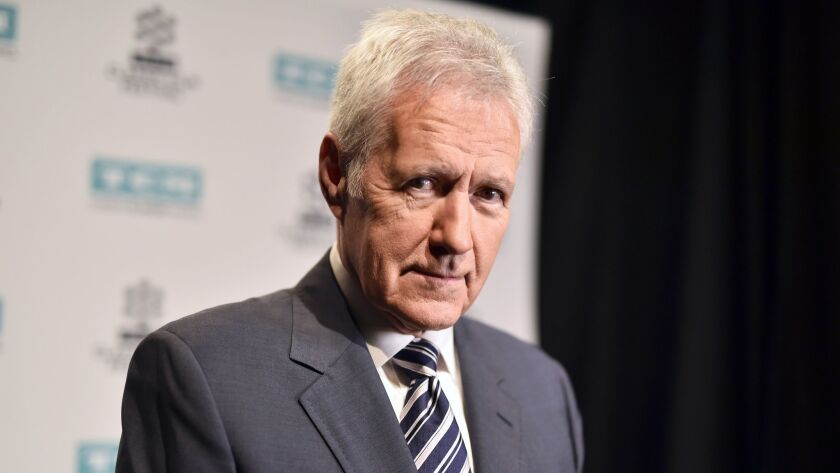 Washington Post
Answer: This cancer has the highest mortality rate of all major cancers, with only 9% of patients still alive five years after their diagnosis.
Question: What is pancreatic cancer?
"Jeopardy!" game show host Alex Trebek announced this week that he has Stage 4 pancreatic cancer and that he intends to become part of that 9%.
"I'm going to fight this," said Trebek, 78. "I plan to beat the low survival-rate statistics for this disease."
It won't be easy. Half of all Stage 4 patients die within a year of learning they have pancreatic cancer.
Pancreatic cancer is now the third-leading cause of cancer-related death in the United States, responsible for more deaths than breast cancer. Experts predict it will overtake colorectal cancer to become the second leading cause of cancer-related death in the country by 2020, according to the Pancreatic Cancer Action Network. (Lung cancer claims the top spot.)
What makes pancreatic cancer particularly deadly and difficult to treat is that the disease is often diagnosed too late. Tumors in the pancreas typically don't cause major symptoms until the cancer has already reached advanced stages.
"With breast cancer, you feel a lump. With colon cancer you see bleeding in stool. But when it comes to pancreatic cancer, there's nothing like that," said Dr. Daniel Labow, chief of the surgical oncology division at Mount Sinai Hospital.
Most patients aren't diagnosed until their pancreatic cancer is at Stage 3 or 4, when it is often considered inoperable and the only remaining option is chemotherapy.
"The primary way to deal with most cancers is to cut them out," said Dr. Valerie Lee, an oncologist at Johns Hopkins' Sidney Kimmel Comprehensive Cancer Center. "But with pancreatic cancer, only 10% to 20% of patients are even eligible for surgery. That leaves chemotherapy, which is not curative. It mainly extends the time you have left."
Pancreatic cancer almost always afflicts patients after age 45; the average age of diagnosis is 71.
One of the earliest symptoms is pain in the back or stomach. Other symptoms include jaundice and sudden, unexplained weight loss.
The pancreas sits toward the back of the abdomen. It secretes enzymes that help digest food and hormones that help regulate the body's blood sugar. Like any cancer, pancreatic cancer occurs when cells in the organ start to grow and spread uncontrollably.
While doctors and researchers have made tremendous progress with other forms of cancer, pancreatic cancer has remained one of the few for which survival has not improved substantially over the last four decades.
Over nearly a quarter-century, the overall cancer mortality rate has fallen 26%, resulting in almost 2.4 million fewer deaths than if peak rates had continued. Last year, a new report by the American Cancer Society showed the overall cancer death rate had declined again by 1.7%.
Increased funding, research and advocacy have helped. Widespread screening tests like mammograms and colonoscopies have allowed many to catch certain forms of cancer earlier. There is no such safe and effective test for pancreatic cancer.
The death rate for pancreatic cancer has remained steady. In 2019, more than 56,000 Americans are expected to get the diagnosis, according to the American Cancer Society, and more than 45,000 will die of it.
Other notable figures who have had pancreatic cancer include opera singer Luciano Pavarotti and actor Patrick Swayze. Supreme Court Justice Ruth Bader Ginsburg was treated for early-stage pancreatic cancer in 2009, 10 years after she had colorectal cancer. (The 85-year-old jurist recently had surgery for two malignant nodules in her left lung.)
Having public figures like Trebek speak out about their own experiences raises awareness of — and potentially much-needed research funding for — pancreatic cancer, Labow said, and it helps others feel like they're not alone.
"It's a particularly hard diagnosis to receive. It can be devastating," he said. "To see how Alex Trebek is handling it — coming out publicly and owning it in a way and saying he's going to try his best against it — you have to respect that."
---
Get our free Coronavirus Today newsletter
Sign up for the latest news, best stories and what they mean for you, plus answers to your questions.
You may occasionally receive promotional content from the Los Angeles Times.