For many lung cancer patients, Keytruda is a better initial treatment than chemotherapy, study finds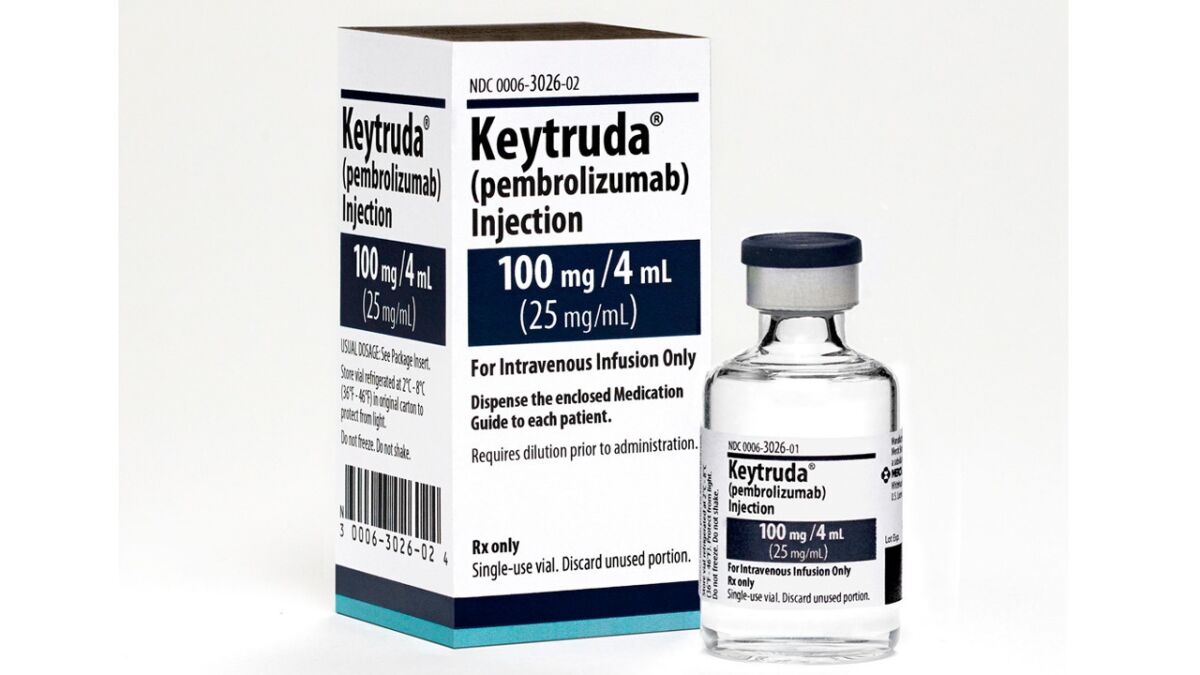 In findings that may allow many lung cancer patients to avoid chemotherapy, a large clinical trial has shown that the immunotherapy drug Keytruda is a more effective initial treatment for two-thirds of patients with the most common type of lung cancer.
Compared with advanced small-cell lung cancer patients who got chemotherapy, those treated first with Keytruda had a median survival time that was four to eight months longer.
The difference was greatest among patients whose cancers harbored high levels of the genetic mutations Keytruda uses to target malignancy. But even patients whose cancers had very low levels of these mutations outlived patients who got chemotherapy by a median of four months.
In addition, treating lung cancer patients with Keytruda improved quality of life. Among those who got the immunotherapy drug, only 18% experienced severe side effects, compared with 41% on chemotherapy.
The findings, presented this week at the annual meeting of the American Society of Clinical Oncology, will probably expand Keytruda's use as a first-line treatment for advanced small-cell lung cancer, the most common form of the disease.
At the same time, it's sure to raise dilemmas for physicians and insurers struggling to identify when and in which advanced lung cancer patients the use of a very costly new medication makes sense.
A year's therapy with Keytruda can cost as much as $150,000. The cost of the chemotherapy cocktails to which it was compared in the new study is a few thousand dollars.
In 2016, the Food and Drug Administration approved the marketing of Keytruda (also known as pembrolizumab) for use in lung cancer patients whose cancers had been genetically tested and were found to have levels of PD-L1 — a mutation that Keytruda targets — of 50% or higher. About one-third of patients with advanced non-small cell lung cancer meet this criterion.
The new clinical trial, called Keynote-042, tested Keytruda's effectiveness in newly diagnosed patients whose PD-L1 levels were as low as 1% — a population that represents two-thirds of those with small cell lung cancer.
Researchers randomly assigned 1,274 people with advanced disease to receive one of two kinds of chemotherapy — either paclitaxel (marketed as Taxol) plus carboplatin or pemetrexed (marketed as Alimta) plus carboplatin — or Keytruda. Then, researchers followed their cases for a median of 12.8 months.
Among patients whose PD-L1 levels were from 1% to 19%, those who got Keytruda lived for a median of 16.7 months after diagnoses while those who got chemotherapy lived a median of 12.8 months.
Among patients with PD-L1 levels from 20% to 49%, those who got Keytruda lived a median of 17.7 months compared with 13 months for patients on chemotherapy.
Patients whose PD-L1 levels were above 50% — those for whom Keytruda already has the FDA's blessing — survived a median of 20 months with Keytruda, compared with 12.2 months for chemotherapy.
The study has not yet been published in a journal, so an analysis of the findings' statistical significance was not presented. But Keynote-042 was one of four clinical trials whose findings were "deemed to have the greatest potential on patient care." The four studies were chosen from more than 5,800 abstracts to be presented at the opening of the American Society of Clinical Oncology meeting.
The study, which received funding from Merck, the maker of Keytruda, was led by Dr. Gilberto Lopes of the University of Miami Health System's Sylvester Comprehensive Cancer Center.
"Immunotherapy with [Keytruda] alone benefits a much larger number of patients than we had previously thought," said Dr. John V. Heymach of M.D. Anderson Cancer Center in Houston, who was not involved in the new study. Heymach said the findings bring "new momentum to the treatment of this notoriously difficult disease."
Lung cancer is the second most-common malignancy in both men and women, behind prostate cancer (in men) and breast cancer (in women). In 2018, the American Cancer Society estimates that about 234,000 new cases of lung cancer will be diagnosed in the United States, and the disease will claim about 154,000 lives.
MORE IN SCIENCE
In a first, scientists use immunotherapy to rid patient of advanced breast cancer
Dunes of methane ice? Tiny Pluto's surface reveals big surprises
On Thanksgiving, partisan politics cost Americans nearly 74 million hours with family and friends
Get our free Coronavirus Today newsletter
Sign up for the latest news, best stories and what they mean for you, plus answers to your questions.
You may occasionally receive promotional content from the Los Angeles Times.