100,000 people apply for a one-way trip to Mars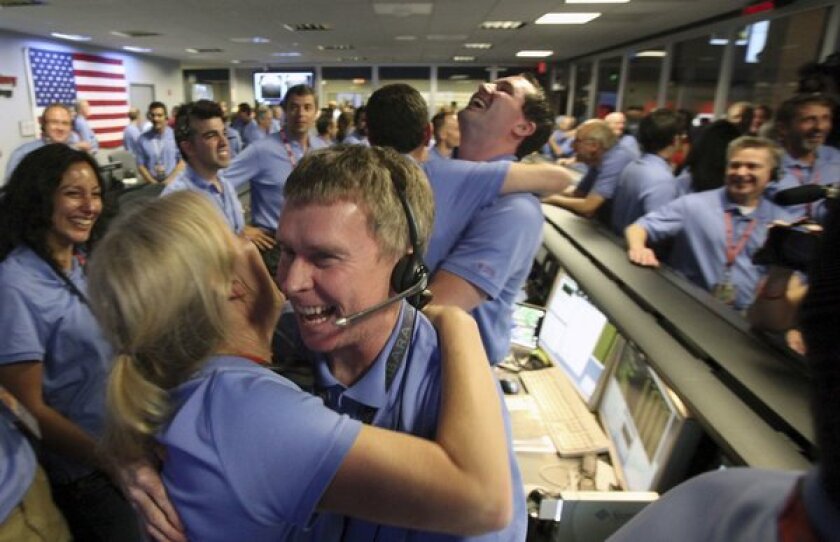 Curiosity survives the dreaded "Seven Minutes of Terror" and lands successfully on Mars. Staffers at the Jet Propulsion Laboratory in La Canada Flintridge (and people around the world) celebrate.
(Brian van der Brug / Los Angeles Times)
JPL confirms that Curiosity has captured a picture of its own landing vehicle crashing on the Martian surface. This image was statistically unlikely because the rover's camera shutter was open for just 200 milliseconds.
(Associated Press)
The rover takes its first drive on Martian soil, then sends images of its tracks back to Earth.
(NASA/JPL-Caltech)
Curiosity plays space DJ -- beaming the Will.i.am song "Reach for the Stars" back to Earth.
(Anne Cusack / Los Angeles Times)
Curiosity scoops up small spoonfuls of Martian soil and discovers it is similar to volcanic soils on Earth. (See the three charcoal-colored scoop marks.)
(NASA/JPL-Caltech)
Curiosity gulps Martian air into its Sample Analysis at Mars instrument -- see the open cap -- but fails to find methane, a gas linked to living things.
(NASA/JPL-Caltech)
Curiosity's Rover Environmental Monitoring Station records pressure dips and wind shifts that signal the presence of a dust devil such as the one pictured here, but the rover's cameras don't see it.
(NASA/JPL/Caltech/University of Arizona)
Curiosity's in-depth analysis of dust and sand at the Rocknest site, pictured here, finds evidence of water, sulfur and chlorine compounds in the Martian dust, and possibly carbon.
(NASA/JPL-Caltech/Malin Space Science Systems)
Curiosity successfully drills into its first rock on Mars. The hole is 0.63-inch wide and 2.5 inches deep.
(NASA/JPL /Caltech / MSSS / EPA)
After becoming the first Mars rover to collect a sample from inside a Martian rock, Curiosity sends a photo of the powdered rock back to Earth.
(NASA/JPL-Caltech/MSSS / Associated Press)
Curiosity finds the basic building blocks of life in the first rock it drills, including hydrogen, carbon, oxygen, nitrogen, sulfur and phosphorus. This suggest the Red Planet was once capable of hosting primitive microbes -- life!
(NASA)
Curiosity goes on a 3½-week vacation as the sun moves between Mars and the Earth, making communication difficult. But by May 1, it's back to work.
(NASA)
Curiosity drills into a second rock about 9 feet west of the first rock and confirms its earlier finding: Parts of Mars could have been friendly to microbial life.
(NASA/JPL / Caltech / MSSS)
An old image taken by the rover goes viral online after people discover a rock that looks like a rat. NASA confirms it is a rock, not a rodent.
(NASA/JPL / Caltech / MSSS )
Lego announces it will release a special-edition Lego version of Curiosity. The model design is by mechanical engineer Stephen Pakbaz, who worked on the real Curiosity while at the Jet Propulsion Laboratory.
(Stephen Pakbaz / Lego)
NASA releases a billion pixel
panorama view
of the surface of Mars. The space agency stitched together 900 photos to create the panorama, all of them taken by Curiosity.
(NASA)
As Curiosity heads to its next destination, the lower layers of Mt. Sharp, scientists on Earth use the rover's atmospheric measurements to determine that although life may have been possible on the Red Planet billions of years ago when its atmosphere was thicker, it is not likely to exist now.
(NASA/JPL-Caltech)
Mars One wants to send humans on a one-way trip to the Red Planet in 2022. Four individuals will be selected out of the more than 100,000 that have already applied, according to the Dutch nonprofit. But would members of such an expedition, estimated to cost $6 billion, survive the trip?
The Obama administration has set a goal to send astronauts to Mars by the 2030s – but Mars One is much more ambitious, looking to send the four people who are chosen to actually colonize our planetary next-door neighbor.
The applications have poured in – Mars One announced the start of its selection program to the general public April 19, and by May 7 they said they'd passed the 78,000 mark. That's no small feat, given that the registration fee ranges from about $5 to $73, depending on the country (it's about $38 in the United States).
But a one-way trip to Mars would face an enormous number of technical and practical hurdles that aren't close to being figured out. NASA's intrepid rover Curiosity has started addressing one of the questions: radiation exposure on the journey.
NASA has been exploring some of the risks involved with such a long, pioneering journey. Scientists recently analyzed data sent back by Curiosity's radiation assessment detector during the rover's nearly 9-month journey through space and found a serious amount of radiation bombarding the spacecraft. How would humans fare in that scenario?
"It is clear that the exposure from the cruise phases alone is a large fraction of (and in some cases greater than) currently accepted astronaut career limits," the authors wrote in their paper published in Science in May.
It's one of the most interesting non-geological finds to come out of the rover thus far, said Caltech geologist John Grotzinger, lead scientist for the Mars Science Laboratory, as Curiosity's mission is formally known.
"Now NASA has a really good sense for what kind of design principles you would use — and what particular measurements and safeguards you would use — to safeguard against a dose of radiation that an astronaut would receive," Grotzinger said in a recent interview.
The radiation challenges aren't insurmountable, scientists say.
"It's not a showstopper," Lewis Dartnell, an astrobiologist at the University of Leicester in England who was not involved in the work, said at the time. "But it does mean if we want to do a human mission to Mars as safely as we can, we perhaps need to start thinking about how to better shield and protect these astronauts against radiation in space."
---
Get our free Coronavirus Today newsletter
Sign up for the latest news, best stories and what they mean for you, plus answers to your questions.
You may occasionally receive promotional content from the Los Angeles Times.