Too many mothers stop breastfeeding too soon, and task force says doctors should change that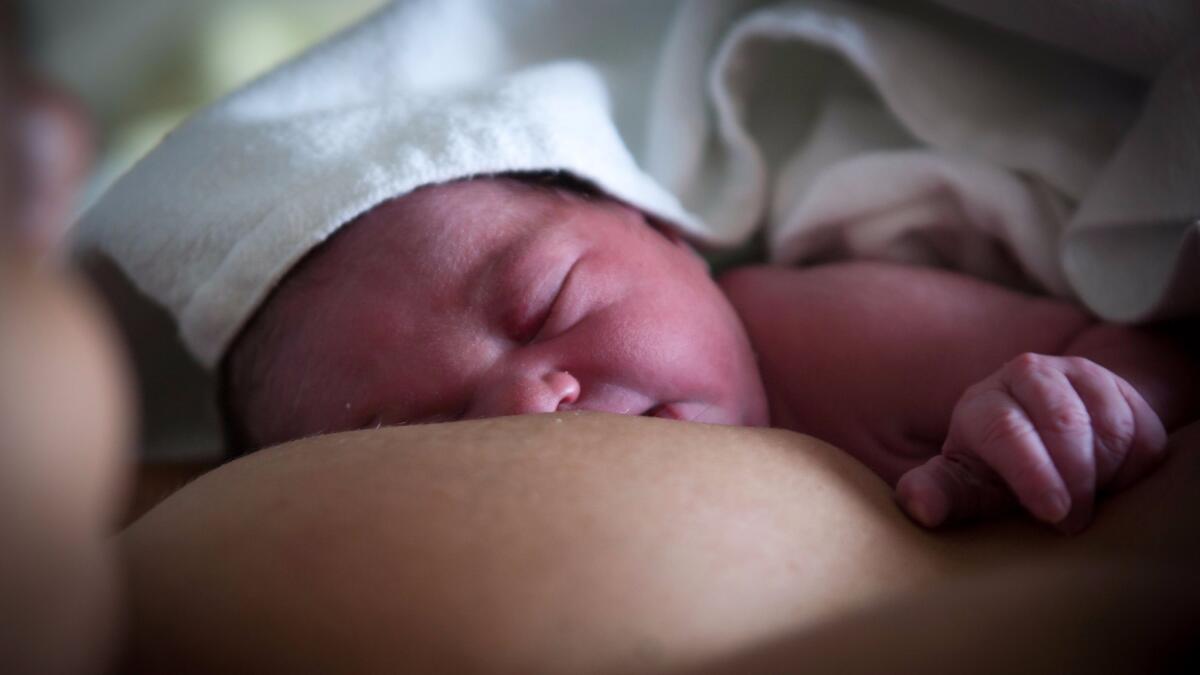 Too many mothers stop breastfeeding their babies too soon, and a panel of experts says doctors, nurses and other health professionals should do more to change that.
In light of the "convincing evidence that breastfeeding provides substantial health benefits for children," primary care providers should discuss breastfeeding with women when they are pregnant, when they are in the hospital to give birth, and after they have gone home with their newborns, according to new guidelines from the U.S. Preventive Services Task Force.
The government's Healthy People 2020 goals aim to have 81.9% of new mothers try nursing their infants, with 60.6% continuing to do so for six months and 34.1% sticking with it for a full year. In reality, while 80% of new mothers initiate breastfeeding, only 51.4% are still nursing after six months and 29.2% nurse for a full year.
To shrink that gap, the panel says healthcare providers should start encouraging women to breastfeed even before their babies are born. After delivery, they should offer one-on-one counseling to help new mothers master the mechanics of nursing — something that can take a few days or weeks. If mothers need a little boost or some reassurance, doctors, nurses and lactation consultants should step in and offer "psychological support."
However, if mothers decide that breastfeeding is not for them, clinicians should respect that choice, the panel says.
The task force, a group of experts appointed by the Department of Health and Human Services' Agency for Healthcare Research and Quality, came up with this advice after evaluating dozens of medical studies about the pros and cons of breastfeeding. They concluded "with moderate certainty" that efforts to encourage breastfeeding provide "a moderate net benefit for women and their children."
The upside of breastfeeding is greatest for babies. Studies show that babies who nurse are less likely to get ear infections, asthma, gastrointestinal infections and rashes. As they get older, children who were breastfed are less likely to become obese than children who didn't nurse. They also have a lower risk of developing chronic conditions such as diabetes or high blood pressure.
"Any breastfeeding appears to be more beneficial than no breastfeeding, and longer durations of breastfeeding confer greater benefits than shorter durations," the task force noted in its recommendation statement.
For moms, benefits include a reduced risk of breast and ovarian cancer, and a reduced risk of Type 2 diabetes.
The task force did not find convincing evidence that any particular breastfeeding intervention led to any specific health benefit, either for mothers or babies.
However, the panel did determine that some interventions increased the proportion of women who gave breastfeeding a try — and helped them stick with it longer. The experts calculated that to get one additional mother to nurse for six months, clinicians would have to reach out to 30 women.
The recommendations do not apply to women and infants who have a clear medical reason to avoid breastfeeding, such as a metabolic disorder.
The task force's new recommendations are in line with the guidance that the panel issued in 2008. They dovetail with advice from the American Academy of Pediatrics, the American College of Obstetricians and Gynecologists and the World Health Organization, which recommend that mothers nurse exclusively for about six months.
Both the recommendations and the evidence review were published Tuesday in the Journal of the American Medical Assn.
In an editorial that accompanies the reports, Dr. Valerie Flaherman and Dr. Isabelle Von Kohorn flagged two potential risks in the way the World Health Organization promotes breastfeeding through its Baby-Friendly Hospital Initiative.
The WHO advises mothers to "give no pacifiers or artificial nipples" to their newborns because they may make infants less inclined to nurse. Flaherman and Von Kohorn — both pediatricians and public health researchers — noted that the task force turned up no evidence that pacifier use interferes with breastfeeding. On the other hand, there is some evidence that pacifiers reduce the risk of sudden infant death syndrome, a leading cause of death among babies.
"Routine counseling to avoid pacifiers may very well be ethically problematic," they wrote.
The other questionable WHO advice involves the prohibition against giving infants any "food or drink other than breast-milk, unless medically indicated," the pair wrote. This oft-repeated advice has been tested in three randomized clinical trials, and none of them showed that it helped mothers nurse for longer than they would have otherwise.
However, this policy can result in significant harm to newborns if a mother's milk production doesn't kick in right away. These babies face a significant risk of dehydration and hyperbilirubinemia, and if they don't get supplemental nutrition, their odds of being readmitted to the hospital are about double, Flaherman and Von Kohorn wrote.
These caveats underscore that when it comes to encouraging breastfeeding, health providers shouldn't follow a one-size-fits-all strategy.
"Using clinical judgment individualized for each mother and infant may result in better outcomes than following a rigid system of practices," they wrote.
Follow me on Twitter @LATkarenkaplan and "like" Los Angeles Times Science & Health on Facebook.
MORE IN SCIENCE
Neuroscientists show how tiny fibs snowball into big lies
You can blame cigarettes for nearly 3 in 10 cancer deaths in the U.S., study says
Scientists may have a cure for jet lag: Temporary oxygen deprivation