It may be a very long lunar night for China's Jade Rabbit moon rover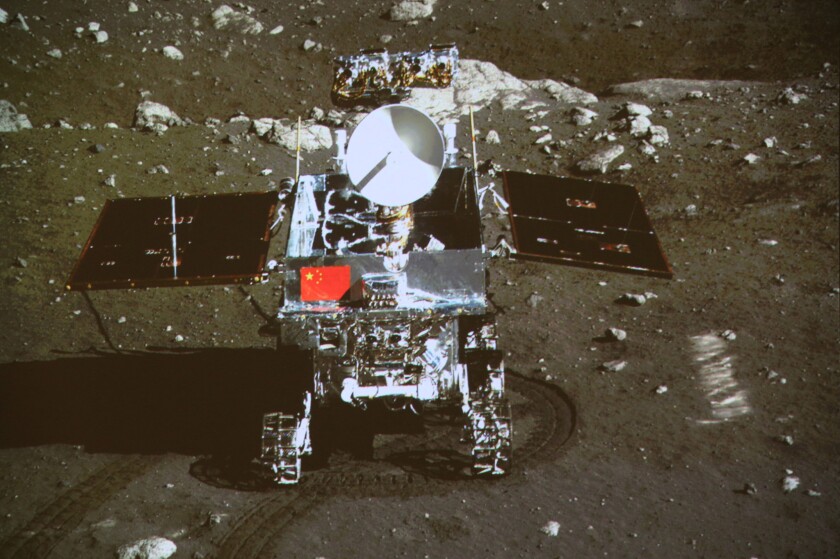 This image taken by the on-board camera of the lunar lander Chang'e 3 shows China's first moon rover, Yutu, on the lunar surface in the area known as the Bay of Rainbows. The rover left deep tracks in the loose lunar soil, state media reported Sunday.
(New China News Agency)
This screen grab taken from CCTV footage shows the Chang'e-3 probe lander taken by the Yutu moon rover.
(CCTV )
A Long March-3B (CZ-3B) carrier rocket, the vehicle for China's first moon rover mission, blasts off in Xichang, southwest China.
(European Pressphoto Agency)
A model of the Yutu lunar rover is displayed at the China International Industry Fair last month in Shanghai.
(Peter Parks / AFP/Getty Images)
China's Jade Rabbit moon rover experienced a "mechanical control abnormality" over the weekend, according to the official Xinhua news agency, just as it was set to go to "sleep" for the long lunar night.
"Goodnight, Earth. Goodnight, humans." Those were the words in a "first-person" account from the rover's perspective that was published in Chinese state media after the robot experienced some troubling technical difficulties.
Officials with China's State Administration of Science, Technology and Industry for National Defense said scientists are now organizing an overhaul, according to state-run CCTV.
China's Chang'e 3 spacecraft made headlines last month after becoming the first spacecraft to make a soft landing on the lunar surface in nearly four decades. The last one before that was the Soviet Union's Luna 24 mission, sent to collect samples in 1976.
PHOTOS: Amazing images from space
The Chinese mission sent a lander and a rover named Yutu, or Jade Rabbit, to an area called the Bay of Rainbows. The Chang'e 3 mission is named after a Chinese moon goddess, and the rover is named after her long-eared companion.
The rover and lander are one step in China's plans to explore space. Chang'e 3 follows two other lunar explorers, Chang'e 1 and Chang'e 2, and plans are already in progress for a Chang'e 5 mission, which could potentially return lunar samples back to Earth.
Since landing, the lander and rover have been studying the lunar surface and conducting science experiments. The rover has conducted an analysis of the lunar soil, and the lander has used its optical telescope and ultraviolet camera to observe the Earth's plasmasphere.
But just before going into its second lunar night, which lasts two weeks, the rover began experiencing problems. It doesn't help that during lunar night, the temperature can drop to minus-292 and it's too dark to power the solar-powered spacecraft.
"If this journey is to end prematurely, I'm not afraid," according to a translation of the first-person account. "Whether or not I can be fixed, I know that my failure can provide my masters with a lot of valuable information and experience."
ALSO:
The secret to dolphin speed? It's not skin-deep

Why do birds fly in a V? Endangered bird reveals amazing secret
Elephant shark genome wins race for most 'slowly evolved' vertebrate
---
Get our free Coronavirus Today newsletter
Sign up for the latest news, best stories and what they mean for you, plus answers to your questions.
You may occasionally receive promotional content from the Los Angeles Times.