The care you get from your doctor may depend on his or her political views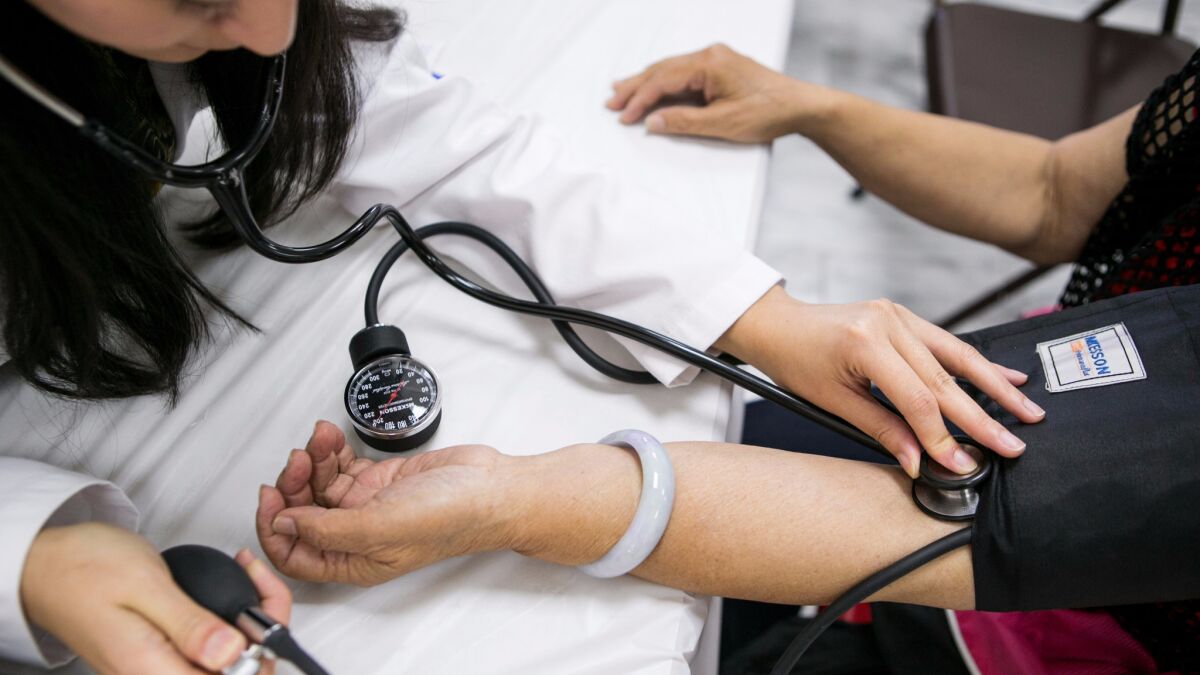 Even in our increasingly partisan society, you might have figured that your doctor's office would be neutral territory. But that just goes to show how naive you are.
A new study from researchers at Yale University details significant differences in the way primary care physicians from across the political spectrum approach medical issues that touch on hot-button topics, such as abortion and gun control.
For instance, doctors were more likely to say that they would counsel a patient seeking an abortion to consider the mental health consequences of going through with the procedure if they were registered to vote as Republicans than as Democrats. Likewise, doctors registered as Democrats were more likely to urge patients who owned guns to keep them out of their homes, while doctors registered as Republicans were more likely to ask if the guns were stored safely.
"Just as a patient may seek out a physician of a certain gender to feel more comfortable, the evidence suggests that a patient may need to make the same calculation regarding political ideology," political scientist Eitan Hersh and psychiatrist Matthew Goldenberg wrote Monday in the Proceedings of the National Academy of Sciences.
Like any other Americans, doctors are certainly entitled to their political views. Hersh and Goldenberg wondered whether those views influenced their interactions with patients.
There was reason to believe they might. Among other things, studies have found "sharp differences" in the way Democratic and Republican doctors rate the Affordable Care Act, the law also known as Obamacare. The Yale researchers also noted that the amount of money doctors have donated to political campaigns has more than quadrupled over two decades.
The researchers focused on primary care doctors — including internists, general practitioners and family medicine providers — in the 29 states where voters can register their party affiliation. They only included physicians who identified as either Democrats or Republicans, since the difference between these two groups was likely to be the most pronounced.
Ultimately, they invited 1,529 doctors to complete an online survey asking how they would handle patients in a variety of scenarios. A total of 233 complied.
Some of the hypothetical patients had health issues that were intended to be apolitical. For instance, in one of the nine vignettes, a patient with a body mass index high enough to qualify as obese says he doesn't exercise on a regular basis. (On a seriousness scale of 1 to 10, the doctors rated this a 7.8.) In another, a patient confesses to riding his motorcycle to work without wearing a helmet. (This got a seriousness score of 8.4.)
In these examples, along with four others, Republican and Democratic doctors agreed about the seriousness of the health issues. The least controversial scenario centered on a patient who was battling depression. (In one case, Republicans and Democrats agreed that it was risky for a patient to have sex with prostitutes, but the Republican doctors were more likely to bring up the legal risks of doing so as well as the impact it could have on the patient's "personal relationships.")
The only significant differences came up in the three vignettes that the study authors described as "politically salient." In addition to the ones about abortion and guns, the researchers found a partisan difference in responses to a patient who said he used marijuana recreationally about three times a week. Compared with Democrats, Republicans were more likely to urge the patient to cut back on his habit, citing both health and legal concerns. Hersh and Goldenberg noted that this assertiveness was seen even though marijuana use has "a lower associated health risk" than other behaviors in the survey.
The study results suggest that patients can expect to get different kinds of medical care depending on where their doctor lies along the political spectrum, the researchers wrote. A next step would be to see whether partisan affiliation had any influence on actual care provided, as measured by publicly available reimbursement records.
Some people already seem convinced that it does. The Human Rights Campaign encourages gay, lesbian, bisexual and transgender patients to seek out doctors who are "friendly" to LGBT people. Likewise, patients who would prefer to see a doctor opposed to abortion can find one in an online directory from the American Assn. of Pro-Life Obstetricians and Gynecologists.
Patients aren't the only ones who should be aware of how ideology plays in the exam room, Hersh and Goldenberg wrote: "Given the politicization of certain health issues, it is imperative that physicians consider how their own political views may impact their professional judgments."
Follow me on Twitter @LATkarenkaplan and "like" Los Angeles Times Science & Health on Facebook.
MORE IN SCIENCE
Japanese scientist Yoshinori Ohsumi wins Nobel Prize in medicine for work on cellular 'recycling'
It's official: Rosetta's long journey with comet 67P has ended
How science would fare under a Clinton or Trump administration
Get our free Coronavirus Today newsletter
Sign up for the latest news, best stories and what they mean for you, plus answers to your questions.
You may occasionally receive promotional content from the Los Angeles Times.