Japanese scientist Yoshinori Ohsumi wins Nobel Prize in medicine for work on cellular 'recycling'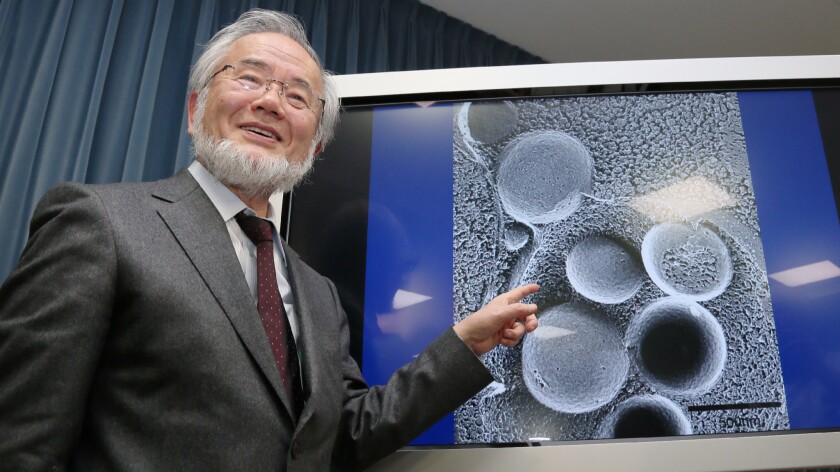 A Japanese scientist whose experiments explored the machinery by which cells recycle their dilapidated or unwanted contents won the Nobel Prize in physiology or medicine on Monday.
Yoshinori Ohsumi, a 71-year-old biologist at the Tokyo Institute of Technology, used baker's yeast to shed light on a cellular process called autophagy (Greek for "self-eating"). In a series of experiments conducted at the University of Tokyo in the late 1980s, Ohsumi identified 15 genes that oversee cells' elimination of damaged proteins and worn-out organelles by moving them into a specialized compartment and breaking them down to provide the cell with nutrients.
The process of waste elimination and cellular renewal that Ohsumi elucidated works the same in human cells. It is an essential response to starvation and other types of cellular stress, including viral and bacterial invasion. It also contributes to cell differentiation and embryo development.
Disturbances in the cellular machinery of autophagy are implicated in cancer, Type 2 diabetes, Parkinson's disease and other disorders linked to aging. In Alzheimer's disease, for instance, a breakdown in the removal of misfolded proteins and other cellular detritus overwhelms the brain and causes a progressive and deadly loss of memory and function.
The Nobel Committee said Monday that Ohsumi's "brilliant experiments" had opened the way to "intense research" aimed at developing disease treatments that target autophagy.
"The process of autophagy that he discovered is now part of the fabric of modern cell biology and medicine," said biochemist Jeremy Berg, editor of the journal Science who previously served as director of the U.S. National Institute of General Medical Sciences. "Researchers now consider defects in this pathway when trying to understand diseases."
Dr. David Perlmutter, dean of the school of medicine at Washington University in St. Louis, relied on Ohsumi's findings when, in 2010, he identified an anti-seizure drug called carbamazepine as a potential treatment for Alpha-1 antitripsyn deficiency.
A disease that can destroy the lungs and requires liver transplants even in children, Alpha-1 causes misfolded proteins to accumulate in the cells of the liver, setting off a cascade of destructive processes. In animals, Perlmutter and his colleagues found, carbamazepine stimulates the clearance of cellular debris. Trials to test its effectiveness as a treatment in humans are currently underway.
"In my career, I have always made the assumption that our diseases are embedded in basic biology," said Perlmutter, a pediatric gastroenterologist. Ohsumi's work, he said, laid the foundation for understanding where basic biological processes go wrong and diseases set in — and how to correct those errant processes.
His research "has enormous potential for understanding health," Perlmutter said.
At Georgetown University in Washington, Dr. Charbel Moussa called Ohsumi's insights into cellular clean-up "amazing."
Moussa and his colleagues have used those insights to identify the leukemia drug nilotinib as a treatment for such neurodegenerative diseases as Alzheimer's and Parkinson's diseases.
Early trials have shown that nilotinib penetrates the blood-brain barrier and destroys toxic proteins that build up in Parkinson's disease and dementia by turning on autophagy inside brain cells. Further human trials are planned, and Moussa said that other medications known to stimulate cellular autophagy may also prove useful in treating debilitating brain diseases.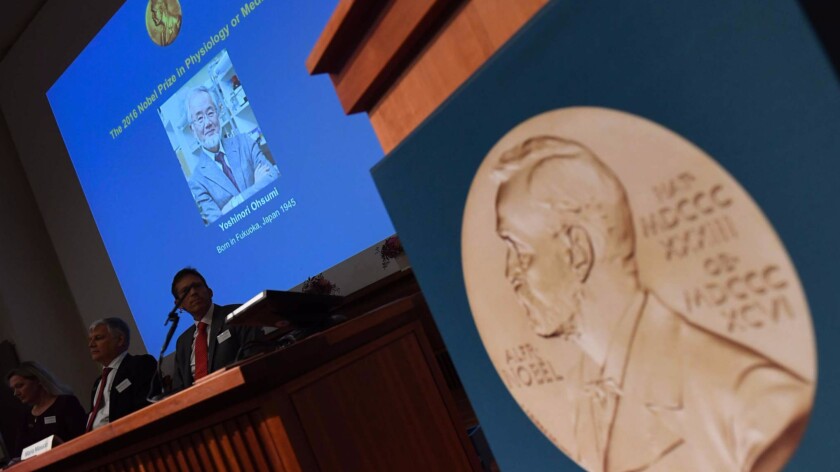 Ohsumi's findings were first published in 1992 in the Journal of Cell Biology. The work had already earned him the Kyoto Prize, Japan's highest private award for global achievement.
On Monday, Ohsumi told the Japanese broadcaster NHK that he was "extremely honored" to be recognized with a Nobel.
Later, he added that he still hoped to learn more about autophagy, even though he has been studying it for more than 27 years.
The human body "is always repeating the auto-decomposition process, or cannibalism, and there is a fine balance between formation and decomposition," he said. "That's what life is about."
Nobel Committee Secretary Thomas Perlmann said Ohsumi seemed surprised when he was informed he had won the prize.
"The first thing he said was 'ahhh.' He was very, very pleased," Perlmann said.
Nobel judges often award discoveries made decades ago, to make sure they have stood the test of time.
Though autophagy has been known for more than 50 years, its fundamental significance was only recognized after Ohsumi's "paradigm-shifting research" on yeast, the Nobel Assembly said in its announcement from the Karolinska Institute in Stockholm.
"Thanks to Ohsumi and others following in his footsteps, we now know that autophagy controls important physiological functions where cellular components need to be degraded and recycled," it said.
It was the 107th award in the medicine category since the first Nobel Prizes were handed out in 1905.
Last year's prize was shared by three scientists who developed treatments for malaria and other tropical diseases.The announcements continue with physics on Tuesday, chemistry on Wednesday and the Nobel Peace Prize on Friday. The economics and literature awards will be announced next week.
Each prize is worth $930,000. The awards will be handed out at prize ceremonies in Stockholm and Oslo on Dec. 10, the anniversary of prize founder Alfred Nobel's death in 1896.
The Associated Press contributed to this report.
Follow me on Twitter @LATMelissaHealy and "like" Los Angeles Times Science & Health on Facebook.
ALSO
It's official: Rosetta's long journey with comet 67P has ended
How science would fare under a Clinton or Trump administration
Bees buzzing on sugar can experience emotions like happiness and optimism, scientists say
---
UPDATES:
5:10 p.m.: The story was updated with additional comments from Ohsumi.
10 a.m.: The article was updated with more background on autophagy and the uses of Ohsumi's findings.
6:19 a.m.: The article was updated with staff reporting.
4 a.m.: The article was updated throughout with additional details.
This article was originally published at 3 a.m.
---
Get our free Coronavirus Today newsletter
Sign up for the latest news, best stories and what they mean for you, plus answers to your questions.
You may occasionally receive promotional content from the Los Angeles Times.