A silver lining from California's drought: Water conservation led to reduced energy use and less pollution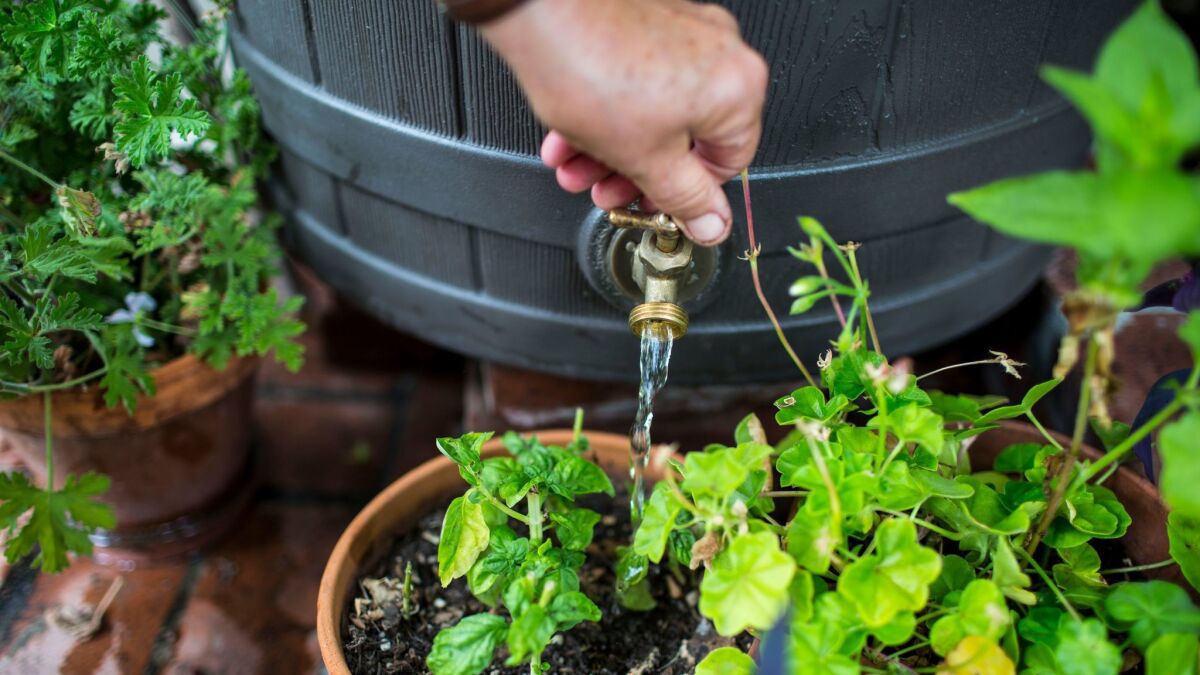 In April 2015, Gov. Jerry Brown called on the people of the most populous state to reduce their water use by 25% in response to a punishing four-year drought.
It was an audacious goal, and Californians came close to meeting it. Between June 2015 and April 2016, when restrictions were in effect, residents reduced the amount of water they used by 24.5%.
Now, research has revealed there were some unintended side effects to this massive water-conservation experiment. It turns out that California residents weren't just saving water, they were saving energy as well.
A lot of it.
In a new report published Thursday in Environmental Research Letters, a team from UC Davis found that in addition to saving 524,000 million gallons of water over the mandate period, state residents also saved 1830 gigawatt hours of electricity — enough to power 274,000 average homes for a year.
That electricity savings meant a reduction of 521,000 metric tons of greenhouse gases, the equivalent of taking about 110,000 cars off the road for a year, the authors wrote.
"The severity of this drought created a unique circumstance that allowed us to make a natural experiment," said Edward Spang, associate director of the Center for Water-Energy Efficiency at UC Davis and the first author on the report. "We wanted to demonstrate that there were additional benefits to all the hard work that everyone did to save water."
So, how did all these savings come to be?
California has what Spang describes as "energy intensive water." The amount of energy required to extract the water we use, treat it and distribute it varies depending on where in California you live, but overall, it is quite high.
"We have one of the largest scale conveyance systems in the country," Spang said. "Part of that is because of our geography. We have a lot more water in the north and a lot more people in the south."
Spang and his colleagues cite previous work that found that roughly 19% of California's electricity demand is related to the pumping, conveying, distributing, heating and treatment of water. So when residents use less water, the state uses less electricity.
The authors also report that all the electricity and greenhouse gas emissions we saved when we thought we were only saving water is comparable to the results of statewide energy-efficiency programs that encourage people to change out lightbulbs and update appliances.
"The scale of these integrated water-energy-greenhouse gas savings, achieved over such a short period, is remarkable," said Frank Loge, a co-author of the work and a professor of environmental engineering at UC Davis. "Even more interesting is that the cost of achieving these savings through water conservation was competitive with existing programs that specifically target electricity or greenhouse gas reductions."
This led researchers to conclude that water conservation should be included in the state's slate of initiatives to reduce overall energy consumption.
"There is quite a bit of valuable energy savings here," Spang said.
Curious to see how much water and energy individual regions of the state saved during Brown's mandate? You're in luck. The authors created a website that allows you to do just that.
Do you love science? I do! Follow me @DeborahNetburn and "like" Los Angeles Times Science & Health on Facebook.
MORE IN SCIENCE
Erosion is revealing surprising amounts of water ice on Mars
Nature boosts your mental health, and you don't even have to leave the city to reap the benefits
Elephants, lions and other wild animals are exquisitely sensitive to the effects of war
---
Get our free Coronavirus Today newsletter
Sign up for the latest news, best stories and what they mean for you, plus answers to your questions.
You may occasionally receive promotional content from the Los Angeles Times.