Here's what sexual assault experts say you should keep in mind as Christine Blasey Ford shares her story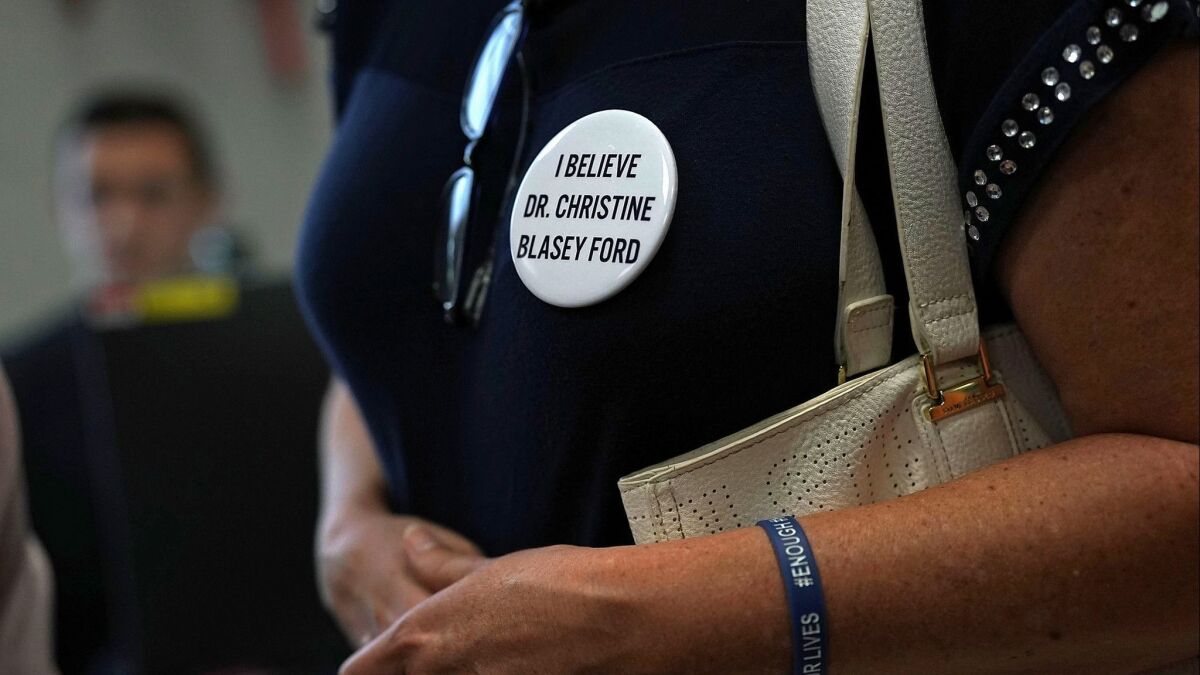 The Senate Judiciary Committee hearing on Thursday featuring Supreme Court nominee Brett Kavanaugh and his accuser Christine Ford Blasey is likely to be a collision of sexual politics and old-fashioned power politics.
There'll be a lot of heat, but not necessarily much light.
Still, the situation is not as murky as it might seem. There is a cadre of researchers who study sexual assault and its aftermath. Here's what they'd like you to keep in mind as you watch Thursday's proceedings.
Some facts first
You'll probably hear that there are many things we don't know about sexual assault: who commits it and why, what impact it has on victims, how often it is falsely reported, and how accurately it's remembered by those who talk about it years later.
That is only half true.
The people who devote their careers to investigating the subject always have unanswered questions: that's what drives their research. But the study of sexual violence has matured in recent decades. At least 15 journals routinely publish scholarly findings on trauma and violence of all kinds, and a handful focus specifically on sexual violence.
In addition, the Justice Department has become an important repository of data about sexual assault.
Some of this accumulated knowledge could change as societal attitudes evolve. But on matters that are central to Thursday's hearing, it is clear enough to correct claims made by President Trump and his political allies who have sought to cast shade on the state of knowledge.
Consider:
• Roughly 31% of sexual assaults are reported to police. That number is lower — 28% — among the elderly, and even lower — 20% — among college-age women.
• In a survey of sexual violence victims who did not report their assault, 20% cited a fear of retaliation and 13% said they did not believe the police would do anything to help. Another 13% considered the assault "a personal matter," and 7% said they did not want to get the perpetrator in trouble.
• Those who stay quiet because they don't expect action from law enforcement officers may be justified in their thinking. Out of 1,000 sexual assaults, about 310 are reported to police. Among those reports, 57 will lead to an arrest and 11 cases will be referred to prosecutors. Seven of them will lead to a felony conviction and six will lead to incarcerations.
• Men typically assume that about half of reported sexual assaults are unfounded or completely fabricated, said Kevin Swartout, a Georgia State University psychologist who studies the factors that predispose men to commit these crimes. However, researchers estimate that only 2% to 7% of sexual assault reports are untrue, he said. "It is very rare," he said. "But it does happen."
A new vocabulary
Back in 1991, when law professor Anita Hill alleged a pattern of sexual harassment by then-Supreme Court nominee Clarence Thomas, the accusations and denials were frequently characterized as a "he said/she said" affair. In the end, what Thomas said clearly bore more weight.
The term now favored by researchers to describe that ambiguous netherworld of charge and denial is "word-on-word."
In a world where men, too, are harassed and an estimated 1 in 33 will be assaulted in his lifetime, the overly specific gendered terms may not apply. But in a world where more people evacuate ahead of a hurricane with a masculine name than one with a feminine name, this language change may also bypass lingering judgments about which gender gets the last word.
That said, Kavanaugh is scheduled to have the last word in Thursday's hearing.
Memory is tricky
As a basis on which to draw conclusions of veracity in matters of sexual assault, memory is a poor barometer.
"I like to say — and I say it often to my students — the past doesn't exist. It's just a representation in our brain," said Rutgers University psychologist Tracey Shors, who pioneered treatments for those suffering from traumatic memories.
In day-to-day practice, memories are sorted and saved to help us learn: This person is kind and reliable, that place is uncomfortable and should be avoided. Because it teaches us how to safely interact with our world, "our brain has become really good at making the past seem real," Shors said.
But in the crucible of trauma, the things we remember and the way we catalog those memories does not typically conform to the usual rules, she added. Self-protection can demand that some memories are lost. Time and place can be distorted. Other details inexplicably replay on a loop — a feature of post-traumatic stress disorder.
"It's very individual," Shors said. "The take-home message is that every person's response to trauma kind of coalesces within that person."
Memory gaps, or an account that does not bear the hallmarks of routine memory, are not evidence of dissembling, experts in sexual trauma say. In fact, they are to be expected.
"Some [people] coming in for the first time are trembling and shaking. Others come in and they're completely numb, like a robot," said Joan Cook, an expert on sexual assault at Yale. "This is how people compartmentalize it, push it aside."
In a proceeding that looks more like a courtroom than a therapist's office, memories that are incomplete and peculiarly arranged tend to sound suspicious.
Meanwhile, a narrative that holds together too well can sometimes be a sign that all is not as reported, said Sherry Hamby, a sexual violence expert who directs the Life Paths Appalachian Research Center.
Mental health professionals use the term "malingering" to refer to false claims of sexual assault. While it's not an exact science, clinical psychologists are trained to "look for performances that are a bit too pat and rehearsed and perfectly hold together," said Hamby, who is also a research professor at the University of the South.
And finally ...
All of which underscores an important distinction to keep in mind as Thursday's proceedings unfold.
While mental health professionals and those who study trauma will be listening intently and taking notes, this is definitely not a therapist's office — it's testimony in a politically acrimonious proceeding that, by its nature, is intended to cast doubt on an accuser's credibility. (Indeed, those in the field frequently refer to this type of questioning as a "second assault.")
Tissues and water breaks may be solicitously offered, and Ford's professional accomplishments may be noted. But questions will be asked by some who have already clearly signaled that they don't believe her or that they don't value the pain she reports.
Depending on the extent to which Ford has — in the words psychotherapists use — "processed" the alleged event, her statements could be fragmentary and random or whole and fully formed.
But experts caution that Ford's words should be heard as a traumatic memory, not courtroom testimony.
"I call it the 'CSI effect,'" said Hamby, who is a big fan of police procedurals. "But in my work world, they have created this unrealistic expectation on the part of a lot of jurors to think this team of geniuses with unlimited budgets and bustling crime labs are able to establish truths beyond a reasonable doubt. In the real world we almost never have that much evidence."
Get our free Coronavirus Today newsletter
Sign up for the latest news, best stories and what they mean for you, plus answers to your questions.
You may occasionally receive promotional content from the Los Angeles Times.