Koko, the gorilla whose sign language abilities changed our view of animal intelligence, dies at 46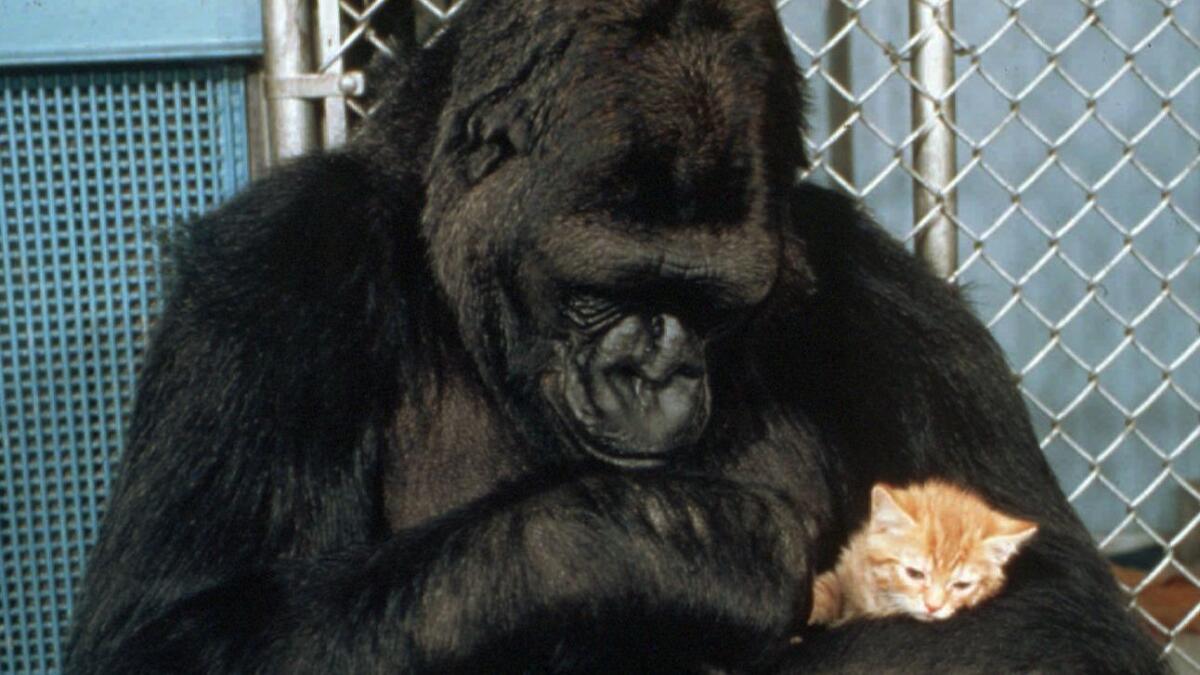 Koko the gorilla doted on her pet kitten as if it were her own child. To the amazement of her human handlers, she seemed able to capture the joys and annoyances of maternal love in strings of simple words.
"Soft," Koko said in sign language while cradling the kitten, which she named All Ball because it resembled a fuzzy gray pom-pom. "Good cat."
If All Ball tried to bite or wriggled free, the gorilla would sign "Obnoxious cat" by pounding the wall and running her hand across her cheek to denote whiskers.
And when All Ball died in 1985 after being struck by a car, Koko pretended she didn't hear her handlers for about 10 minutes after they told her the news. Then, she started whimpering. She signed "sleep cat" by folding her hands and placing them by the side of her head. Researchers gave her a stuffed animal, but she wouldn't play with it and kept signing: "Sad."
Koko, whose extraordinary ability to communicate with humans and aptitude with American Sign Language helped show the world the emotional depth and intelligence of animals, died in her sleep this week, according to the Gorilla Foundation, the Northern California nonprofit that oversaw her care. She was 46 when she passed away Tuesday morning.
"Koko touched the lives of millions as an ambassador for all gorillas and an icon for interspecies communication and empathy," the Gorilla Foundation said in a statement. "She was beloved and will be deeply missed."
Joy Chesbrough, the foundation's chief development officer, told The Times that Koko "went peacefully" and that, despite her advanced age, her death was unexpected. Staff members were taking the loss hard, Chesbrough said.
By the end of her life, Koko had used more than 1,000 signs and understood more than 2,000 words of spoken English, according to the foundation.
"She had a lot to say," Chesbrough said.
The subject of numerous documentaries and research projects, Koko became an international celebrity for her communication skills. She twice graced the cover of National Geographic, including once in a self-portrait taken by photographing herself in the mirror.
She also charmed famous humans, including Betty White and Leonardo DiCaprio. She appeared on an episode of "Mister Rogers' Neighborhood," asking about the flower pattern on Fred Rogers' cuff links (they were actually small suns, he explained) and telling him she loved him. She strummed the guitar of Red Hot Chili Peppers bassist Flea.
She and Robin Williams took turns tickling each other in another high-profile visit. After Williams died in 2014, Koko "became very somber, with her head bowed and her lip quivering," according to the Gorilla Foundation.
Koko was one of the world's most well-known members of her species, the western lowland gorilla, which is considered critically endangered by the International Union for Conservation of Nature. In the wild, western lowland gorillas live between 30 and 40 years, but those cared for by humans can live into their 50s.
Koko, the daughter of father Bwana and mother Jacqueline, was born on July 4, 1971, at the San Francisco Zoo. She was named Hanabi-Ko, which means "Fireworks Child" in Japanese, but went by her nickname, Koko.
The next year, Francine "Penny" Patterson, then a graduate student studying developmental psychology at Stanford, began teaching Koko sign language as part of a thesis project. As her research grew, she gained custody of the gorilla and started the Gorilla Foundation.
The relationship between Patterson and Koko defined both of their lives, and they were said to have a mother-daughter bond.
Patterson, 71, never had children of her own. She wrote several books about the gorilla, including the children's book "Koko's Kitten."
Patterson's work garnered some controversy, with some in the scientific community questioning whether she was overstating the gorilla's communication abilities and projecting human meaning onto Koko's actions.
One of the most notable skeptics was Herbert Terrace, a behavioral psychologist who ran a primate sign-language experiment of his own in the 1970s.
The signing of apes "appears to be motivated more by a desire to obtain some object, or to engage in some activity, than a desire to exchange information for its own sake," Terrace wrote in a 1980 letter to the New York Review of Books in which he criticized Patterson's conclusions.
In 2015, Koko was featured in a highly edited video for the United Nations Climate Change Conference in Paris. In an exchange that was said to be a commentary on global warming, she signed, "Koko sorry. Koko cry. Time hurry. Fix Earth! Help Earth! Hurry."
Detractors said Koko was incapable of understanding climate change and could not have been sincere in what she was saying.
Still, her unique abilities captivated people around the world for decades.
Mary Lee Jensvold, a professor in the Primate Behavior and Ecology Program at Central Washington University, said she and other signing apes "absolutely use language the same way people do."
"She was commenting on the world around her and signing about her activities, her day and her thoughts," said Jensvold, who met Koko on two occasions. "I liken it to talking to a child, not because she wasn't mature, but because she was in a dependent relationship. The conversation you would have with her is like the conversation you would have with a child or an elderly person in your care."
Marcus Perlman, a linguist at the University of Birmingham in the United Kingdom, spent time with Koko as a doctoral student in 2010. Initially, he was interested in the gorilla's ability to create new gestures beyond those she was taught — such as acting out drinking with a cup to show she was thirsty or pantomiming turning a key in her enclosure door to show she wanted to go out for a walk.
But Perlman quickly became fascinated by Koko's vocal cues: grunting into a telephone, making a fake cough on command, playing notes on harmonicas.
"Koko wasn't talking, but she was showing far more control of her vocal tract, and much more capacity for learning new vocal behavior, than was thought possible," Perlman said in an email. "This has major implications for understanding how humans might have evolved the ability to talk and use language."
The motivation and development of her behaviors is complex and difficult to determine, he said.
"I think Koko's biggest legacy will be the depth of emotion and personality that she displayed," Perlman said. "I think this is what touched so many people. Despite the massive size and aggressive reputation [at the time], Koko showed the world that gorillas are deeply emotional, intelligent animals."
One of Koko's greatest desires, according to her caretakers, was to have a baby of her own. Patterson and other researchers tried for years to breed her and see if she passed on her language skills.
One of her intended partners was a companion named Michael, but she would not mate with him because she regarded him as a brother, The Times reported in 1994.
So her handlers turned to a video-dating exercise, showing her a series of apes on tapes. She picked Ndume, a silverback male who lived at the Cincinnati Zoo and was known for his tendency to hurl feces at visitors. Koko and Ndume lived together, but she didn't mate with him, either.
However, when she saw a crying newborn human baby on television, she signed, "Good, bring," and, "Me, quiet, good."
She also signed: "Koko love."
Twitter: @haileybranson
Times staff writer Deborah Netburn contributed to this story.
MORE IN SCIENCE
Extinct species of gibbon discovered in an unlikely place — the tomb of a Chinese noblewoman
After years of searching, scientists can finally account for all the normal matter in the universe
The long-lasting health effects of separating children from their parents at the U.S. border