A sudden loss of wealth may be hazardous to your health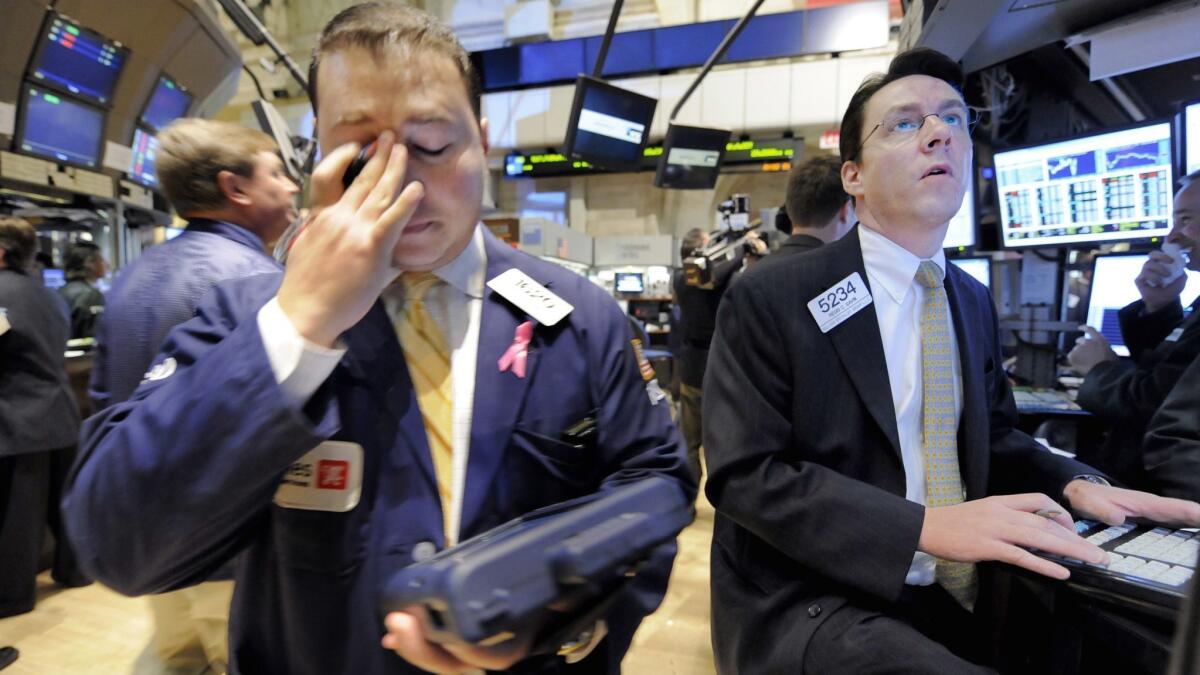 Your financial health may have more bearing on your physical health than you realize.
American adults who experienced a sudden and substantial loss of wealth were 50% more likely to die in a 20-year period than were others in their age group whose financial picture remained relatively stable, or improved.
As bad as things were for those who experienced a "negative wealth shock," they were even worse for Americans who didn't have any wealth in the first place. These folks were 67% more likely than their financially secure counterparts to die during a 20-year study period.
The findings, published Tuesday in the Journal of the American Medical Assn., suggest that you should treat your bank account balance as a vital sign.
The same goes for the value of your stock market investments, your individual retirement account, your home, your vehicles, your business or your "other substantial assets."
Researchers tallied all of these things for a group of 8,714 Americans who participated in the Health and Retirement Study. They were born between 1931 and 1941 and were tracked from 1994 until death or 2014, whichever came first.
The study authors calculated the net worth of each participant in 1994 and updated that figure every other year. People were judged to have experienced a negative wealth shock if their net worth fell by 75% or more in a two-year period.
This sad fate befell 2,430 — or about 1 in 4 — of the study participants. Among them, their median loss was 92% of their net worth, which amounted to a median value of $101,568.
This sudden loss could have caused stress, inflammation and/or high blood pressure, any of which could make serious cardiovascular problems more likely, the study authors noted. In addition, a financial blow of this scale may well have prompted people to skip important (but expensive) medical appointments or to stop filling necessary (but pricey) prescriptions.
The Health and Retirement Survey data didn't provide researchers with clarity on these points. But it did show that the mortality rate for this subset of participants was 64.9 deaths per 1,000 person-years. That was more than double the mortality rate for those in the financially stable control group (30.6 deaths per 1,000 person-years).
After the researchers adjusted for factors such as race and ethnicity, age, education level, body mass index and smoking status, they calculated that the risk of dying between 1994 and 2014 was 50% higher for those who experienced a negative wealth shock. This held up regardless of how much money people had at the start of the study. However, the more risk-averse a person was, the stronger the association between a negative wealth shock and the risk of early death.
"The approximately 50% relative increase in all-cause mortality that follows a financial loss of this magnitude is similar to the increase associated with a new diagnosis of coronary heart disease," according to an editorial that accompanied the study. "It is sobering to contemplate that mortality rates were even greater among people who had no assets to lose."
For the 749 people who began the study with no net assets or a negative net worth, the mortality rate was 73.4 deaths per 1,000 person-years. After adjustments, their risk of premature death was 67% higher than for those in the control group, the study authors calculated.
Follow me on Twitter @LATkarenkaplan and "like" Los Angeles Times Science & Health on Facebook.
MORE IN SCIENCE
Bringing meals to people with food insecurity may deliver savings to the healthcare system
These monkeys surprised scientists by sharing even more when no one was looking
InSight: NASA's next mission to Mars will go deep beneath the red planet's surface