California stem cell research centers receive $30-million gift from Broad Foundation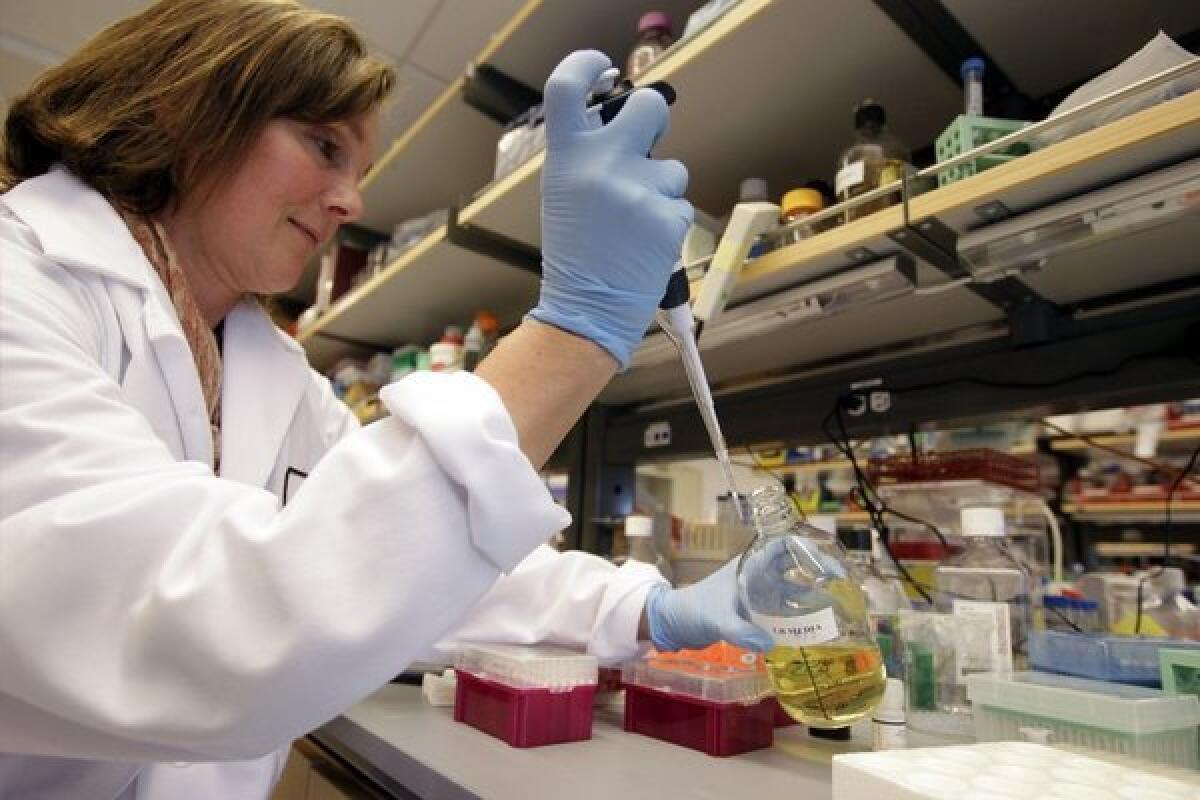 Stem cell scientists at three California universities will receive an infusion of cash as the state's publicly funded research program gets ready to dole out the last of its grant money.
The Broad Foundation announced Wednesday it would give a total of $30 million to UCLA, USC and UC San Francisco.
The funds will support research programs aimed at finding treatments for developmental disorders that affect patients even before they are born and age-related diseases that arise late in life. Some of the money will also be used to recruit and train scientists in the field.
The gifts bring the Broad Foundation's total investment in California stem cell research to $113 million. The three centers were established with a $65-million donation in 2005.
"We believe the centers will continue to make life-changing medical breakthroughs that will impact the lives of people around the world," Broad Foundation President Gerun Riley said in a statement announcing the gifts.
The donations were announced as the annual meeting of the International Society for Stem Cell Research got underway in Los Angeles.
Scientists at UCSF will use the funding to expand their work on inherited diseases that develop before birth. They intend to use stem cells to create laboratory models of these diseases that can be used to test new drugs. The models can also help them understand the biological origins of diseases, so they can devise new kinds of treatments.
At UCLA, the new money will help scientists translate basic discoveries into actual treatments for patients. Over the last dozen years, researchers there have learned to modify the genes in stem cells, studied ways of using the cells to replace damaged tissues in patients, and worked on strategies for immunotherapy. But the university needs money to carry these experimental treatments through the testing process.
USC said it would use its gift to bolster the school's ongoing research efforts, including collaborations between biologists and engineers. The university intends to use some of the funds to recruit additional scientists who can focus on using stem cells to treat diseases that arise due to aging.
The gifts come as the California Institute for Regenerative Medicine anticipates awarding the last of the $3 billion in grant money it received through Proposition 71. By the end of the year, CIRM expects to run out of funds for new projects, though it will continue to support the multi-year efforts already underway.
Passed in 2004, the initiative came about in response to a ban on federal funding for research involving human embryonic stem cells. With CIRM funding, researchers at UCLA devised a treatment for the rare "bubble baby" disease that leaves children without a functioning immune system. If approved by the Food and Drug Administration, it would become the first stem-cell-based treatment made possible by the program.
Other researchers have begun clinical trials of treatments for spinal cord injuries, cancer, HIV and blood disorders, among others.
CIRM and its principal backer, Robert Klein II, are planning to go back to California voters next year to ask for another $5.5 billion in research funding.