Uber-like ride service for kids comes to O.C.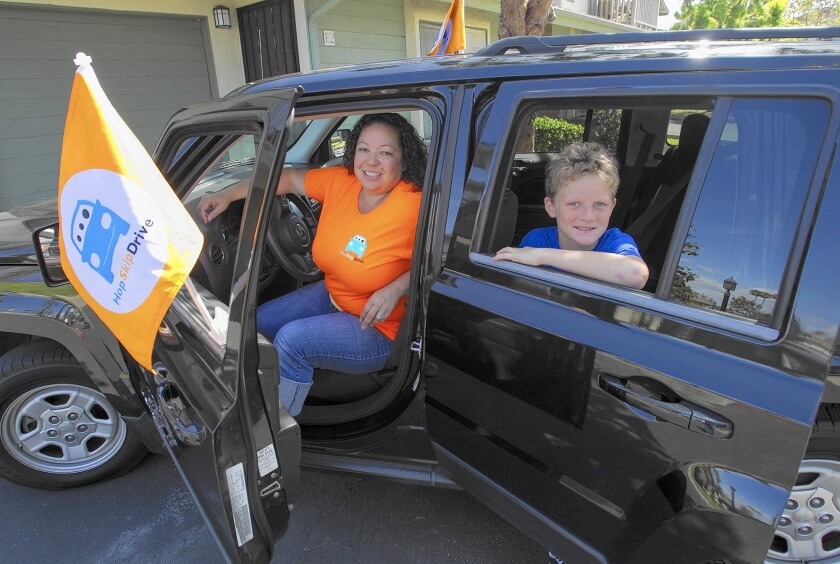 It's pitched as the Uber-like ride service for children.
HopSkipDrive, which specializes in transporting kids around when their working parents cannot, officially launches in Orange County on Tuesday after starting in the Los Angeles area last year.
"We're really excited to bring this service to Orange County," Joanna McFarland, HopSkipDrive's chief executive and one its three founders, said in an interview. "We've heard from so many parents that they're waiting for us to arrive."
Unlike ride-hailing services like Lyft and Uber, HopSkipDrive services must be arranged at least eight hours in advance. Rides start at $20 each. The cost goes up for things like distances of more than five miles.
Thirty-ride packages are available, bringing the cost per ride down to $14.
Riding children must be between ages 6 and 17.
HopSkipDrive sees itself as fitting a distinct niche: simply getting children from point A to point B.
But it may a hard sell to some parents, who are aware of criminal accusations dogging Uber and Lyft drivers.
Newport Beach resident Heidi Bressler said she feels wary about using HopSkipDrive to transport her 14-year-old son.
"I'm very skeptical about something like this," she said, adding that using ride-hailing services is "a tough one" after hearing news reports of problems. "You don't know. You just don't know."
McFarland understands but argues that this is a whole different kind of business.
"We have a unique challenge in making sure we're not just a ride; we are caregivers that also provide rides, and that's an important distinction," McFarland told the Los Angeles Times earlier this year. "It's not just a curb-to-curb ride. We help young kids get signed in and out of schools, so it's a lot more than that."
In fact, HopSkipDrive calls its contracted personnel CareDrivers. The company has about 500 of them between Los Angeles and Orange counties.
"They're really caregivers first and drivers second," McFarland said.
Many CareDrivers are moms themselves. Some are teachers, nurses, empty nesters or others accustomed to working with children. They wear unmistakable HopSkipDrive orange shirts and adorn their cars with orange flags.
They'll help with more than just driving. If requested, CareDrivers will perform tasks like making sure the children have their soccer cleats, karate gear and homework, the company says.
"We hear from parents all the time that a specific CareDriver has gone above and beyond and has taken great care of their kids," McFarland said. "They feel really good about that."
The drivers must be at least 23 years old, have childcare experience, clear a background check — which includes providing fingerprints — and have a clean driving record.
HopSkipDrive defines childcare experience as "experienced parents, nannies, elementary and middle school teachers, as well as pediatric nurses, professional drivers and more," according to a company spokeswoman.
As added security, children who use HopSkipDrive will have a special password. Parents can receive notifications of their kids' rides and monitor their progress.
"We really think about safety before the ride, during the ride and behind the scenes," McFarland said. "We do far more than most people do when vetting a baby-sitter."
As for the cars themselves, HopSkipDrive uses only models 2006 or newer that pass a 19-point inspection. The company provides insurance for its drivers when they're working.
Costa Mesa resident Leah Fountain is a new CareDriver. Driving her 2011 Jeep Patriot, she had her first job a couple of weeks ago — during the company's test rides in the new market — taking two girls to lacrosse practice. During the trip she made small talk, asking them about lacrosse and school. It all went well, she said.
"I was looking to do something on my own schedule," Fountain said of her new job. "Now that they're in Orange County, it was a great fit."
Phuong Pham, an Irvine mother of two, saw such a need for HopSkipDrive that she has already bought the 30-ride package.
Her husband works in downtown Los Angeles and can't get back to Irvine easily. She's an attorney who has found the logistics of leaving her firm in the afternoon to drive her kids where they need to go next very difficult.
"It was just a lot to juggle," Pham said. "HopSkipDrive has sort of minimized that juggle. I still plan the rides for them, but it's not on that same level of shifting my projects, phone calls, etc."
---