Angels starter Andrew Heaney's elbow inflammation has familiar ring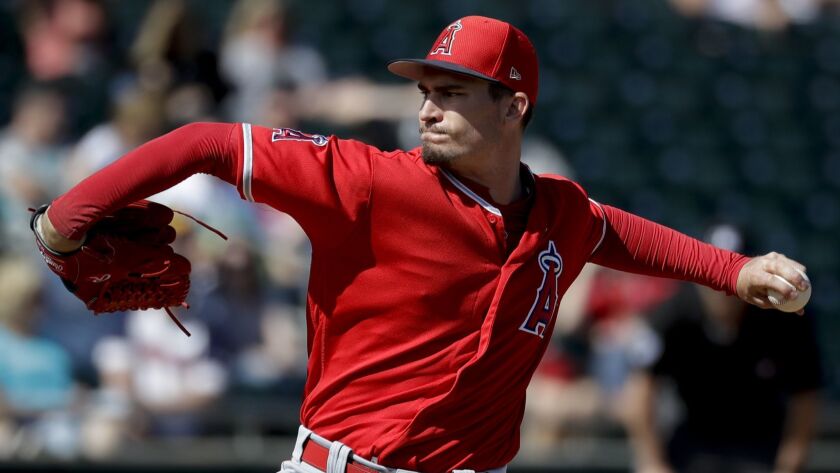 Andrew Heaney's chances of opening the season in the Angels' starting rotation were cast into doubt Wednesday.
Manager Brad Ausmus said Heaney is experiencing left elbow inflammation, the same injury that sidelined him the beginning of last season. Heaney has not pitched since his second start of spring training March 8, when he faced only four batters. He has a 10.80 ERA in 1.2 innings this spring.
"They felt I'm not fully over it," Heaney said of the inflammation, "and I need to shut it down and make sure it's all the way out."
Heaney ended last season with a 4.15 ERA over 30 starts and led the Angels with 180 innings.
While an MRI did not show structural damage, Ausmus called the news "a little concerning." He said Heaney could begin the season on the injured list.
Sign up for our daily sports newsletter »
"We still don't think it's anything long term," Ausmus said. "But we want his elbow to be 100 percent before we start taxing it again."
The Angels haven't announced their opening day starter, and now it appears Heaney is a long shot. "It's not something I'm worried about right now," he said.
Last spring Heaney stopped throwing for only a few days, made his season debut April 13, went 9-10 and did not miss a start the rest of the season.
"In the past that's been enough to get over it and I've been able to get back pretty quickly," Heaney said. "I guess this time it wasn't going away as quickly.
"I thought we had it nipped in the bud. It wasn't. It flared back up. Its not something I'm happy about it, but we're going to try to be a lot more proactive about now and make sure we're all the way over it. It's still really early and they want to be cautious and I do, too. I understand it sucks. I'm frustrated, but its something we have to take care of now."
Cowart pushes ahead on two fronts
The schedule for the Angels' spring training practices hangs in a hallway by the clubhouse and in the training room. Kaleb Cowart knows both locations. He checks them at least four times a day.
"Just to make sure I'm in the right spot," Cowart said.
Cowart has spent spring training adjusting to his new role as a two-way player, with practice time split between hitting and pitching. In his first spring training game, Cozart hit a game-winning grand slam, and he has since gone 2 for 5.
He still has not pitched in a spring training game.
Once a promising high school pitching prospect, Cowart was drafted as an infielder but switched to two-way player in the offseason after posting a .210 on-base percentage last season. He has been picked up off waivers three times; he had brief offseason stints with the Mariners and Tigers before rejoining the Angels.
"It's just shows that people want you." Cowart said of the team changes. "Glad to be back here, though."
Cowart said his time has been evenly split between pitching and hitting. He said he does not know when he will make his pitching debut, but the live batting practice he threw Sunday left him optimistic.
"Everything came out of my hand nice and consistent," Cowart said. "I was very pleased with it."
Ausmus said the primary challenges for two-way players are avoiding injury and getting sufficient practice in hitting and pitching. Cowart has balanced the time demands by making practices more efficient.
"It's very specific," Cowart said. "This is what I'm working on today, this is what I want to get accomplished. You know, I think it's a better mindset."
It helps that Cowart has a role model in two-way teammate Shohei Ohtani, and that teammate Jared Walsh is adjusting to the two-way role alongside him. He asks them how they're feeling to gauge his own progress, and whether he needs rest.
"Just to know that someone else is doing it is huge." Cowart said. "A lot of times, I'll make sure I'm in the right spot by knowing if Jared's there or not."
Ohtani on track
Ohtani did light throwing Wednesday, at a distance 10 feet longer than his previous throws. He did not hit so he could rest his arm, but Ausmus said Ohtani's recovery from Tommy John surgery is on the "right track."
"Right now, the intensity level is probably about 30 percent," Ohtani said through a translator. "It doesn't bother me, at all. But I'm not sure what will happen once I increase the intensity. I'll continue to work with the medical staff."
Cozart making progress
Veteran third baseman Zack Cozart took ground balls before the game against the Padres. He is recovering from a strain in his left calf, and Ausmus said he's "moving forward in a positive fashion."
---
Get the latest on L.A.'s teams in the daily Sports Report newsletter.
You may occasionally receive promotional content from the Los Angeles Times.