Angels' Andrew Heaney battles mental struggles while recovering from injuries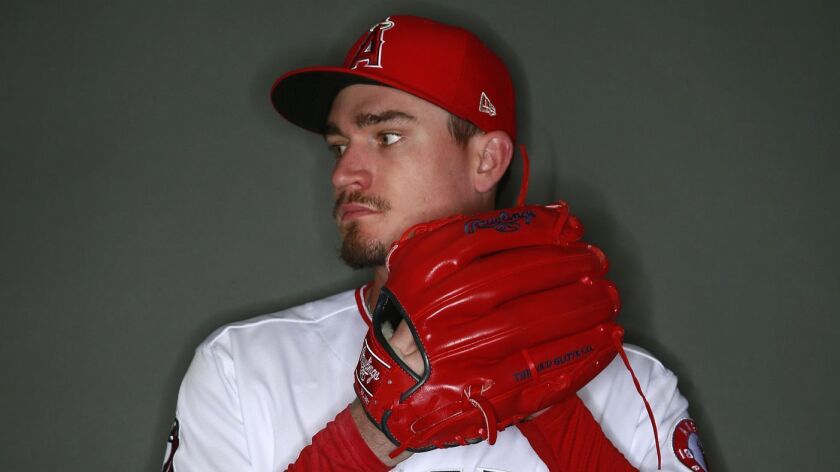 Andrew Heaney ended an interview at his locker in Angel Stadium with the shortest sentence he'd uttered in the 20 minutes he'd spent speaking.
"Thanks for sorting through that ... ," he said.
The Angels' ailing starting pitcher had dedicated a chunk of Friday afternoon to venting his emotions to a small group of reporters. The clubhouse was mostly empty, the cubicles besides his vacant.
Heaney's frustration over not being on the active roster on opening day for the second year in a row had been boiling for weeks. It was as good a time as any to publicly confront the insecurities he had kept hidden away.
Addressing reporters for the first time since the latest setback in his recovery from elbow inflammation, Heaney spoke with candor about the mental troubles that have plagued him throughout his career.
"I've had periods where I wake up and say, 'I ... hate my body. I hate what it does, I hate how it treats me,'" he said. "And I think that's not a good mental place to be."
Heaney, who turns 28 in two months, received some relief Monday. A CT scan determined his left elbow had not sustained any ligament damage. Only normal chronic changes had occurred, caused by the unnatural motions of overhand pitching. Heaney received a cortisone shot, which should alleviate the inflammation in time for him to begin throwing again next week.
But the good news was hard for Heaney to handle.
"Feeling positive is a strong term," he said. "Optimistic, sure. I think I generally see myself as a pretty realist-type person, so I think optimism isn't something easy for me to come by. For who I am, yes I would say I'm optimistic."
It's hard to fault Heaney. He has spent parts of his last four major league seasons battling injury.
At the beginning of his second full season with the Angels, he was diagnosed with a strain of the flexor muscle in his left arm. The injury preceded elbow ligament replacement surgery in July 2016. Heaney was so determined to return to the mound, he began a minor league rehab assignment 12 months after surgery and was back in the majors by August 2017.
Heaney always has been aggressive in returning from injury. Last year, when elbow inflammation sidelined him in the middle of March, he received a cortisone shot and spent about two weeks on the disabled list before making his season. He was able to make 30 starts and log 180 innings with 180 strikeouts, all career highs and the most of anyone on an Angels pitching staff beset by injuries.
"It's funny," he said. "Like there's times that I've gone home, and been like, 'Is it because we ... care too much that we push too hard?'"
Heaney spent the first part of this year preparing to bear the load for the Angels' rotation again, but his body refused to let him.
Heaney tried to pitch through it, convinced he was stronger than the aggravated elbow that had betrayed him several times too many in his career.
The injury only got worse.
"In the grand scheme of things, it's a ... game. I understand that," he said. "But there's times that you get your identity tied into what you do. … So it's just trying to put those things into perspective and sometimes you get lost in your own ... and that's part of it."
By the time Heaney acknowledged defeat, it was too late to reverse the toll the injury had taken on his body and mind.
"There's times in this last month that I forgot that I even ... pitched last year because in my head it's like, 'I started last season hurt, now I start this season hurt,'" he said. "You forget that you threw 180 innings."
The Angels stopped Heaney from throwing in mid-March, aware there was no way the inflammation would be alleviated in time for the start of the season.
He was told he would spend part of April on the injured list for a second straight year.
There is nothing he can do about his fate now. All he can do is work on his frame of mind, which he conceded was a work in progress.
"I know that I'm not the only person that feels that way," he said. "Some guys talk about it, some guys don't. It's not something that — you don't go around the locker room like, 'Hey, who's in a really … up place right now? Come talk to me.' You don't do that. Sometimes you have those conversations, sometimes you don't."
On Friday afternoon, as his eyes reddened and his teammates prepared to defeat the Texas Rangers, 3-1, without him, Heaney finally did.
Sign up for our daily sports newsletter »
---
Get the latest on L.A.'s teams in the daily Sports Report newsletter.
You may occasionally receive promotional content from the Los Angeles Times.