Angels GM Billy Eppler working on building the team's roster this offseason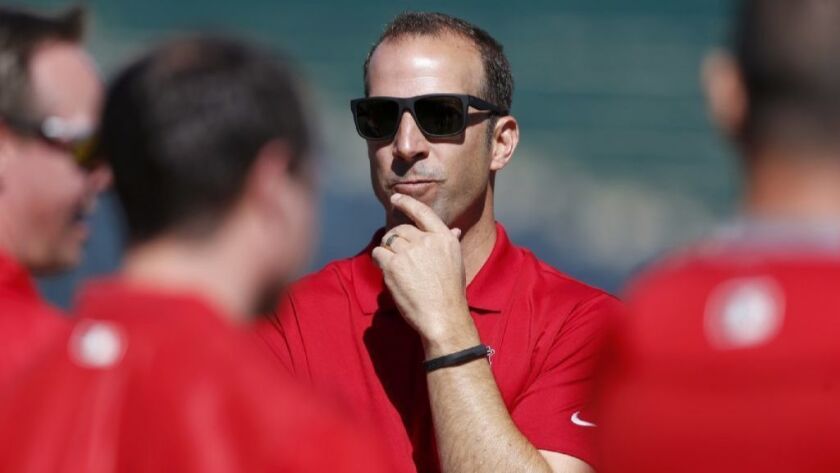 Reporting from CARLSBAD —
As baseball's general managers meetings began Monday in Carlsbad, effectively opening the free-agent signing season, the Angels' Billy Eppler reiterated his focus on pitching.
Because of injuries to Shohei Ohtani and J.C. Ramirez, the Angels are projected to have left-handers Andrew Heaney and Tyler Skaggs lead a starting rotation that could also include Jaime Barria, Parker Bridwell, Matt Shoemaker and Felix Pena — a group that could be fortified by a few external options.
With about $40 million coming off the payroll, Eppler may go after a front-line starter in the free-agent market. Veterans such as former Cy Young Award winner Dallas Keuchel or fellow left-hander J.A. Happ could command contracts with an average annual value under $20 million, according to multiple projections.
There are options on the trading block too. The New York Yankees are planning to ship right-handed pitcher Sonny Gray, who will be 29 during his final season of arbitration eligibility in 2019. Gray had a 4.90 earned-run average in his first full season with the Yankees but still generated an impressive 10.1% swinging strikes.
"It's more how do you build your roster to protect against anything coming up," Eppler said. "Some things you are a little bit more aware of because they've had an offseason procedure or something. ... When we construct a roster we are trying to anticipate."
Ohtani, Trout are award finalists
Two-way player Ohtani was announced as one of three finalists for the American League rookie of the year award, which he is favored to win. Outfielder Mike Trout, already a two-time MVP, is a finalist again for that award.
Ohtani became the first player in history to hit 20 or more home runs and compile 50 or more strikeouts in a season. He led AL rookies in on-base percentage (.361) slugging (.564) and on-base-plus-slugging percentage (.925). As a pitcher, he ranked in the top three among rookies in strikeouts per nine innings (10.97), walks-and-hits-per-innings-pitched (1.16) and opponents' batting average (.203).
Yankees infielders Gleyber Torres and Miguel Andujar are the other two finalists for top rookie.
Ohtani underwent ulnar collateral ligament surgery of his right elbow in October and will not pitch at the major league level in 2019. He is expected to return as a hitter, but a timetable won't be set until January. Eppler said Ohtani is close to regaining full extension of his elbow.
Trout, MVP in 2014 and 2016, put together one of the most complete seasons of his career. His .312 batting average ranked fifth in the major leagues. He led baseball in on-base-plus-slugging percentage (1.088) for the second year in a row and also led everyone in weighted runs created plus (191), OPS plus (199) and on-base percentage (.460).
Boston Red Sox outfielder Mookie Betts is considered the favorite to win the award. Cleveland Indians third baseman Jose Ramirez is the other finalist.
Roster additions
Although he had a 5.79 ERA in 33 major league games last season, right-handed pitcher Austin Brice showed enough upside for the Angels. They claimed him off waivers from the Cincinnati Reds last week, encouraged by a curveball that averages a velocity around 82 mph and has a spin rate of 2,606 revolutions per minute. He is a former starter; the Angels intend to use him as a multiple-innings reliever.
The Angels added a catcher when they claimed Kevan Smith off waivers from the Chicago White Sox, but they will still probe the market in order to improve depth at the position. Smith and Jose Briceno are the only catchers on the Angels' 40-man roster, which is at 39 players.
Angels catchers hit .220 as a group last year. League average was .233.
"There's kind of some things in a higher tier and I would put the catching in the higher tier with the pitching — both the starting and relieving," Eppler said. "I wouldn't rank them but I would say those would all be good moves if we can make some headway there."
In 146 games over three seasons, Smith hit .281 with 23 doubles, seven home runs and 51 RBI. Briceno, a rookie last season, hit .239 with a .299 OBP.
Other injury updates
Outfielder Michael Hermosillo, who received his first call-up last season and hit .211 in 31 major league games, had his winterball journey cut short. He had only appeared in three games in the Dominican league when he sustained a core muscle injury that required surgery.
Hermosillo, 23, is expected to be ready in time for spring training.
Right-handed pitcher Alex Meyer does not seem poised for a return to the major leagues anytime soon. Eppler said Meyer, who underwent surgery in September 2017 to repair a torn labrum in his shoulder, had another setback in his recovery. He will be shut down from throwing for four to six weeks.
Meyer, a first-round pick of the Washington Nationals in 2011 out of the University of Kentucky, missed the 2018 season rehabbing.
Reliever Keynan Middleton has progressed in his rehab from elbow ligament surgery and is beginning to throw off a slope at shortened distances to the plate. Eppler said Middleton, who had the surgery in May, could return to the major leagues around the All-Star break in July.
Ramirez, another Angel who required elbow reconstruction surgery, could return to the Angels as soon as June, Eppler said.
After undergoing season-ending knee surgery, veteran Albert Pujols is on track in his rehabilitation. Eppler is optimistic that Pujols will overcome his latest health issue by spring training.
The Angels already have a few internal options at first base to serve as Pujols' complement at the position. Among them are Jose Fernandez, who logged 207 of his 225 big-league innings there last year, and prospects Matt Thaiss and Jared Walsh.
One coaching position left
The Angels have one more spot to fill on the coaching staff of manager Brad Ausmus. Pitching coach Doug White and hitting coach Jeremy Reed are the Angels' only confirmed hires, but Eppler said the club hopes to complete the staff next week.
---
Get the latest on L.A.'s teams in the daily Sports Report newsletter.
You may occasionally receive promotional content from the Los Angeles Times.